Food & Drink
Got Bread? Chef Cole's Avocado Toast Recipe to the Rescue.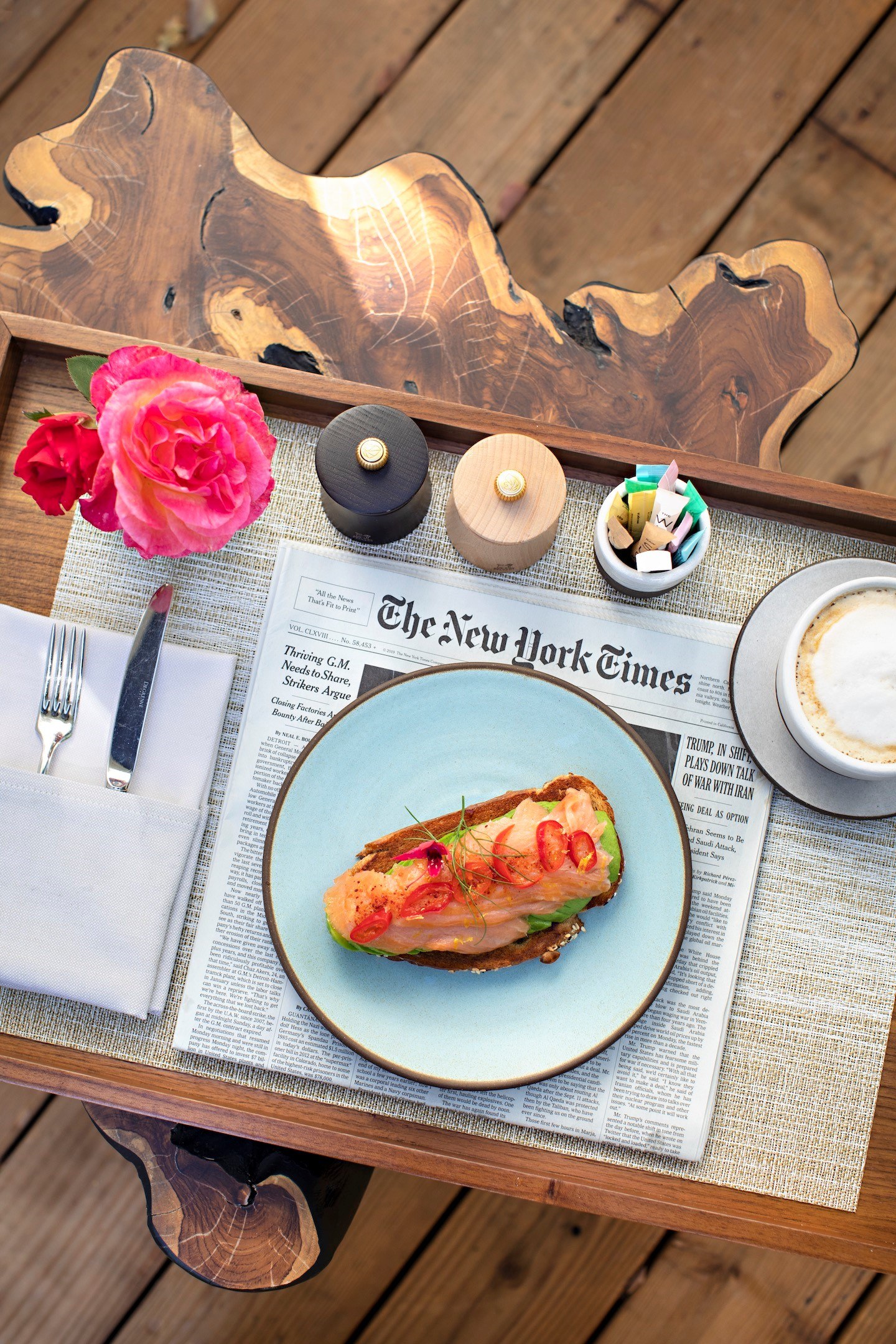 Photo Credit: Karyn Millet @karynmillet
A majority of people around the globe are turning to baking as the panacea to quarantine boredom and stress. It's a wholesome,  industrious and creative way to while away the extra hours while sequestered at home — that is, if you can find flour and yeast! Whether you're "stress baking" or just flexing your new-found culinary muscle, a good majority of us are finding ourselves with a lot of homemade loaves on-hand. Next question: what to do with all that bread? Chef Cole shares his recipe for Layla's dreamy avocado toast with smoked salmon and pickled peppers, and also gives a few pointers for making the perfect toasty lunches at home (hint: it includes foraging).
Chef Cole Dickinson's Avocado Toast Recipe
Ingredients
Sourdough bread
Avocado
Fresno chili peppers
Smoked salmon
Lemon
Sea salt
Fresh cracked black pepper
Pickling Liquid
3/4 Cup (a tad more) apple cider vinegar
1 Tablespoon maple syrup
1 Tablespoon brown sugar
1 teaspoon pink peppercorn (this can be foraged — read more here)
1.5 teaspoons yellow mustard seed
1.5 teaspoons garlic (about 2-3 medium cloves)
1 Tablespoon fish sauce
2 Cups Fresno chili peppers
Instructions
Slice the chilies about an eighth of an inch thick, and marinate with 4 teaspoons of salt for about an hour. While the chilies are soaking, toast the spices for the pickling liquid. Once toasted, add them to the wet ingredients in a medium sauce pot. Bring this to a boil and allow to cool. After an hour, drain the chilies and pour the cooled liquid over them and allow to set overnight. Use parchment paper to cover them and keep them submerged.
Now that the chilies are pickled, it's time to pick out bread. A nice loaf of artisan sourdough from a local baker (that probably means you!) should do. Slice the bread about an inch thick and brush with olive oil. Over medium heat in a cast iron pan toast each side of the bread until golden brown.
Now for the avocado. Slice the avocado in half, remove the pit and then peel each half. Once peeled, slice laterally about an eighth of an inch thick.
To assemble, lay the slices of avocado on top of the toast and then lay slices of smoked salmon on top of that. Now place the pickled peppers over the salmon and zest the lemon over everything. You can now garnish this with foraged greens such as miner's lettuce, wild watercress or arugula. Season with a pinch of sea salt and fresh cracked black pepper and enjoy.
You can also use various alternate forms of salt instead of the smoked salmon if salmon is not your thing. Substitutions such as prosciutto, anchovies, cotija or vegan cheese also work. The wild arugula, fresh basil and foraged sorrel can provide heat for the dish if the peppers are too much heat.
Locating fresh garnish such as sorrel, miner's lettuce or wild arugula is simple. Driving around in northern California, one is bound to find arugula on the side of the road. Walking around the neighborhood one is also bound to find sorrel growing rampant in neighbors' yards or your own for that matter. When foraging, be mindful to keep the root system intact for future foraging and just common decency. For more Spring foraging tips, check out our recent blog here.
More Leftover Bread?
To utilize the leftover sourdough, you can obviously make more toast. Another favorite of ours at Layla is toast with ricotta cheese, seasonal fruit (i.e. fresh figs, persimmon, pears or apples) and honey and mint. After a few days, however, the bread will become stale at which point you can make croutons for a salad or toast and crumble for breadcrumbs.
Have fun out there, and we can't wait to welcome you back to Layla for one of our signature toasts, or other lunch or dinner dishes in the near future.
Best,
Chef Cole