Art & Culture
Inspiration Abounds: Art at MacArthur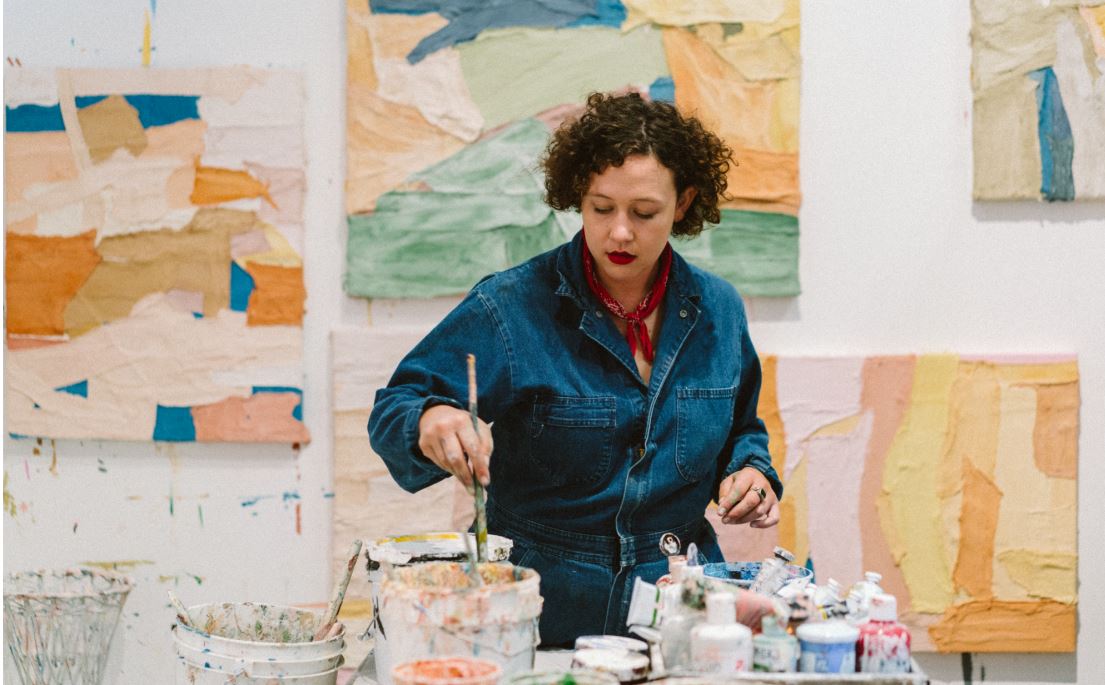 This month we are excited to welcome Sara Marlowe Hall, "a Los Angeles based artist whose works of art combine aspects of painting and sculpture to achieve unique textures" through our partnership with Tappan Collective – an organization that supports exceptional emerging artists. As you explore MacArthur Place you will find dozens of hand-selected artworks including custom pieces created through our artist-in-residence program. In an effort to inspire our guests we have curated unique experiences with our artists-in-residence as they create at MacArthur. Drawing inspiration from Sonoma's natural landscape, Sara will create a colorful, textural and site-specific piece for the property's permanent collection. While she's here, we invite you to drop in for an open studio visit Wednesday 9/30, Thursday 10/1 and Friday 10/2 from 3-5pm to meet Sara and see the artist in her element.
Meet Sara Marlow Hall – Q&A from Tappan Collective
Q. Tell us about yourself and how you came to be an artist.
A. I come from a very creative household that always inspired me to make art. From a young age, I always wanted to be an artist, but it took me a while to find out what that meant. After 4 years of art school, of traveling and creative jobs, I moved back to Los Angeles to focus on my painting. After I sold my first body of work, I had the confidence to refer to myself as an artist and felt inspired to continue painting. When I am in my studio working, I am most comfortable with myself.
Q. Where do you draw inspiration from?
A. I am currently inspired by landscapes in California.
Q. Describe your work in three words.
A. Physical, textural and immersive.
Q. What is your creative process?
A. My paintings are driven by nostalgia and by a process where I incorporate the imagery and textures of old walls, aerial landscapes, or abstract shapes of bodies seen in passing. There are many layers and stages to my work. I start by painting a collection of small scale studies using gouache, watercolor and pigments. I explore the different relationships between color and form on the page. Then, I begin to mix acrylic and water, pouring these into different buckets to create my palette. I continue by ripping up individual plaster strips, dipping them into the paint, and masking them onto the canvas. The plaster strips act like brush strokes. I layer them onto the canvas one by one. I continue to add to the canvas, applying different materials and textures until I feel that the composition is complete. When viewing my work, I want each individual to have a unique emotional response. I want my artworks to give rise to their own memories and connections.
Q. What messages or emotions do you hope to convey to your audience?
A. Warmth, imagination, a dreamy new way of experiencing color, shape and touch.
Q. Your paintings utilize some really unique materials and pigments. Why are you drawn to these materials?
A. Each series of work focuses on a material used, such as my "Plaster Paintings" or "Pigment Studies." My paintings are so heavily driven by process that it is only natural for me to be intrigued by the mediums I use. Each material has a life of its own. After traveling to Morocco, I fell in love with their pigments. I began to collect and use them in my paintings. The high potency of the pigments made from soil, shells, plants, and rocks is intriguing; they react differently to each other when mixed. I find the challenge of working with pigments really luxurious but delicate. There is a science or biology to it all. When I paint with plaster, I am drawn to the tactile experience of painting with my hands. The application is heavy handed and sculptural; there is a physical aspect to interacting with the work that I want to convey in each painting.
Art Talk & Wine Pairing with Sara Marlowe Hall – Thursday Oct 1st, 5-6:30pm
Join Sara for an interactive art talk on Thursday 10/1, paired with natural wines from local producer, Las Jaras Wines. View samples of Sara's work, learn what inspires her and what types of materials and techniques she uses in her textural pieces. And, ask her anything — whether you're curious about the business of being an artist or what it's like to be part of an art collective like Tappan, this is an open dialogue designed to foster inspiration and creativity. The Art talk is complimentary and will be held outdoors in the Burris House garden. To maintain social distancing, space is limited to 14 guests and masks are required. Please reserve your spot by emailing lparlato@macarthurplace.com.
We chose local boutique producer, Las Jaras, as the perfect complement to Sara's art talk. Their wines are made naturally, without manipulation, intervention and additives. Just as Sara draws inspiration from nature, so do our friends at Las Jaras. What's more, Las Jaras works with independent artists to design each of their labels. Their portfolio of wines is an art collection in and of itself, with colorful, playful and unabashedly-unique labels that are as energetic and fresh as their wines. Below is a Q&A with artist, Jen Stark whose psychedelic designs adorn the newly-released canned white wine (a fun blend of French Colombard and Chenin Blanc) and Trousseau Gris bottle from Las Jaras.  
Meet Jen Stark – Q&A from Las Jaras Wines
Q. At Las Jaras you (Jen Stark) are our most prolific label artist, with the Waves canned wine now added to the repertoire your art is on three of our wines! What is your process for creating each label?
A. I'm so excited to have my artwork on 3 bottles of Las Jaras wine now! I usually start my process by getting a feel for the style and taste of the wine, and then brainstorm up with a design to suit it. I'll draw some ideas out in my sketchbook, then show Eric & Joel for feedback. Once we figure out the direction, I create the final design on the computer. For the Pét-Nat, I wanted to have something sparkly and bubbly feeling, but also a design that would blend in with the color of the bottle. For the Trousseau Gris and the latest 'Waves' canned wine, I wanted to create designs that were unique to the wine world and featured my signature 'drippy' design oozing down. The canned wine design is really fun because the sparkly dots that peek out between the colors make the wine look extra cold, refreshing, and crisp.
Q. What's it like to see your art decorate wines? 
A. It feels amazing! And the best part is, the wines taste incredible. I'm a big wine lover.
Q. Your art has been described as hypnotic. Our wine can also have the same effect — with the two paired, is it quite possibly the perfect transcendent experience?
A. Oh yes, the combination of the two definitely makes me feel like I'm floating on a cloud when I drink it!
Be Inspired by Art and Sonoma
With our Inspiration Abounds package, enjoy 20% off a 2-night stay in a luxe guestroom or suite, an intimate wine tasting and art walk at The Donum Estate, and a self-guided tour of our property's art collection. Book your stay during an upcoming artist's residency, and we'll secure your spot in a creative workshop with the artist. 
Inspiration Abounds Package Includes:
2-night stay in any of our guestrooms or suites

20% discount 

Wine tasting & art walk for 2 guests at The Donum Estate

2 reserved spots for creative workshop with artist in residence, if stay aligns with residency