Food & Drink
Meet Executive Chef Jordan Hoffman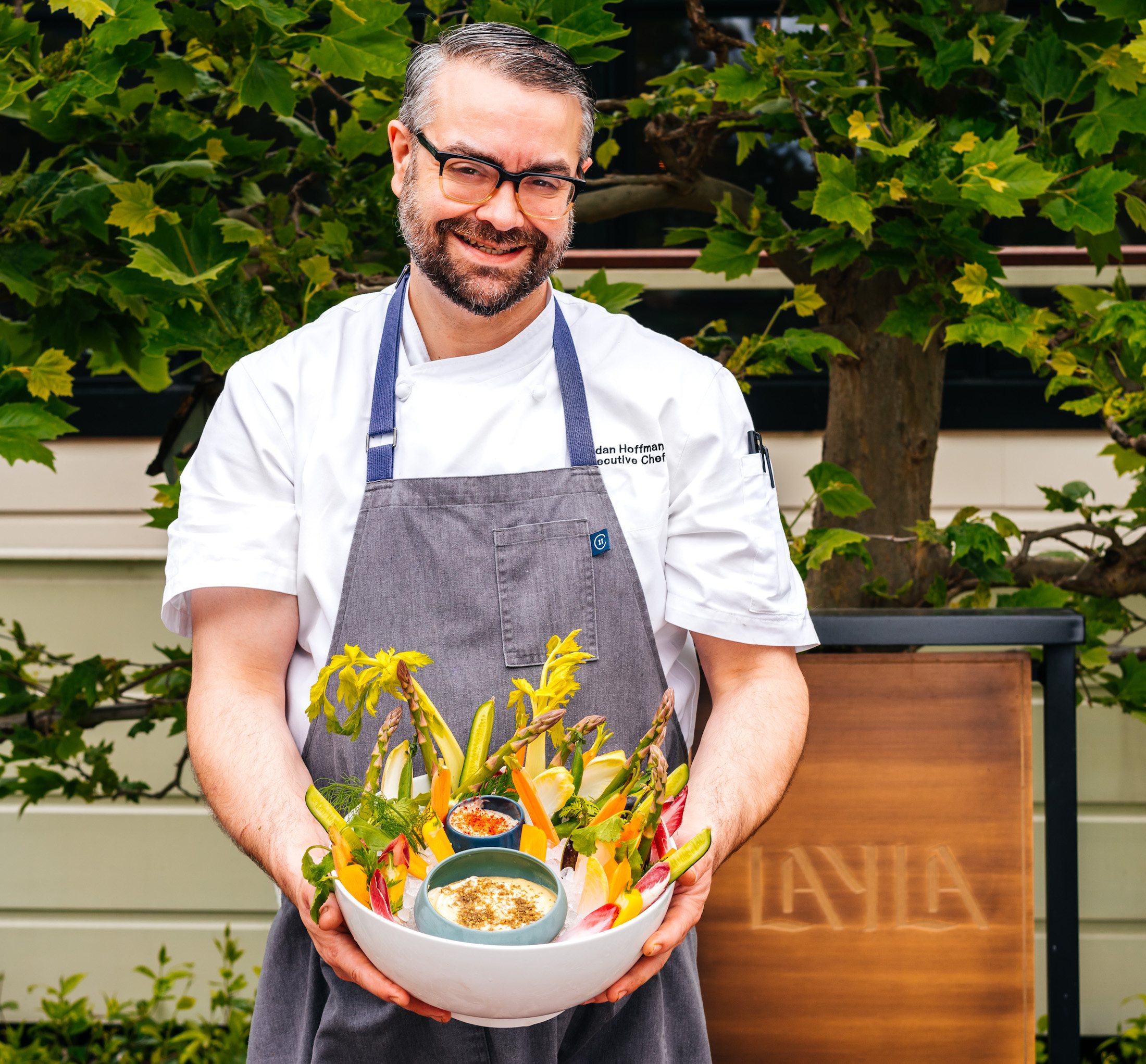 Executive Chef Jordan Hoffman joined MacArthur Place's three culinary concepts, Layla, The Bar at MacArthur and The Porch, in February 2022 to bring a fresh perspective to the heart of wine country and further elevate the guest experience through new culinary concepts and amenities.
Inspired by his natural predilection for cooking and an innate love for food and community, Hoffman was driven to the culinary world in search of defining his place within hospitality, bringing with him genuine warmth and enthusiasm. Born and raised in Michigan, Hoffman's formative years began in the kitchen of a small local diner, before being introduced to fine dining through his work in country clubs and independent restaurants throughout high school. Upon graduation from Schoolcraft College in Detroit, Hoffman ventured to Las Vegas to hone his craft under "Chef of the Century" Joel Robuchon at MGM Grand, eventually opening a number of venues with The Light Group, and overseeing culinary operations at Delano South Beach before once again returning to the entertainment capital of the world to join The Iconic Collection.
An avid painter at home, Hoffman's love for architecture, design, and art led him to MacArthur Place — drawing upon the bounty of the region and his immersive background — to continue to bridge together the pillars of the art world with that of food and service, in hopes of creating a new approach to the Sonoma dining scene.
Executive Chef Jordan Hoffman, in his own words –
At what age did you decide to become a chef and pursue that career?
I've been told I started telling friends and family that I was going to be a Chef when I grew up as young as six, and I have been cooking and experimenting in the kitchen my whole life and began a professional career cooking at the age of thirteen, it may have just been working the griddle at a small neighborhood diner across the street from my childhood home, but since then I couldn't imagine doing anything outside of a hospitality focused industry.
What's your favorite thing about Sonoma?
The relationships you can build being in a place that has such a small town atmosphere, but yet is chock full of people contributing to an amazing food and drink eco system, we get tons of regulars who are wine makers, or crafts people who make such wonderful products that have such a unique sense of place. The reciprocity that is shown in the community is wonderful, and getting to see people regularly who care so much about what Sonoma means is refreshing. Even being in a hotel property we have an amazing connection to our local guests, and getting to show that hospitality to people who we get to know personally is so refreshing.
Any vegan options at Layla?
Yes, we have some great items that are vegan as is on the menu, as well as some fantastic dishes that are built to be terribly easy to conform to vegan standards. We try to focus a lot on making some phenomenal vegetable centric items, such as our smoked Sonoma carrots that we do with a garden pea hummus and finish with a sesame, garlic and hazelnut crumble. We've really emphasized a section on the menu that highlights those items, so these phenomenal vegetables don't get relegated to just sides or salads, but are really built as stand alone expressions with tons of depth and complexity and can be enjoyed as a starter, paired together as an entrée, or shared throughout a meal to enjoy the bounty of the seasons.
Where do you get the produce for your dishes?
We have a couple farm partners that we truly try to get as much as we possibly can from, and we do realistically take almost all of their harvest for the property, Hayley at Flatbed Farms does a great job and we use everything she grows only a few miles north of us on Sonoma Highway and also helps us manage the garden we have here on property that we pick from every day. We also have a number of other local farms, like Oak Hill Farm here in Sonoma, that are either dropping here weekly or we are grabbing cases from them at the local farmers markets. Even when we do use one of the larger produce companies in the area we try to have them source almost all produce as well as fresh dairy, and the amazing Sonoma County cheeses locally.
After 8+ months at MacArthur Place, how do you feel to be here?
MacArthur Place shines a spotlight on the very elements that have inspired my career in the hospitality industry, crafting individual experiences that go beyond a simple ingredient in a dish. To be at the helm of a destination where we are the storytellers for a guest's journey, whether through their palette or a personal touch point, I'm truly excited to create new influence for those we welcome on property.
We invite you to experience the flavors Chef Jordan and his culinary team creates for MacArthur Place daily.