Art & Culture
October "Fest":
The Best Music, Wine & Art Festivities in Sonoma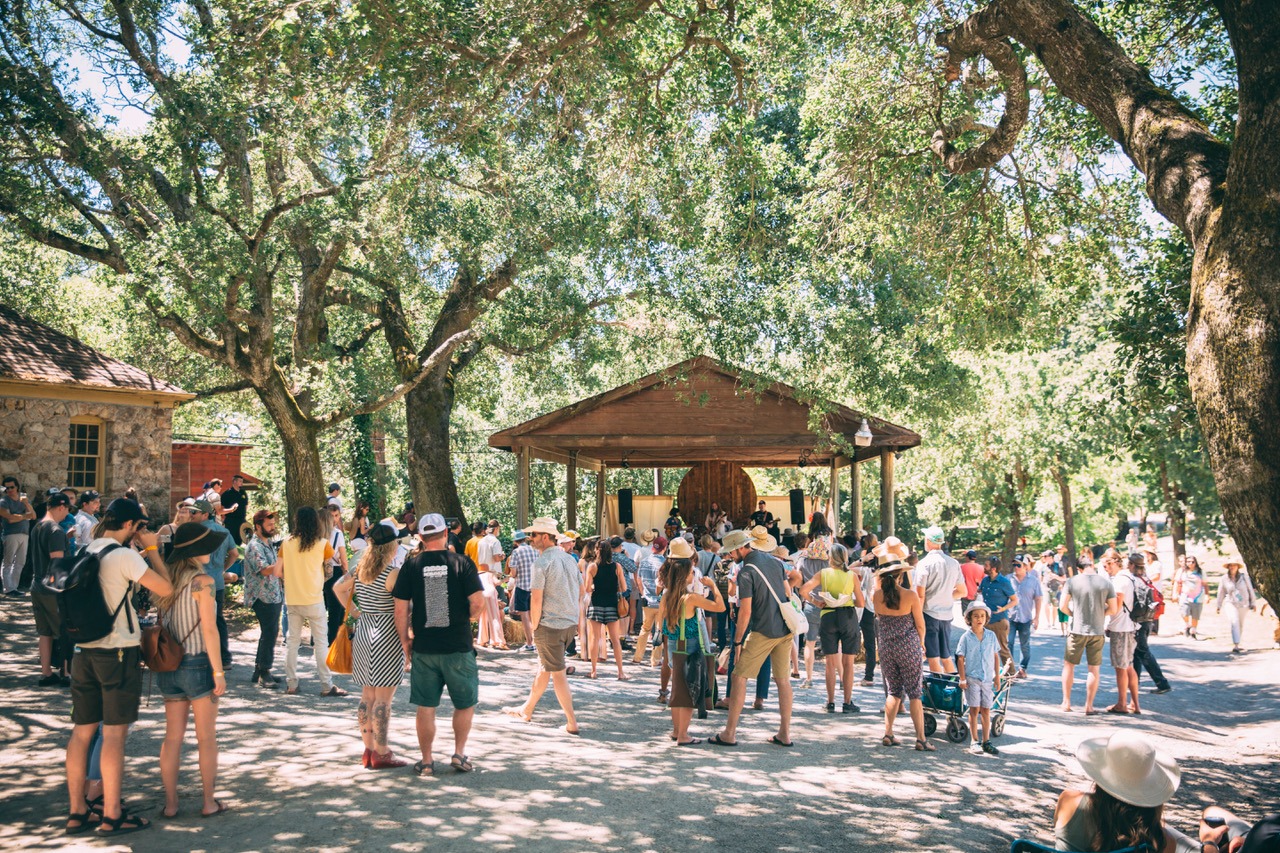 Not to be confused with Bavaria's annual Oktoberfest or its bacchanalian and beer-centric American adaptations, our focus here is to celebrate the festival-rich month of October in Sonoma, and nearby locales. Autumn in wine country is always spectacular — marked by colorful fall foliage and the buzz of harvest season — but this year is superlative. For one, some of the Bay Area's most beloved summer music festivals have been rescheduled for October (thank you, pandemic!). The decks are stacked – October is going to be the best month of 2021. Whether you attend a music festival, drop-in on an artist's open studio or just revel in the beauty of the season, we think you'll agree. Read on for our picks of the best music, wine & art festivities in Sonoma this October.
Music
Huichica Music Festival | October 15-16, Gundlach Bundschu Winery, Sonoma 
Founded over a decade ago by 6th generation vintner, Jeff Bundschu (proprietor of Gundlach Bundschu Winery), Huichica Music Festival (pronounced WAH-CHEE-KA), provides a refreshing spin on the traditional music festival experience. You won't find massive arena stages with expected big-name lineups, long lines and crummy beer in red plastic cups. Instead, Huichica showcases a hand-picked roster of independent artists paired with local wines and food in an intimate setting amidst the family's historic vineyard. And this year's lineup is truly stellar. We asked Jeff Bundschu to tell us about the this year's headlining bands and event highlights; here's what he said:
"So excited to be back. Yo La Tengo! They are indie legends that have influenced tons of bands. They are famously picky about when and where they play and we couldn't be more excited. Mac DeMarco is on the same bill. As is Devendra Banhart, Whitney and so many more. Seriously, one beauty of Huichica every year is that it's curated down to its teeth, with every artist, known or not, being worth seeing. But coming out of 2020 this year is over the top, it is by far the highest density of talent we've been able to present in our history."
Learn More | Read Full Q&A with Jeff Bundschu
Outside Lands Music Festival | October 29-31, Golden Gate Park, San Francisco 
Outside Lands is not in Sonoma per se… but it's just a 50-minute hop, skip and a jump away. It's the perfect preamble (or endcap) to a restorative weekend in wine country. The Bay Area's most beloved music festival returns to Golden Gate Park after a year-long hiatus, and this year's event coincides with San Francisco's favorite holiday – Halloween! The lineup is a "who's who" of the music scene with headliners Tame Impala, Lizzo and The Strokes and other favorites such as Lord Huron, Khruangbin and Vampire Weekend. In addition to a FOMO-inducing musical lineup, the festival features culinary and cultural programming like Wine Lands (over 100+ local producers such as Ashes & Diamonds), Outsider Art and Grass Lands, the first curated cannabis experience at a major American music festival.
Wine & Harvest
Valley of the Moon Vintage Festival | October 9, Sonoma Plaza, Sonoma 
Since 1887, the Valley of the Moon Vintage Festival has brought the local community together to celebrate the annual grape harvest. This year's 124th annual festival kicks off at 10am with the traditional "blessing of the grapes" in front of the Historic City Hall. The day continues with live music, wine tasting, food, and a robust arts and crafts fair.
Sonoma Harvest Market | Saturdays in October, Sonoma Garden Park, Sonoma 
Music festivals not your thing? Immerse yourself in the bounty of the season in Sonoma at the local Sonoma Harvest Market, every Saturday May-October from 9am-noon. October is the culmination of harvest season, so the Saturday market is abuzz with activity and wonderful autumn produce. You'll find tomatoes, squash, onions, potatoes, chard, figs, apples, herbs, fresh cut flowers and other produce. Plus eggs from Sonoma Garden Park's free range chickens, as well as locally crafted olive oil.
Art & Architecture
CHIAOZZA Open Studio & Creative Workshop | October 13-14, MacArthur Place, Sonoma 
We are excited to welcome Brooklyn-based collaborative artist duo, CHIAOZZA (Terri Chiao & Adam Frezza), to MacArthur Place as artists-in-residence through our partnership with Uprise Art. Using Play as a collaborative tool to explore the intersection of the natural and imagined worlds, Terri and Adam create fantastical works of art that incorporate unusual textures and unexpected forms. We invite you to participate in the creative process during their week-long residency.
Open Studio | Wednesday October 13, 5-6pm. Drop in for an open studio visit to meet CHIAOZZA (rhymes with "wowza" and "yowza") and see the artists in their element.
Collecting and Composing Workshop | Thursday October 14, 5-6:30pm. Collecting objects found in nature and in the environments around us stimulates curiosity, wonder, play, and imagination. Sometimes, these collections become raw material for new projects. In this workshop, guests are invited to walk around and look closely at the environment around them. We will collect small items found around the property and build compositions with them. We will then look at the compositions through a photographic lens, using the camera as a medium through which to play with form, color, positive/negative space, and narrative. Event is complimentary, space limited to 12. Reserve Your Spot.
At Home in the Wine Country Book Signing | October 21, 6-8pm, MacArthur Place, Sonoma
Join co-authors Heather Hebert (a 25-year veteran of the architecture field and second-time author) and Chase Ewald (accomplished author of a dozen design, travel and architecture books), as well as AERENA Galleries and MacArthur Place, for a convivial event to celebrate the launch of Hebert and Ewald's newly-released and highly anticipated book, At Home in the Wine Country. The authors will be signing copies of their new book, featuring stunning residential architecture in wine country, as we pour wines from local producers. Event is complimentary. Space is limited to 45 guests. 
—
For a restful and relaxing stay during your October festival circuit, look no further than MacArthur Place. Our newly-reimagined guestrooms and suites offer ample space and privacy, as well as luxe amenities, all within our lush six-acre property in the heart of Sonoma. With our Autumn in Sonoma offer, book a 3-night stay Sunday thru Thursday nights, and enjoy 25% off  + a $50 daily resort credit.