Art & Culture
Q&A with Jeff Bundschu:
Huichica Music Festival Founder, Gundlach Bundschu Proprietor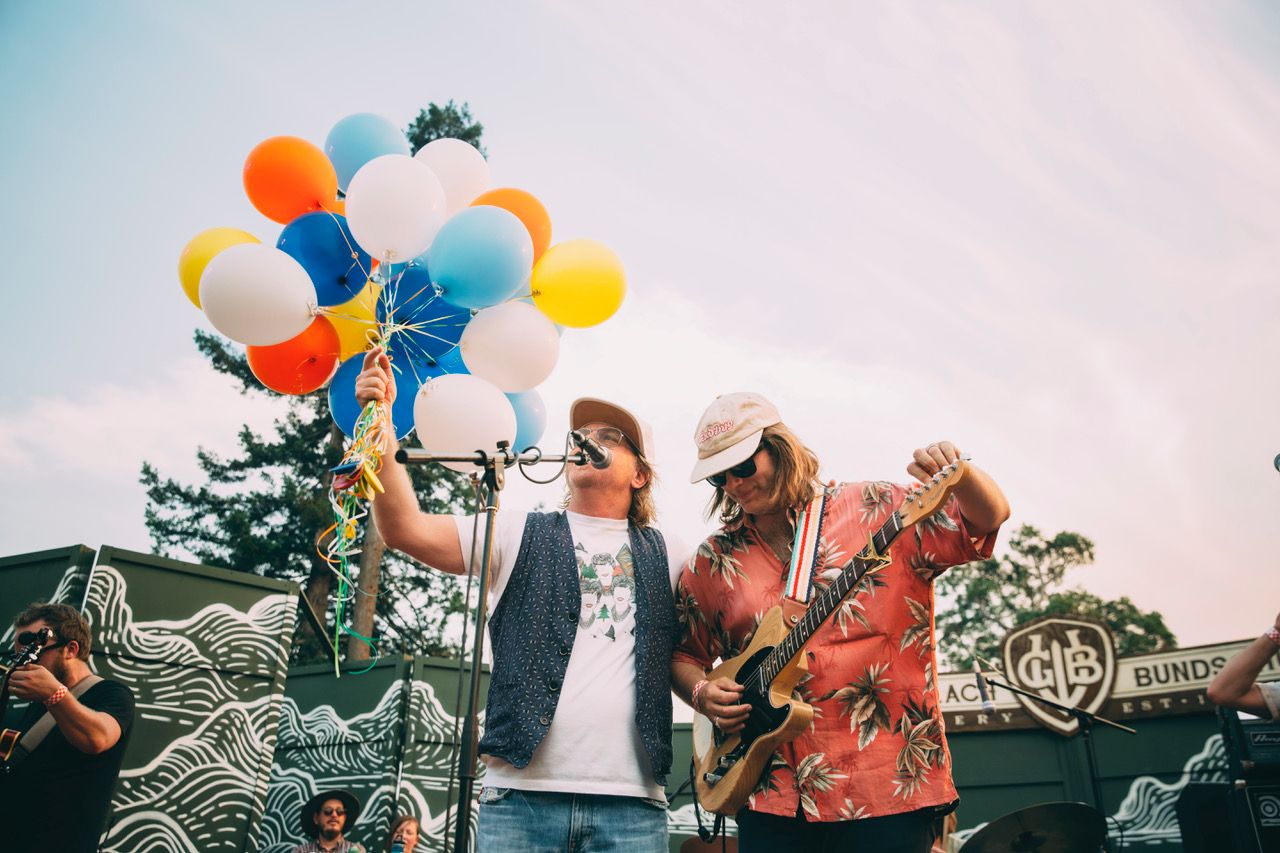 Truly one-of-a-kind, Jeff Bundschu defies easy characterization. He is a sixth generation vintner who successfully stewarded his family's wine brand, Gundlach Bundschu, to new heights with a focus on wine quality, sense of place and brand charisma. He is also a community figure who has championed Sonoma and its wines, always with witty humor (do yourself a favor and watch his Merlot video!). The (other) feather in his cap?! Huichica Music Festival, now celebrating a decade of showcasing independent artists paired with local wines and food in an intimate setting amidst the family's historic vineyard. We sat down with Jeff and asked him about his family's legacy, sustainability, music and more. 
Before we get down to brass tacks, let's start with a fun phonetic game. We'll give you a word, and you spell it phonetically. Go!
Gundlach Bundschu GUN FUN BUN FUN LOCK SHOE!!! No for real- GUN-LOCK-BUN-SHOE
Gewurztraminer GUH-VERTZ-TRA-MEEN-HER
Huichica WHAAAAAAAAAAAAAA—-CHICA!!!
Founded in 1858, Gundlach Bundschu is steeped in history. Can you share a few key milestones of your family winery's storied origins?
The first would have to be that Jacob Gundlach, my great great great grandfather got left out of the will of his family in Bavaria, so came to San Francisco, of all places, to seek his fortune. His family in Bavaria were 3

rd

generation winegrowers who had accumulated enough land to secure their first three sons positions in their village. Lucky for us today, Jacob was left out and set sail in 1849. Nine years later he purchased our family Vineyard in Sonoma.

Separately, our great great grandfather Charles Bundschu, another German immigrant in San Francisco, had proclivity for winemaking. He went to work for Jacob at the winery, climbed the ladder, and once at the top, married Jacob's daughter—bringing together Gundlach and Bundschu!

Third is not really a milestone, but an enduring trait that is critical for commercial farmers, and good for everyone else: Grit. Earthquake (1906) Fires (1906, 1973, 2017), pandemics (1919, 2020), not to mention Kent State, the assassination of Harvey Milk, and Donald Trump. Whatever the issue, someone somewhere along our lineage likely dealt with something like it before and got through it. It gives us a superpower confidence to know we will too.

The Blind Tasting in Paris in 1972. No, we weren't there in that famous tasting where some (nearby) Napa wines beat out great French Classics to the astonishment of the entire wine world. But that absolutely laid the groundwork for the rest of trying to make world class wines to be taken seriously.

I took over as leader of our company in 2000 and cut production by 70% to chase an even higher level of (the aforementioned) quality. It almost broke the family financially, but the replanting of the vineyards, investment in the winery and double down focus on our customers set the course to be the strongest six generation family business in the US today. I'd say we're also the most fun.

The last milestone has to be Metallica filming a private concert in the vineyard in 2020. It was an outgrowth of our parallel track of producing concerts and festivals for years. But the real not-so-humble brag is who else can claim multiple 98+ point wines and say that Mudhoney played their barn?!
Gundlach Bundschu has been a pioneer in sustainable farming long before "sustainability" was a trend. What are some of the initiatives in place on Rhinefarm, and why is environmental stewardship so important to you?
Well, while it would be nice to say that we've been thinking about saving the planet for generations, it started a little more selfishly than that. Our family has lived, raised children on, ate from, and made a living from our property forever. Add to that a healthy suspicion as to the 'harmless' claims of agricultural chemicals, and you have the motivation to tread very lightly when it comes to deviating from the natural environment.
As such, we have been practicing what is now called sustainable farming for decades. As it became clear that the planet did need saving, my dad, who ran the business prior to me, started ramping up soil and water conservation efforts in the seventies as an early adopter of drip irrigation and cover crops. We installed bioregenerative water recycling ponds (the second winery in Sonoma/Napa) onsite in the late 90s and solar power not long after. Our next step is to become Regenerative Organic Certified, which we hope to achieve in the next three years.  
You have been hosting concerts at your family's historic and picturesque vineyard for over a decade. What's your most memorable live music experience at Rhinefarm?
There have been so many, more than I ever could have hoped for when we started. In no particular order, I'd say Television, Johnny Marr, Lucius, Courtney Barnett, Washed Out, Iron and Wine, and of course Metallica. The single moment that came to mind was the day after Rufus Wainwright played the barn, solo piano. I came back early the next morning to find his Piano, a Steinway Grand, alone on the stage, with no one else around. I don't really play but I hopped up there anyway, and poked and plucked and sang at the top of my lungs.
After a yearlong hiatus, you must be thrilled to resume your Huichica Music Festival this Fall (October 15-16 2021, Gundlach Bundschu Winery Sonoma). Tell us about the headlining bands and other event highlights. 
So excited to be back. Yo La Tengo! They are indie legends that have influenced tons of bands. They are famously picky about when and where they play and we couldn't be more excited.  Mac DeMarco is on the same bill.  As is Devendra Banhart, Whitney and so many more.  Seriously, one beauty of Huichica every year is that it's curated down to its teeth, with every artist, known or not, being worth seeing.  But coming out of 2020 this year is over the top, it is by far the highest density of talent we've been able to present in our history. 
Your family is committed to keeping Gundlach Bundschu in the family for perpetuity, never selling. How do you keep things fresh and relevant after 163 years in business, and what does the future hold? 
Indeed, that is our goal and it is a tall order. Our approach is a trifecta: ceaseless curiosity, a Zen-like approach to business (ie. keeping work and play nearly indistinguishable), and flat-out ambition to succeed by our own standards. In terms of the future, I'm happy to say we have pretty big things planned. We purchased a historic vineyard and winery in Glen Ellen which, after some renovations is now up and running as Abbot's Passage, my sister Katie's brand. It was a huge, generational move for our family, and is an incredibly special place with room to grow.  The wines and setting are completely different from GB, but just as approachable.  
What are you listening to these days? Would you mind sharing a playlist of your top 10-12 tracks?
I listen to a lot of music.  Here is a smattering that hopefully is least offensive 😊