Discover
Twelve Nights of Marvel:
Holidays at MacArthur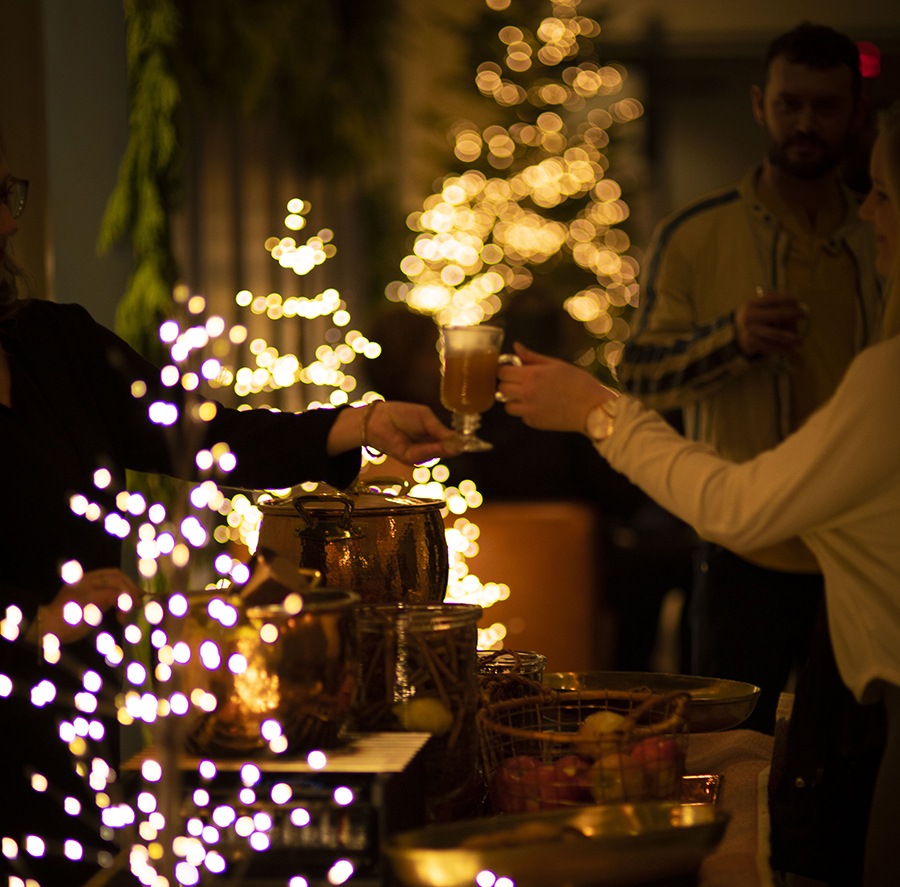 Twelve Nights of Marvel
Celebrate the advent of the holidays with a 12-night series of marvel and wonder-filled moments at MacArthur Place. Each night reveals a different experience that piques the curiosity, awakens the senses and connects the community. These Sonoma holiday events kick off on Friday, November 26 with seasonal cocktails and a mixology demonstration from our culinary team amidst the decorated halls of our historic Barn, illuminated for the season. The 12-night series continues every Friday, Saturday and Sunday with a unique and enchanting experience each evening, culminating in a grand finale on Sunday, December 19. We welcome hotel guests and the local community to experience these marvelous festivities.
*All events are open to the public, and free of charge. Some events have limited capacity, and require prior reservation.*
Holiday Cocktails & Mixology Demonstration 
Friday, November 26, 5-7 pm
The mastermind behind the cocktail program at MacArthur Place will be serving up holiday cocktails and providing a "tips of the trade" mixology demonstration so you can craft these libations at home. Meet the team, learn more about the food & drink program at MacArthur, sip on seasonal beverages… be merry!
Tarot Card Readings with Kristine Gorman
Saturday, November 27, 5-7 pm
Experience an illuminating and interactive tarot reading by Kristine Gorman of Tarot Art & Tattoo in the private dining room of Layla. Kristine uses her sacred Tarot cards as a tool to tap into an infinite place where all messages dwell. Her divinatory skills are drawn from the universe and all light-centered knowledge. Enjoy hot cider and cookies while you wait for your reading.
Luxe Hot Chocolate Cart
Sunday, November 28, 5-7 pm
Indulge in the warming flavors of the holiday season with luxurious hot chocolate. Find an extravagant cart with an enchanting array of toppings, candy canes, colorful straws, spoons, and festive garnishes to awaken your childlike spirit. Take your treat on a stroll through the grounds to see the twinkling lights or cozy up in a seat by the firepits to gaze at the starry Sonoma sky.
Kivelstadt Cellars Pop-up
Friday, December 3, 5-7pm
Our fun and festive friends at Kivelstadt Cellars will host a holiday pop-up highlighting fan favorites from their portfolio (they're known for their Rhone-style wines, interesting Mediterranean varietals such as Carignane and Charbono, as well as bright expressions of mainstays such as Sauvignon Blanc). As with all things Kivelstadt, you can expect a fun twist on the evening which will be anything but ordinary. Hint: wear your most festive (ugly) holiday sweater for a chance to win cool Kivelstadt swag.
Bulb Garden Workshop with Marion Moss Floral [class is full]
Saturday, December 4, 2-4pm
Join Susan Stremlau, owner of Marion Moss Floral and floral designer for MacArthur Place, for a holiday "bulb garden" workshop. Susan will lead you in creating your own planted garden arrangement with seasonal bulbs that will flourish into a fragrant and colorful centerpiece for peak holiday season.
Workshop is limited to 12 guests with prior reservation. Please RSVP to Liddy Parlato.
S'mores & Roasted Marshmallows at the Firepit
Sunday, December 5, 5-7 pm
Quintessential holidays are marked by cozy fireside gatherings, and plentiful sweets. We've aligned these two festive indulgences with a firepit-side roasting of marshmallows. Make your own s'mores with plush marshmallows and an array of toppings, and enjoy these sticky-sweet goodies under the starry Sonoma sky.
Handmade Gift Workshop with Artist Alex Cole
Friday, December 10, 5-7 pm
Local Sonoma painter and mixed media artist, Alex Cole, will lead a workshop on the art of the handmade gift. Each participant will make their own ornament gift box complete with a hand-painted ornament, a notecard on hand-painted archival watercolor paper and festive ribbon wrap (view Alex's Instagram reel to get a feel for the workshop). Your thoughtfully made gift box can be kept for personal merriment or gifted to a special someone this holiday season.
Workshop is limited to 12 guests with prior reservation. Please RSVP to Liddy Parlato.
Christmas Stollen Cooking Class with GM, Milan Drager
Saturday, December 11, 5-7 pm
Meet our new General Manager, Milan Drager, as he leads a class in making traditional German Christmas Stollen — a delicious fruit bread of nuts, spices, and dried fruit. The class will be held in The Porch, our coffee shop and marketplace.
Cooking class is limited to 12 guests with prior reservation. Please RSVP to Liddy Parlato.
Christmas Carolers
Sunday, December 12, 5-7 pm
Comfort and Joy Carolers, dressed in traditional Victorian costumes, will sing the songs of Christmas while roaming throughout MacArthur Place. Comfort & Joy is an a cappella group comprised of two ladies and two gentlemen. Your holiday favorites – traditional and popular – will be sung unaccompanied in beautiful four-part harmony. Experience their cheery sound while dining at Layla or The Bar at MacArthur.
Candlelit Sculpture Tour with AERENA Galleries 
Friday, December 17, 5-6 pm & 6-7 pm
Join Julie Henry, Director of Operations for AERENA Galleries, for a candlelit tour of the new collection of outdoor sculptures placed throughout our six-acre property. Selected for their organic shapes and natural materials that seem to emerge from the earth or be reclaimed by it, these sculptures blur the lines between nature and the man-made environment. Stroll through our winding pathways and verdant gardens by light of candle, and learn more about AERENA Galleries and the seven sculptures we house at MacArthur Place.
Tours offered at 5pm and 6pm. Space limited to 12; first come, first served.
Meet Santa Claus & Helpers
Saturday, December 18, 2-4 pm
The one and only Santa (real beard and all!) along with his favorite elf helper will take center stage in the lobby of MacArthur Place on Saturday afternoon. Come and whisper your holiday wishes to Father Christmas, and get your photo taken, you will then have eleven days to ensure your spot on the nice list. Enjoy hot cider and holiday cookies as the kids wait their turn with Santa.
Grand Finale: Aly Rose Trio!
Sunday, December 19, 5-7 pm
For the grand finale of the series, we have invited back one of our favorite live music acts, Aly Rose Trio, to perform a live set in The Bar at MacArthur. About the band: Aly leads the band's sound with her powerful, soulful vocals, inspired by the best singers of the past and present. She artfully tailors her voice to the band's wide range of musical styles, equally at home singing softly to jazz classics or belting it out to the rock songs the band grew up on. Her influences include Nina Simone, Etta James, The Beatles, Amy Winehouse, and Beyonce.
The Twelve Nights of Marvel Sonoma holiday events have been created to bring the spirit of the season alive for MacArthur guests, Sonoma locals, and visitors alike. The Bar at MacArthur and Layla are open and accepting reservations each evening, so we invite you to stay for a seasonal cocktail or a bite after each 12 Nights of Marvel event.
Follow us on Facebook and Instagram for event reminders and nightly recaps.