Vineyard to Coast
Experience the best that Sonoma County has to offer, from the Vineyards to the Coast, with a luxurious stay at MacArthur Place combined with an exclusive camping experience in partnership with Bohemian Highway Travel Co.
For those who yearn to leave the blacktop for an unpaved road, to sleep amid the hoots of great horned owls or the roaring surf — and indulge in a luxury stay in the heart of Sonoma — we've got you covered (quite literally)! Before or after your stay at MacArthur, you'll head to the coast in a Land Rover Defender 110 with everything you need to embark on the adventure of a lifetime, including an oyster-shucking bundle and a signature Bohemian Highway roadmap with our favorite spots for coastal exploration.
Once you confirm your hotel reservation through the link below, Bohemian Highway Travel Co. will contact you within 48 hours of your booking to ensure availability & camping experience. Please book this package at least 10 days in advance. The price for the camping experience is an additional $375 per night for 2 guests to your hotel stay and will be added to your folio.
The camping portion of the package is outfitted for two campers, with a spacious roof-top tent and ample storage.
24-hour rental of Land Rover Defender 110.

ikamper (Skycamp 2.0) roof-top tent with California-king size mattress of 3.5" memory foam.

Coleman two-burner camping grill equipped with two propane gas bottles and lighter.

Yeti cooler with ice packs and a 2.5-gallon container of filtered water.

17" portable DVD player (with some of our favorite camping-inspired movies).

2 Cliq camping chairs

Rumpl weatherproof two person puffy blanket

Pots, pans, cooking utensils, cutting board, silverware, plates, mugs, a Swiss Army knife and refillable water bottles.

Eco-friendly dish sponge, pot scraper/brush, and dish soap.

Waterproof tablecloth.

Oyster-shucking bundle that includes cut-proof cloth and instructions for shucking your own oysters.

My Medic first aid kit (HSA/FSA approved) and emergency whistle.

Camping lantern plus built-in power bank with USB port for charging small devices.

Morning coffee and creamer packets.

Waterproof and fog-proof binoculars with a local birding guide.

Portable and waterproof Bluetooth speaker (JBL Clip 4 Pro Sound).

Paddle bat and ball set, checkers, and playing cards.

Our signature Bohemian Highway roadmap with curated spots for coastal exploration.

Links to our curated Spotify playlist for a soundtrack to your camping adventures.

Note that campsite reservations are required immediately upon booking this package, as regional campsites can fill up well in advance. We're happy to make suggestions fitting your planned itinerary, but reservations must be confirmed on your own.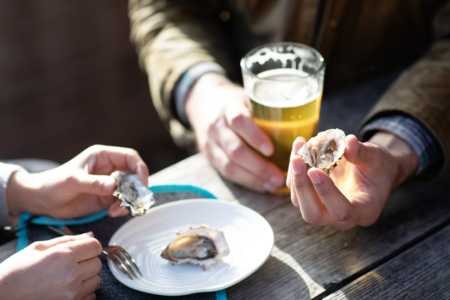 THE PARTICULARS:
Pick-up and drop-off is at MacArthur Place Hotel & Spa in Sonoma. Our vehicles are all automatic transmission. We'll walk you through how to set up and break down the rooftop tent — it takes 30 seconds!
ROADMAP:
You'll be given a roadmap to our favorite local spots and information on the amazing experiences that Sonoma Coast can offer. From culinary suggestions to wineries, beer tastings to adventure sports and hiking, we'll share our love of the region and the local makers, farmers, artisans, and laborers who make it so unique.
INSURANCE: 
If you'd like to add extra insurance you can purchase it through our third-party insurance platform. Please note that your own auto insurance and/or credit-card coverage may be adequate to insure your rental. Please check your specific policies.
ROADSIDE ASSISTANCE: 24-hour roadside assistance is included with your booking.
CHEF-PREPARED MEAL PACKAGE ADD-ON:
Don't want to waste a minute on food preparation? Let us take care of your meals, sweets, and snacks for the first 24 hours of your adventure! All items are prepared by the Bohemian Highway in-house chef, who can accommodate any food allergies or other dietary restrictions. You'll have delicious, organic, and locally sourced meals to kick off your excursion.
Start your journey with road snacks including Cashew Date Energy Bites and locally founded Krave Beef Jerky. When you're ready for lunch, unpack your bento boxes filled with a lean protein and a farm-sourced salad to fuel you for the rest of the day. Dive into your cooler for a selection of our favorite drinks, from Valley of the Moon Kombucha to our favorite mind-and-body balancing hemp CBD beverage.
Dinner will be prepped and ready for you to warm up on your camp stove under the stars—perhaps prime beef stew with local root vegetables or a wild mushroom soup with roast chicken. Local artisanal breads and side dishes round out the meal. Not only are our cozy, comforting menus inspired by the seasons and weather, but they support our local farmers.
The next morning, as you watch the sun rise and the fog burn off, you'll have a tasty breakfast that's simple to assemble—such as house-made granola parfaits, fresh fruit, a drizzle of local honey, and yogurt from one of Sonoma's local dairy farms. When it's time to pack up and head back to town, you'll have artisanal snacks on hand including spiced trail mix, truffle popcorn and dark chocolate.
Once you confirm your hotel reservation, Bohemian Highway Travel Co. will contact you within 48 hours of your booking to ensure availability & camping experience.
Please book this package at least 10 days in advance. For bookings made within a shorter time frame, we will do our best to accommodate but cannot guarantee. The price for the camping experience is an additional $375 per night for 2 guests to your hotel stay and will be added to your folio.
Cancellation Policy & Terms: 
All cancellations or reschedules must be made prior to 10 days of your secured date.
Bohemian Highway Travel Co. retains the full payment amount for no-shows or cancellations made within the 10 days of a scheduled tour. 
In the case of inclement weather, Bohemian Highway Travel Co. reserves the right to modify, shorten, or cancel this experience to prevent damage to vehicles or avoid unsafe conditions. Full refunds, or the option to re-book, will be provided if we're unable to run this excursion due to bad weather or other cancellations on behalf of Bohemian Highway.
We are able to welcome only service dogs on our tours at this time.
Offer subject to availability & blackout dates may apply. Not valid on previously booked reservations or for group reservations. Must be booked directly at macarthurplace.com, and not available for third-party reservations.  A service fee of 10%, plus tax, includes complimentary amenities and guest services to enjoy during your stay. Review full room & rate policies here.
Book Now