Kraus
Jeff Kraus
Jeff Kraus is a Michigan-born, Brooklyn-based visual artist recognized for his kinetic paintings and collages. Kraus works quickly and prolifically, using a visceral, rhythmic and compulsive approach to painting through spontaneous movements dragged, scratched, and pressed onto surfaces. 
In partnership with Tappan Collective — an organization that supports and amplifies emerging artists — we welcomed Kraus (and his partner Erika and pup, Lola) to MacArthur Place in November 2020 as part of our monthly artist-in-residence program. During his residency, Kraus created two largescale paintings on canvas, as well as a series of botanical pencil drawings and colorful works on paper.
"I was really inspired by the landscape not only at MacArthur Place but also the surrounding areas of Sonoma and Napa. I wanted my paintings to reflect the morning fog rolling down the mountains, masking everything in a white haze. The drawn elements are a direct representation of the diverse foliage found on the property. I am continually drawn to texture, line and atmosphere wherever I go. These paintings feel like they could have only been born out of my time spent at MacArthur Place."
Both of Kraus's paintings proudly hang in the Lobby of our historic Barn. MacArthur-2 warmly greets arriving guests as they open the double glazed doors and approach the front desk. Kraus chose this location for its wealth of natural light and connection to the tree canopy outdoors. MacArthur-1 sits in a quiet nook between two floor-to-ceiling shelving units, awaiting discovery and inviting introspective contemplation.
---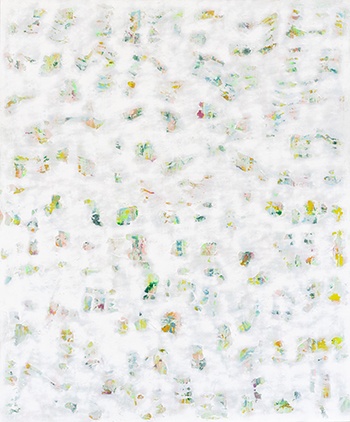 MacArthur-2
Acrylic and Spray Paint on Canvas
72" x 60"
Lobby Entrance
Artist in Residence, November 2020
---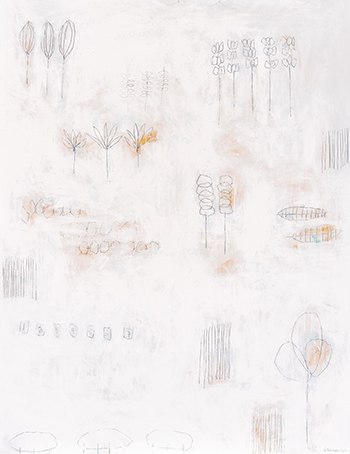 MacArthur-1
Acrylic, Graphite and Spray Paint on Canvas
60" x 46"
Lobby
Artist in Residence, November 2020
---
MacArthur Place x TAPPAN: Jeff Kraus
---
 Video by Conor Hagen
---
Behind The Scenes with Jeff
---