Patel
Nicole Patel
Nicole Patel is from New York City and lives and works upstate in Hudson Valley. Her works are created using non-toxic and sustainable materials like spirulina and turmeric in an attempt to change the art landscape and comment on the toxicity of traditional mediums on the environment. She writes, "The pieces are informed by organic materials because they hold at once quiet humility and great importance. In working with these pure materials, I aim to work in a way that will uphold their full potential."
---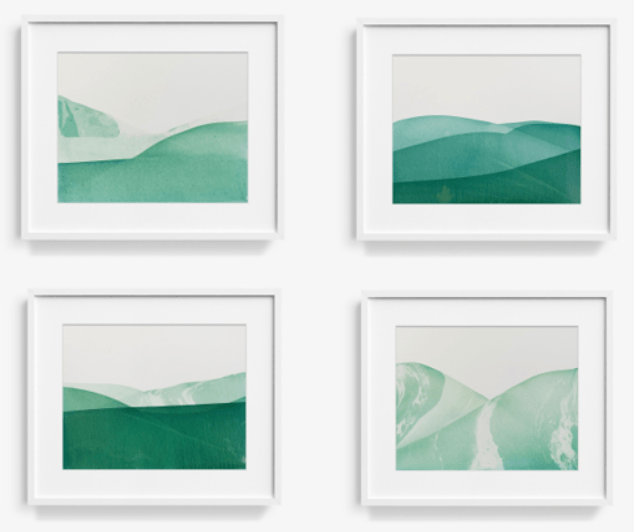 Spirulina Landscape 001, 002, 006 and 007, Limited Edition
Archival Pigment Print (algae on dry cotton)
Coach House
16 x 20" each
The spirulina series is an intimate record of a carbon-negative, freshwater algae interacting with water on dry cotton. Nicole gently disperses the dark green powder, which spreads to form a unified, velvety film. Ribbons and continents arise out of modest adjustments and a deep watching.The cotton is marked with the organic motion and patina of time.
---

Custom Piece based on Turmeric Flag 002
White Muslin, Turmeric, Natural Maple Frame
Coach House
48 x 36"
The Turmeric Flag series explores the homeopathic and aesthetic potentials of turmeric, a plant that reduces inflammation in the body and acts as a vibrant fabric dye. The lines that are drawn in turmeric evoke the sun. Each work is framed by planks of Pacific Cedar and bound in cloth.
---
Custom Octagon Piece
Woven Thread and Wood
Coach House
48 x 48"
In her Cotton and Wood series, Nicole wraps geometrically-shaped wood panel in natural cotton. It recontextualizes an unforgiving object as a tactile attraction, softening a duality.
---
Nicole is part of Tappan Collective, a company that supports exceptional emerging artists and with whom MacArthur Place has partnered to amplify our art program.