Discover
Weekend Sherpa Adventure Guide:
5 Epic Outdoor Adventures in Sonoma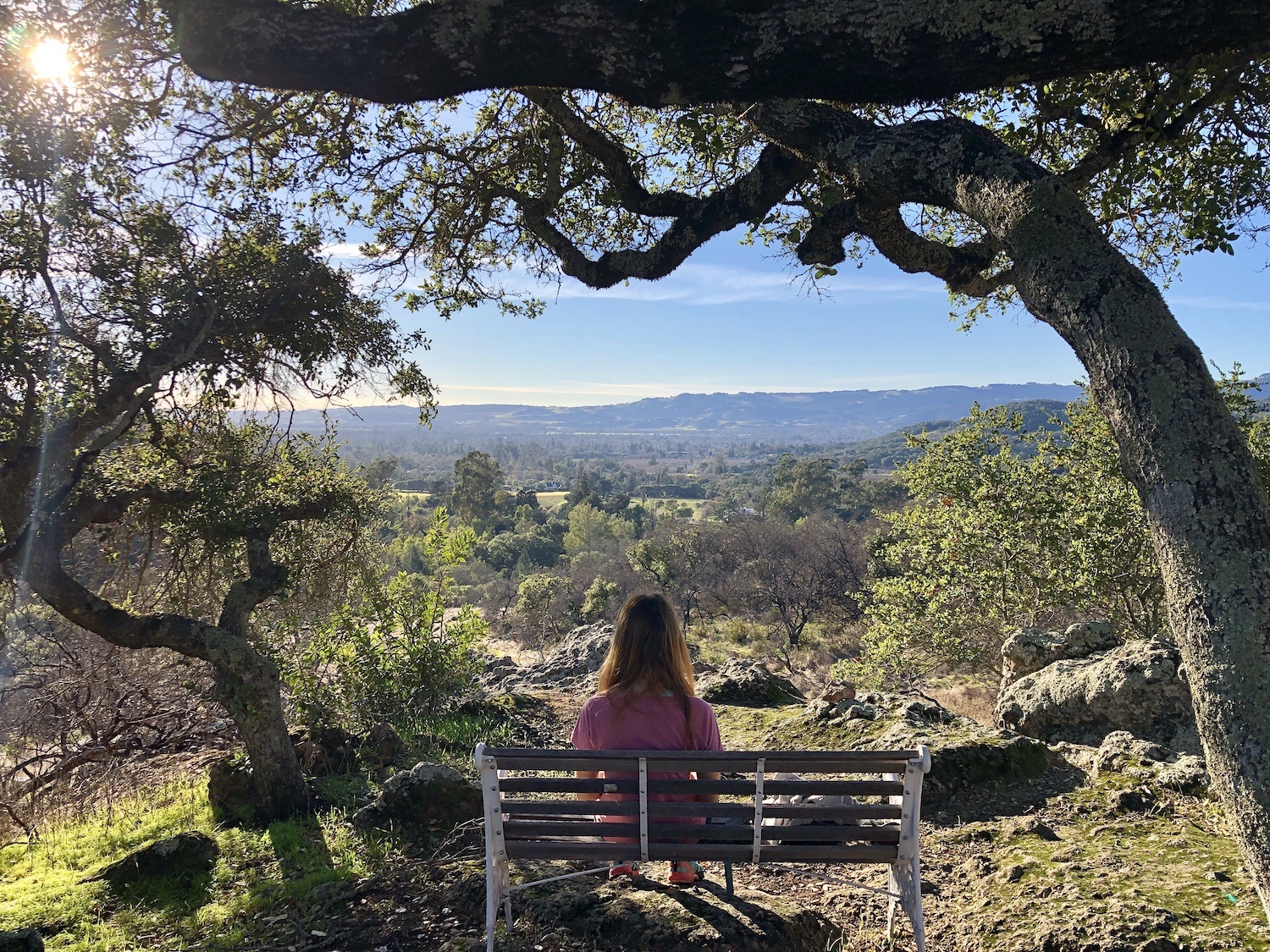 We are honored to work with the outdoor experts at Weekend Sherpa, who know hiking and biking in Northern California better than anyone.  They have assembled a list of 5 epic outdoor adventures in Sonoma sure to get your endorphins pumping. Weekend Sherpa, based here in Sonoma, is a beloved digital guide to the best hikes, bike rides and outdoor adventures in the San Francisco Bay Area, wine country and throughout California. Explore more outdoor adventures curated by this revered magazine at Weekend Sherpa, and read on for their recommendations on the best late summer hiking & biking in Sonoma.
Sonoma Coast with the Most
Crags, coves, cliffs, and amazing views of the Pacific: get it all on this superb 8-mile (round-trip) beach-to-beach ramble along the Sonoma Coast's bluffside Kortum Trail. Sure, this stretch of coast attracts as much fog as it does hikers, but the good news is it typically burns off by afternoon. Start at the Kortum Trailhead above Wright's Beach and follow the trail north to Shell Beach, where a set of wooden stairs descends to a tiny cove often smothered by rough waves during high tide (go at low tide and enjoy some great tide-pooling). Continue on the Kortum Trail, across boardwalks and along singletrack that dips and rises from pocket beaches to big coastal views. Ancient sea stacks get thrashed and smothered by waves, most notably Arched Rock, a favorite for photographers. The trail veers inland and over a hill, concluding at the spacious, picnic-worthy Blind Beach, reached via a short, slightly steep but well-trodden trail. Return the way you came.
TIP: This hike offers good opportunities to spy gray whales during migration season.
Start the hike at the parking lot right above Wright's Beach campground, which is 7 miles north of Bodega Bay on Hwy. 1. The Kortum Trail runs north and south; for the route mentioned, go north toward Blind Beach. No dogs on trails, but Wright's Beach, Shell Beach, and Blind Beach are all dog-friendly!
Redwoods + Ridiculously Good Coastal Views 
If Big Sur had a cool little sibling, we think it would be the Sonoma Coast … equally beautiful yet less filled with people, especially when you hike the new trail system at the Jenner Headlands Preserve in Sonoma County. These beautiful developed trails offer access to quiet stretches of coastal redwood forest and huge views of the Pacific. It's also a refreshing escape on hot days. Get an early start, as the parking lot fills up. We recommend a wide-sweep hike combining the Sea to Sky Trail, Russian Gulch Trail, and Raptor Ridge Trail. The first big views come early at Sentinel Point, a stone-tiled lookout with engravings of the types of wildlife you are likely to see, from gray whales to brown pelicans. Keep going up the coastal prairie grassland, then descend into a quiet shaded forest filled with second-growth redwoods. Connect back to the Sea to Sky Trail and enjoy a break at the Red Barn. Several picnic tables here offer gorgeous views of the Pacific, with the occasional cow looking on casually. Finish your hike by heading down Raptor Ridge Trail and follow it back to the parking area.
Dog friendly! Map to parking area.
The Grandmother Tree
The Grandmother Tree is the largest known coast live oak in Sonoma County. Visit her via a 5-mile (round-trip) hike high in Hood Mountain Regional Park. Full disclosure: the Grandmother Tree toppled over last winter. Regardless, it's still nice to pay your respects and enjoy the expansive terrain, with huge ridge views of the Mayacama Mountains. The hike is located high in Hood Mountain Regional Park, which crosses into Sugarloaf Ridge State Park. You'll get big views, plentiful solitude, and Grandmother, waiting way up on a ridgeline that spills out to sweeping, spectacular views of the surrounding mountains. Just getting to the trailhead is an adventure, driving and winding up Los Alamos Road to the parking lot and the start of Hood Mountain Trail (the map on the sign shows the route). Follow the trail down and through a forest canopy to a signpost reading McCormick Sugarloaf Ridge State Park. Here, you'll go left, onto Sugarloaf's Quercus Trail, a bit of a thigh-burner as you rise and wind with peek-a-boo views. Continue on, and at Headwaters Trail (signed) head left and keep going up. At the Grandmother Oak Trail follow the ridgeline path, taking in sweeping vistas before coming to a small forested area where you'll find …. Grandmother! The toppled giant oak rests her thick trunk, a girth of impressive proportions, in the exact place where she lived in strength, branches reaching out in all directions, like the best ever air-hug. Continue up the hill to a trio of trees at the top, which we recommend as your end point because of its brilliant vantage of the Mayacama Mountain Range and rolling Sonoma County. It's perfect for a lunch break. Return the way you came.
The trailhead parking lot is at the north entrance of Hood Mountain Regional Park, in Santa Rosa (map). From the parking lot, follow Hood Mountain Trail until the McCormick Ranch/Sugarloaf Ridge sign. From here, go left, onto Sugarloaf's Quercus Trail. Follow it about 1.5 miles and go left on Headwaters Trail to the Grandmother Oak Trail, which takes you right past the Grandmother Tree (it's the big one!) and up to a sweeping vista point just beyond it (you'll see three trees on the ridge). Hood Mountain Regional Park is dog-friendly, but no dogs in Sugarloaf Ridge State Park.
Bartholomew Park Hike & Wine
Locals call it Bart Park, but the distinguished nature of this beautiful 400 acres tucked just a few miles east of Sonoma's historic plaza beckons an official callout: Bartholomew Park is a beauty. Thank the Frank H. Bartholomew Foundation (a private nonprofit) for the park's beautiful hiking trails. The property's winery features tasty organic wines in a historic building hosting a rotating exhibit of plein air art. But before the wine, do the hike! We recommend a 3-miler starting at the South Gate Trailhead, where you'll find a sign with a trail map. Begin hiking on the You-Walk Miwok Trail, winding next to a stream and climbing among madrones and oaks to beautiful views of the valley and vineyards. Benches are set in perfect spots overlooking the scenery. The trail is rugged in parts, and built-in stairs help take you higher, to Benicia's Lake, an oasis festooned in redwoods. The Grape Stomp Trail takes you back to the vineyard property as you exit via the North Gate.
BONUS WINE: Now it's time to relax and "unwined" at Bartholomew Estate Winery. Plan ahead and book a tasting on the Oak Knoll, or purchase a glass or bottle and bring a picnic to enjoy in the park's charming wine garden (open to all).
Freewheeling: It's How You Roll!
Beautiful vineyards aren't the only things rolling in Sonoma Valley. Casual cruiser biking is one of the best ways to see the sights and taste the wines. The key: Pedal the country roads and paved bike paths on this two-wheel winery roll. The roughly 10-mile route we recommend leaves from the plaza, cruises past vineyards large and small, and along oak- and eucalyptus-lined streets. First up: family-owned and run Gundlach Bundschu, which despite its popularity is still all mom-and-pop charm. This is a great place to picnic with your wine: Tables are located by a small lagoon and perched up on a hill with a view of the grounds. Continue on the most scenic (and hilly) part of the ride along narrow Thornsberry Road as it winds past country homes (there's some whoopdeedoo downhill towards the end). Buena Vista Winery is next, and you'll want to spend some time here. As the oldest winery in California, it's a registered landmark, with a Great Gatsby–style champagne lounge (yes, true champagne!), a wine cave filled with massive barrels, and a stellar two-level stone building tasting room that's 100% unpretentious elegance. When you're ready, hop back on the bike; you're only 2 miles from the plaza (with Sebastiani winery as a tempting nearby detour), where you can grab a bite to eat and, yes, taste more wines. Way to freewheel!
BONUS: On Saturdays be sure to roll on up to the Harvest Market at Sonoma Garden Park (every Saturday through October, 9 a.m. to 1 p.m., 19996 7th Street East, Sonoma). Friendly people, fresh produce, olive oil, beautiful gardens, and free-range chickens make this a delightful place to explore between wineries.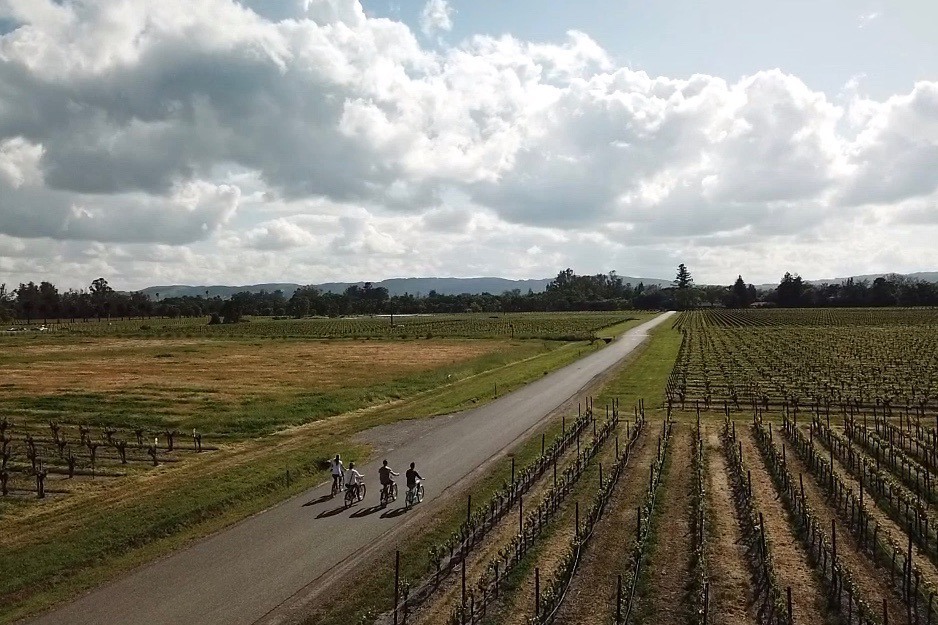 ---
With Weekend Sherpa as your guide and MacArthur Place as your home away from home, the outdoors of Sonoma will give you the distance and fresh perspective needed as new seasons are on the horizon.