Art & Culture
Explore More:
A Dreamy Day Trip To Napa for the Art & Design Lover
Image Courtesy of Ashes & Diamonds (photo credit: Emma K. Morris)
A Perfect Day Trip To Napa: Art & Design Edition
Although you can easily fill your days with endless adventures in Sonoma, no trip to wine country is complete without an excursion to our sister valley, Napa. Just a hop, skip and a jump from MacArthur Place (a 20 minute scenic drive through rolling vineyards and farmland), the town of Napa is a worthy daytrip destination. Celebrated for its world-famous wines, Napa is also known — especially to locals — as a burgeoning mecca for art and design, paired with wine of course. Spend the day experiencing riverfront skylines, Modern art and architecture, mid-century design, street murals and more. Read on for our dreamy, design-focused day trip to Napa.
This breakfast is a thing of beauty. Contimo is a true locals joint, a cute storefront tucked off the beaten path on Randolph Street in downtown Napa. Owners Ryan and Kevin serve up food and beverages that are simple, delicious and made from scratch. A nod to Ryan's southern roots is the best-damned biscuit you've ever had. Their breakfast menu features an array of buttery biscuit sandwiches like the Pimento Cheese Biscuit or the Just Jam Biscuit. Wash these snackable-yet-decadent bites down with an Iced Nola Coffee, Turmeric Tea or Drip Coffee from local Naysayer roastery. Now you're fueled up for the day!
10:00 am | Kayak the Napa River with Napa Valley Paddle
Take the path less traveled, and explore Napa's architecture by kayak or SUP on the Napa River, which runs through town and out into the brackish marshes before it meets the San Pablo Bay. Napa Valley Paddle will set you up with a river-worthy vessel to rent by the hour or day on a self-guided tour.
Start at the Main Street dock and head north through town, checking out the town's eclectic skyline and lush riverfront greenery. Highlights include the Historic Napa Mill (circa 1800s) as well as the 3-story building at the NW corner of 3rd & Main (now home to Avow) – a 1908 "Renaissance Revival" style building with Art Moderne touches on the first floor. Also keep an eye out for the large stone Borreo Building, the oldest commercial building in Napa (est 1877), now home to Stone Brewing Company.
Cruise through the Oxbow Nature Preserve and see the back of the Oxbow Market, a contemporary metal shed-style building. Wind along further as the river bends and narrows, and the setting becomes more lush and dense. Spot the back of Milliken Creek Hotel, whose main house dates to the 1850s. About face before you run out of steam, and enjoy the vista in reverse.
This is not your father's winery (please tell us you get the reference!). Ashes & Diamonds is a refreshing antithesis to many of the Valley's staid and stodgy wineries of yesteryear. Born from the mastermind of Kashy Khaledi – former music industry exec and lover of punk rock who thrives on nonconformity – Ashes & Diamonds goes against the grain in terms of architecture, attitude and wine style.
The winery's iconic buildings (designed by architect Barbara Bestor) are almost-all-white modernist boxes, one with a zigzag roof and the other punctuated with portholes and floating on thin pillars. The interiors are appointed with luxe but understated mid-century furniture, accented with jewel-tone pops of yellow and green. Kashy's "love letter to the Napa Valley of the 1960s" is carried beyond A&D's architecture and interior design, and into its wines which are elegant, austere, food-friendly and utterly site-specific.
Book a Wine + Food experience, and enjoy a flight of wines paired with a casual, family-style, Nouvelle California-inspired luncheon of seasonal, fresh and wood-fired dishes prepared in-house.
Hotel guests of MacArthur Place receive special pricing on Ashes & Diamonds experiences, so please inquire with our Concierge.
The Hess Collection is perched atop a hilly, redwood-lined stretch of Mt Veeder in Napa, right next to the historic Christian Brothers monastery. This hidden gem is part winery and part modern art collection. The winery building is modern, yet covered in lush ivy that allows it to blend seamlessly into the wooded hillside. The property's gardens flanking the winery are also lush, and dotted with secluded tables to enjoy the finely-crafted wines (estate Cabernets and small-lot Albarino, Malbec and other winery exclusives) and dappled mountain light.
Step inside for a self-guided tour of their stunning permanent and rotating collection of modern art including works from Frank Stella, Robert Rauschenberg, Robert Motherwell and more.
St. Clair Brown is a boutique urban winery, nano-brewery and culinary garden artfully hidden in plain view behind Napa's busy Soscol Avenue. Founded in 2013 by longtime friends, Winemaker/Brewmaster Elaine St. Clair and President Laina Brown, this garden oasis is another insiders spot frequented by locals.
Sip their limited-production wines and beers amidst the vegetable gardens and fruit trees (snacking is welcome!) or take a seat in the sunny greenhouse — both offer great views of the colorful art murals on the Napa Vine Trail. This is the perfect spot for an afternoon sip, snack (the terrine and garden-fresh salads are amazing) and mural viewing.
6:00 pm | Mezcal, Mole & More Murals at Gran Electrica
Calling all lovers of mezcal…and art murals! This buzzy downtown Napa bar and eatery (with a sister location in Brooklyn) has an impressive offering of bespoke mezcal, tequila and other spirits to enjoy neat, on the rocks or in one of their refreshing signature cocktails (the Pepino is divine). Pair one of these zippy beverages with some savory sustenance inspired by Mexican street food and the bounty of fresh local produce. Menu favorites are the guac and housemade chips, ceviche, albondigas, coliflor al pastor tacos and mole de pato.
Last but not least, no trip to Gran Electrica is complete without taking in the colorful artwork on site. Adorning the spacious back patio is a custom mural of Our Lady of Guadalupe created by acclaimed Bay Area muralist, AGANA aka DJ Agana aka Vanessa Solari Espinoza. On your way out to the patio, check out the wallpaper by the bathrooms: it's a Day of the Dead/Calaveras style pattern custom-made by Flavor Paper. As if you need another reason to support this beloved establishment, the husband and wife ownership / management duo (Tamer and Blaire) are two of the loveliest humans.
At Leisure | Self-Guided Art Tour at MacArthur Place
Of course, any art & design-focused jaunt to Napa should be bookended by a self-guided art tour at MacArthur Place. If your legs are tired, peruse our permanent art collection, learn about our artist in residence program, read artist Q&As and watch artist documentaries on our website here.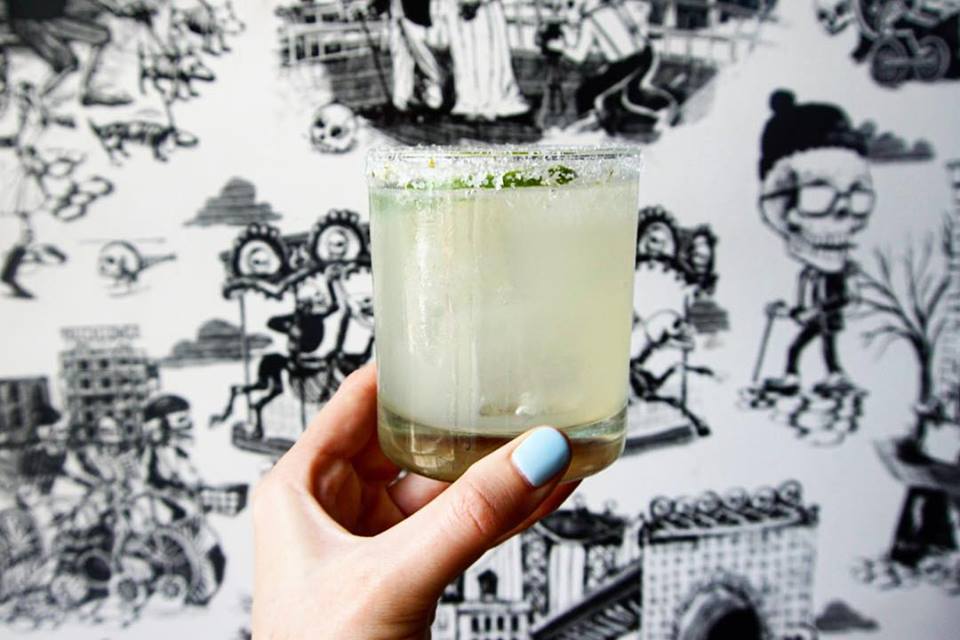 Margarita Eléctrica & custom wallpaper at Gran Electrica (image courtesy of DoNapa.com)