Discover
A Wellness Day in Sonoma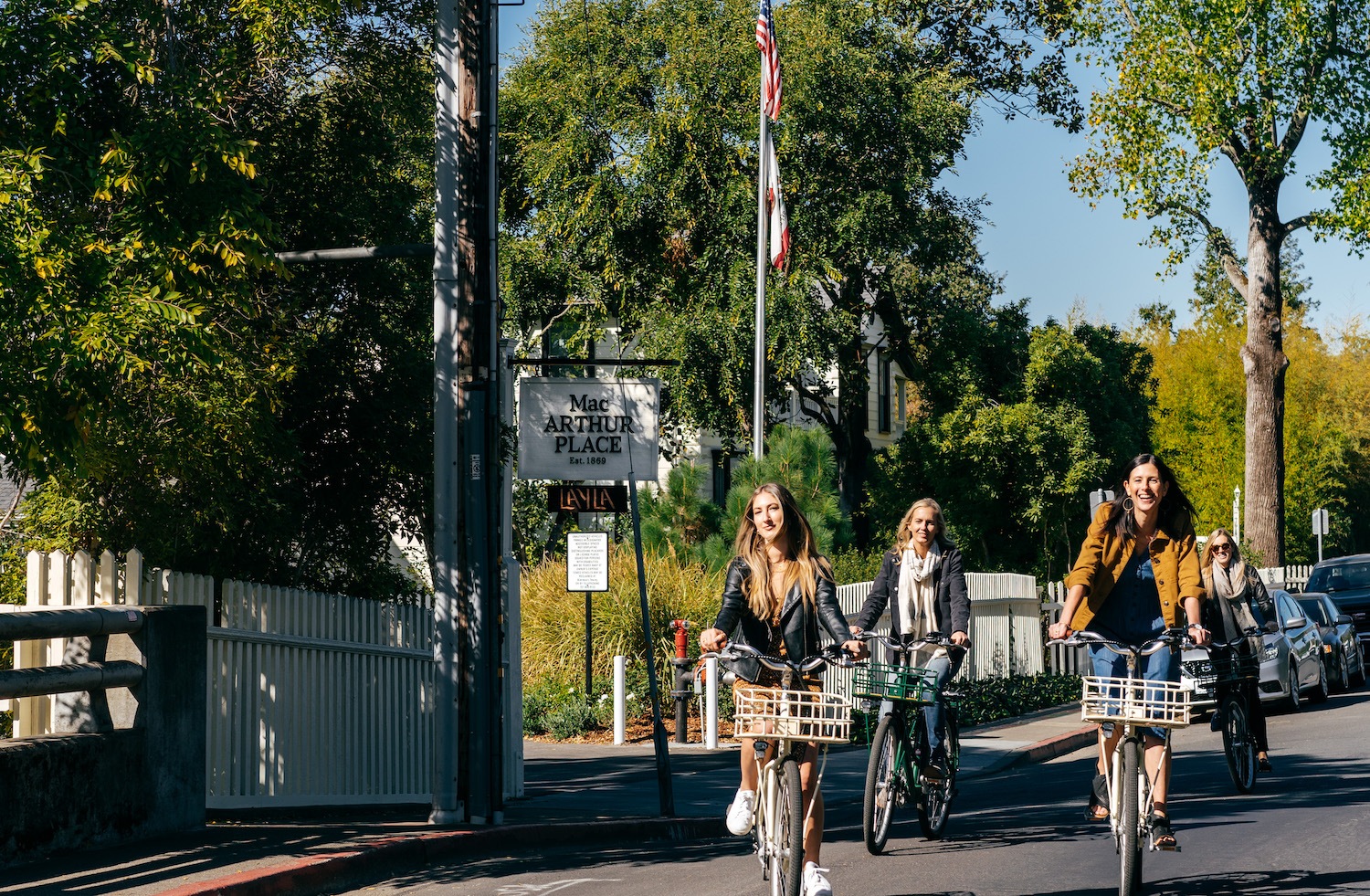 Although self-care has become a buzzword in our current culture, it is of critical importance for mind, body and soul. Whether you're stuck in the workweek grind or reveling in a dreamy wine country weekend, set aside a few moments for some much-needed self-care. Check out a few of our favorite ways to relax or energize, stay grounded and deepen your experience in Sonoma. These can be enjoyed before a day of local wine tasting or, for extra points, as a full-day wellness retreat itinerary.
MOVE
Whether you want to kick-start the day with a high-intensity crossfit class or end it with adeep stretch yoga practice, there are many fitness options in Sonoma so you can keep up your regiment.
MacArthur Place Fitness Center
Adjacent to The Spa at MacArthur is a fully-equipped fitness center for an intensive and effective workout, or a restorative post-spa stretch. Recently upgraded with state-of-the-art equipment, our fitness studio is more than just a hotel gym. Amenities include 2 Peloton Bikes, 2 TRX Systems, a Rep Fitness Dual Cable Cross machine, a Woodway Treadmill, a Precor Elliptical Machine, Free Weights, Kettlebells, Stretching/Yoga Mats, and a Bosu Ball.  Let the Peloton instructors put together a routine for you or throw together your own circuit training. The fitness center is complimentary for hotel guests, as well as for guests enjoying a spa treatment that day.
A short drive from MacArthur Place is Sonoma Fit, a full-service gym with several classes offered at all times of the day including yoga, cycling, kickboxing, and more. Their main fitness floor is sectioned with a cardio room, a dedicated TRX zone, and a separate athletic training area, as well as an outdoor spot for training outside.
A mindfulness-oriented center, Yoga Community offers several yoga classes daily. In addition to showcasing a personalized yoga practice just steps from the Sonoma Plaza, they also offer workshops and special trainings.  Likewise, they offer a resource center to dive deeper into your practice and experience other forms of alternative health and wellness practices.
Blix Bikes
Add movement to your Sonoma adventure by taking a spin on a Blix Bike – free to guests of MacArthur Place, along with a stylish helmet. With a 45-mile range, these user-friendly electric bikes are a great way to take in the sights of Sonoma and its surrounding environs. Start with a gentle cruise around Sonoma Plaza or up to General Vallejo's House, a historical home 2 miles from MacArthur Place. Or, make a day of it by stocking the front basket with a picnic from The Porch and a bottle of wine and heading into the hills – there's no shortage of picturesque spots to enjoy a bite with sweeping vistas.
REFUEL
When you break away from your daily routine for a wine-country escape, it can be comforting to fill a void in your schedule.  For example, your daily coffee routine may be different in the Chef's Cottage than at home or you may be jiving for a fresh juice after a Peloton ride with Robin Arzon.
Featuring local Sonoma roaster Acre Coffee, The Porch brews coffee daily starting at 6am. The menu includes tried-and-true classics as well as signature items like the brown butter bullet which is a great kick start to your metabolism, lifts jet lagged spirits and is known to wake your brain.
When asking for juice recommendations, locals rave about the Green Juice Bar in Sonoma Market – a 7-minute drive from MacArthur Place, or 2 minutes from Yoga Community.  Sonoma Market is the perfect spot for fresh produce and prides themselves on using local produce that's delivered six days a week.  They offer pre-made juices for a quick grab and go or they'll create a custom juice just for you.
"One of the perks of this local grocery store is the juice and smoothie bar.  Favorites include: "Green Juice" with pineapple, green apple, celery, kale, and cucumber, and the sweet and tangy "Apple Zing" with apple, lemon, and ginger.  We especially like the DIY smoothies with three fruits, one juice, frozen yogurt and an add-in like soy protein or wheat germ.  Grab a salad, sandwich, and pastry from the deli section and you've got a delish picnic spread." – Sonoma Magazine
RELAX
The best part of self-care is quieting the mind. Our on-the-go, multi-tasking, notification alert culture can catch up and turn into anxiety or exhaustion. While it can be tough to sever ties with technology, even for a moment, our favorite cure is to ease into quiet in the form of a tranquil spa treatment or outdoor meditation.
With temperatures cooling and leaves falling, The Spa is offering a fall pumpkin special as a nod to the flavor of the season. While pumpkin conjures warming and nostalgic thoughts and visions of holiday cheers, pumpkin is also a great source of Vitamin C and beta-carotene, which work together to soften the skin and boost collagen.
Pumpkin Latte Facial: Comfort and hydrate your skin with an enchanting puree of fresh pumpkin. Infused with pumpkin seed oil and balanced with Vitamin E and Omega 9, this facial restores dry skin and promotes natural moisture for a radiant autumnal glow.
Stroll through lush gardens for a self-guided meditation of sorts. Cornerstone Gardens are an ever-changing series of gardens, showcasing innovative designs from international and local landscape architects and designers. The gardens were inspired by the International Garden Festival at Chaumont-Sur-Loire to create a cultural and creative haven, celebrating the connection between art, architecture, and nature. Currently, the Serenity Garden is on display, it is a minimalist garden combining art and landscape architecture using symmetry and patterning.
If you're looking to pair a little education with your meditation, book a guided tour of the nine gardens.
"Spending time in nature has long been touted for its benefits. Much like meditation, spending time in nature is also linked to a greater sense of happiness." – wanderlust.com
California is known for wellness and Sonoma doesn't disappoint with unique self-care options. Throughout the past year, MacArthur Place has been reimagined with the primary goal of caring for our guests health and well-being, at every moment of their stay. Come experience the serene rooms, lush and immersive gardens and fresh, seasonal and sustainably-sourced cuisine. Your wellness retreat in Sonoma awaits.