Discover
Architectural Digest Features MacArthur Place Interior Designer Kara Smith of SFA Design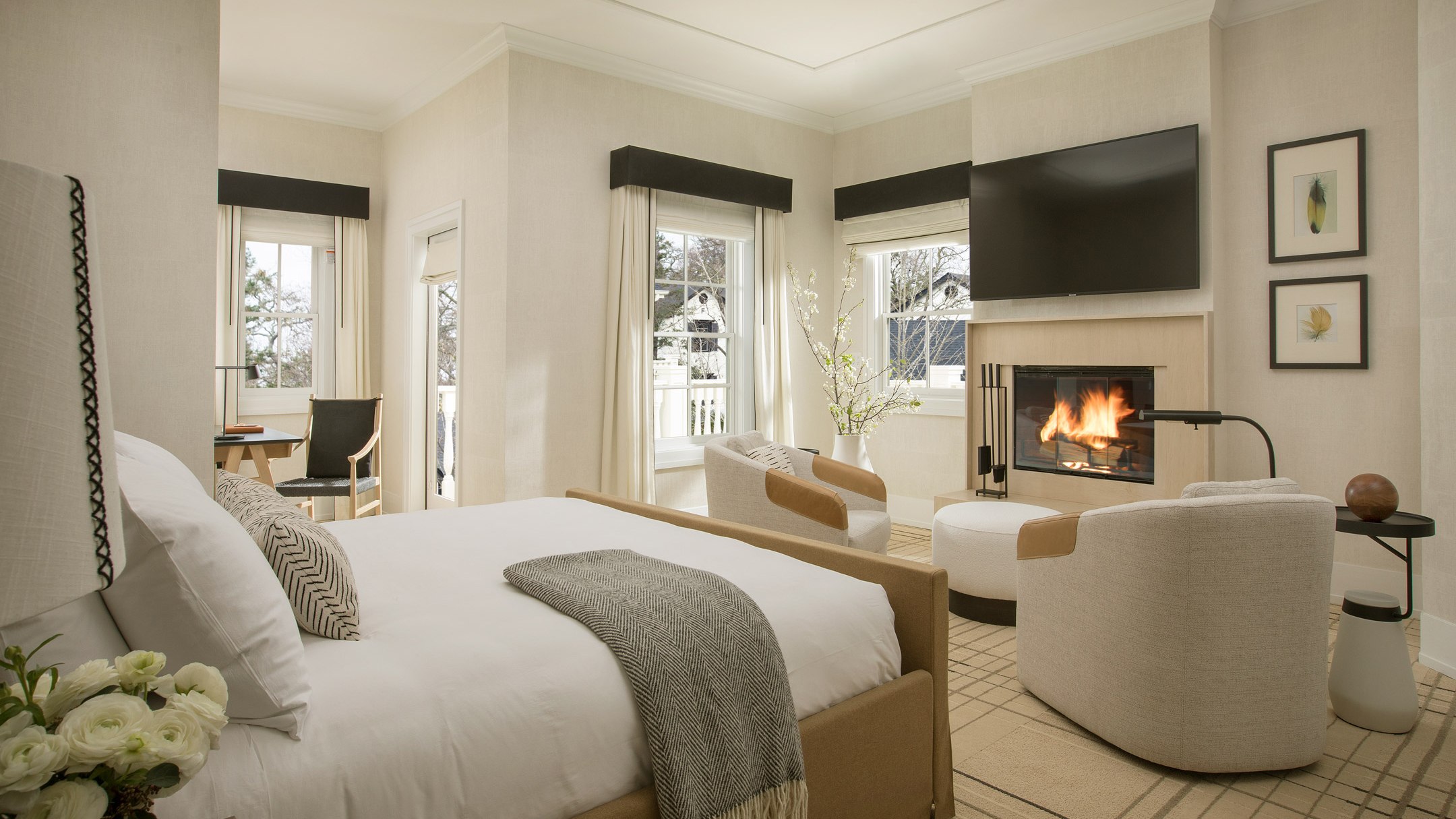 We are thrilled to share that MacArthur Place's renovation was recently featured in Architectural Digest.  The piece, "SFA Design Transforms MacArthur Place from Victorian B&B to Luxe Hotel," spotlights nearly every aspect of our property-wide enhancements including our reimagined food and beverage program led by Chef Cole Dickinson.
Kara Smith of SFA Design was fundamental in transforming MacArthur Place by deftly combining the Sonoma property's historical charm with comfortable luxury at every touchpoint. Kara answers questions below about how her vision for MacArthur Place came to fruition.
The style of the new MacArthur Place has been described as "natural luxury meets farmhouse charm." How did you create this feeling through your design?  
This design was centered around balancing the feel of a luxury hotel with that farmhouse charm Sonoma is known for. We kept traditional facets such as the dark wood sliding barn doors and added new ones like the stone inlay fireplace in the guestrooms to contrast these two ideas.
The new guestrooms are bright, airy, clean and modern yet also warm and inviting. How did you use materials, fabrics and decor to create this captivating ambiance?
In an environment like wine country, you both crave and expect this bright, airy, feel. We've established vaulted ceilings throughout the hotel to meet this expectation. To tie this in with warmth and comfort, we colored the walls with a crème finish and kept neutral, warm tones in the sheets, rugs, and drapes. We fashioned woven fabric patterns to cozy up the place, all while keeping the tones light enough to not lose that radiant feel.
MacArthur Place has been an iconic and storied presence in Sonoma for 150 years. How did the property's long-standing Sonoma roots influence your design?
Our approach was to keep the iconic and historical influence that was the basis of the property. We then accented it with modern, ultraluxe, yet cozy elements.
MacArthur Place has been rooted in Sonoma history for 150 years. How did you tell the "Sonoma" story through your architectural design? Are there quintessential "Sonoma" elements reflected in the new design?
The Sonoma story is a reflection of its history, natural surroundings, authenticity and lack of pretention. Sonoma is richly textured. We believe the hotel's architecture should reflect the same.  This approach is exemplified in the hotel's exposed beams, rustic wood floors, guestroom barn doors, communal fire pits, textured fabrics and natural palette used throughout the estate.
Layla, the new Mediterranean "farm kitchen" has a distinctive style that is both Mediterranean and quintessentially "Sonoma" at the same time. What was your inspiration behind the restaurant's design style? How did you achieve this inviting and convivial vibe?
Our inspiration for this was really the atmosphere of northern California in a Mediterranean-style color palette.  We started with the idea of all white against the metal doors and lush greens and then layered in nods to the Mediterranean pattern and colors while playing with farmhouse style seats, woven textures and rustic wood. The balance feels just right for a Mediterranean farmhouse.
What do you think is the most fun or surprising element of the new MacArthur Place design?
We had lots of fun with this property so picking a particular moment is hard. I would say the hand-painted tiles on The Porch was fresh and exciting.
We look forward to welcoming you to the new MacArthur Place to explore our six-acre resort, as well as neighboring Sonoma. Follow your nose for adventure, our let us curate an unforgettable day trip. Our new Behind the Cellar Door package, in partnership with Bohemian Highway Travel Co.,  includes a two night stay in one of our newly-reimagined guestrooms plus a bespoke wine tasting excursion to three hidden gem wineries with a stop al fresco to enjoy a gourmet house-made picnic lunch prepared by Chef Cole.