Wellness
Transform Your Bath from Routine to Ritual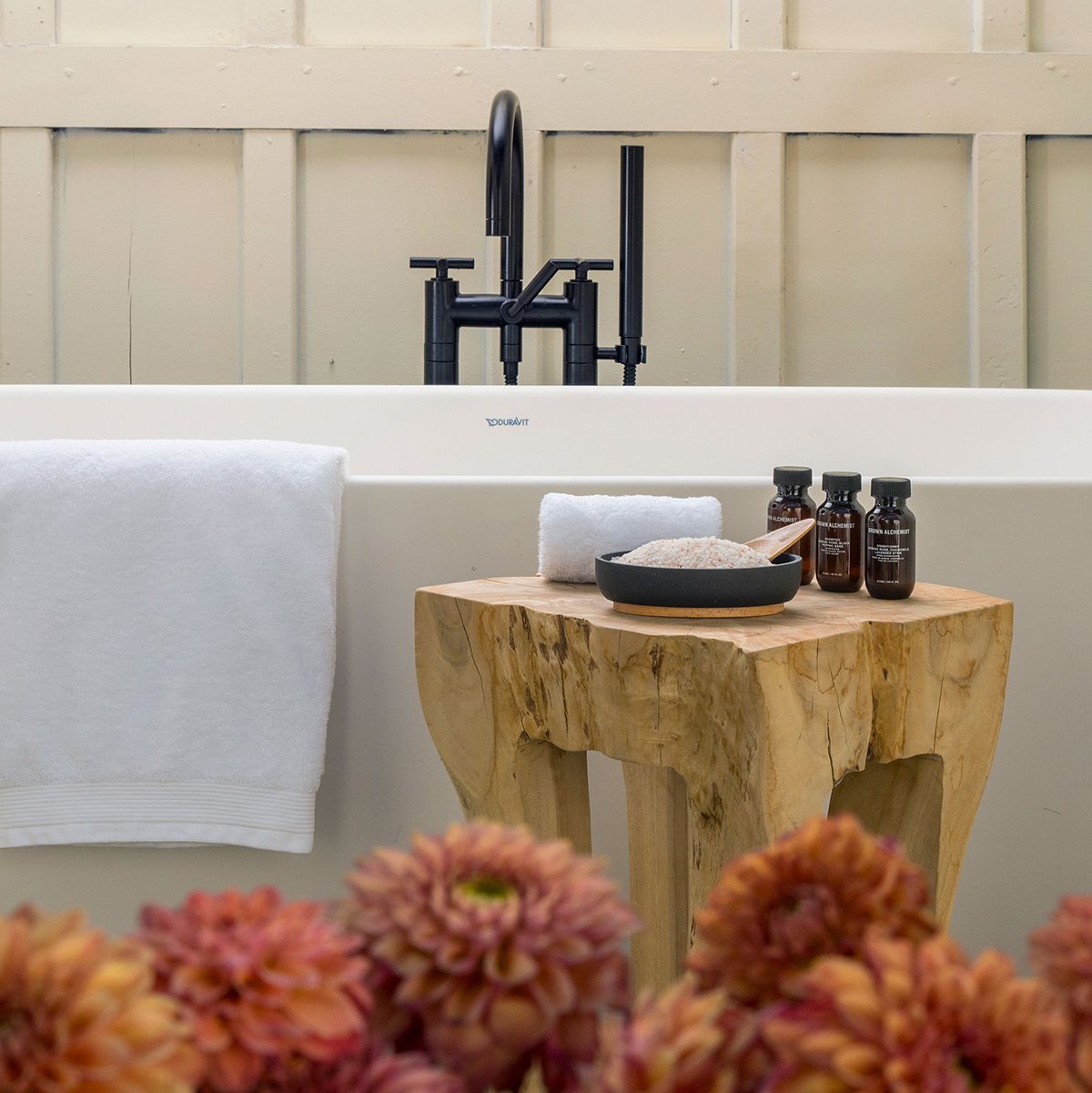 Transform Your Bath from Routine to Ritual
With more time on our hands right now, we find ourselves lingering a bit longer in those precious interstitial moments, enjoying previously-perfunctory daily tasks and even turning some of them from routine into ritual. In an effort to bring mindfulness back into the once-sacred practice of bathing, we enlisted insights from wellness expert, Jamie Pelayo, co-founder of Nature of Things — maker of bespoke bath and beauty products. Jamie draws upon the history and therapeutic benefits of bathing as well as her collaborations with water healer Jobi Manson, and shares ten+ invaluable tips on creating an immersive and restorative bath ritual at home.
Creating a Bath Ritual
The Prep
Run a hot bath to your desired temperature, knowing that you will soak for at least 20 minutes.
Add in your favorite bath immersion. We suggest our Restorative Floral Bath for a relaxing, sensory water meditation or our Fortifying Magnesium Soak for detoxification, pain and muscle soreness relief.
Light a candle, put on some soothing music. Spiritune is a great app for sonic wellness; it offers a selection of emotionally-targeted music to help calm your mood state. If you're already in a calm state, sometimes silence is the best way to get rid of any leftover chatter of the mind.
Dry brush your skin from neck to toe.
Bath Time
Enter the soak and spend at least 10-15 minutes in total relaxation mode. It often takes about 3-5 minutes in the soak just to get melt away the thoughts and reach your optimal state of mind.
If you find "total relaxation" just too difficult, I often like to add in a few other soothing practices to help the time pass. A favorite is using skin-smoothing stones to both gently exfoliate and also to massage my muscles when in the bath.
Optional  practices to integrate —

Listen to a live guided meditation such as those offered by water healer Jobi Manson of I AM SEFARI .
Read aloud affirmations or inspiring Sutras such as those featured in the Radiance Sutras .
Have a journal or book within reach for the last 5-10 minutes. Write about the thoughts that you are trying to clear from your mind.
The Finishing Touches
Leave the bath without cleansing off as you want the botanical and mineral benefits of the bath to continue to work into the skin long after you've left it. Pat your skin dry.
Although the Restorative Floral Bath is deeply hydrating on its own, I still love to layer our Nourishing Body Creme from neck to toe for the extra anti-inflammatory and supreme moisturizing benefits. This also gives me an extra moment to massage my upper back, legs or arms.
If I've steeped in the Magnesium Soak after a hard workout or injury, I like to put our Superlative Body Balm directly on places of discomfort. The cooling therapeutic sensation takes away any residual pain or discomfort.
We hope you find time to enjoy an immersive bath ritual at home, and are as excited as we are about bringing back the ancient art and mindful philosophy of bathing. Bathing can be so much more than a requisite hygiene measure. At MacArthur Place, we honor the bathing ritual in some of our signature treatments at The Spa, as well as in our Suites outfitted with private indoor or outdoor soaking tubs. We hope to welcome you back on property soon.