Discover
Eat & Drink | Best Sonoma Valley Restaurants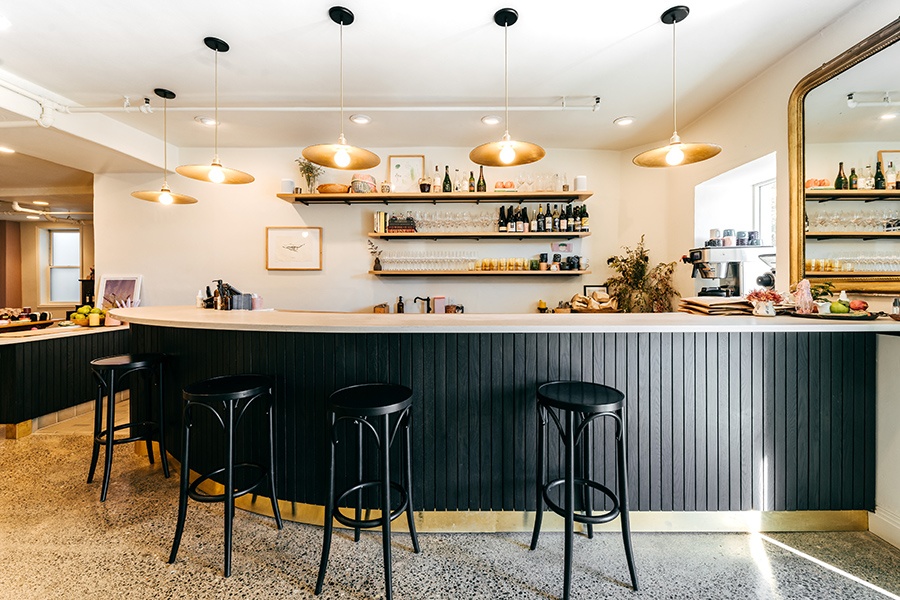 Image by Emma K Morris, courtesy of Valley Bar + Bottle
Sonoma is home to an impressive array of culinary establishments, from funky roadside diners to fancy farm-to-table hotspots. We've rounded up "bests" (in our humble opinion) in each category of eat and drink in the beloved food mecca of Sonoma. Read on for two dozen of our favorite spots to break bread. Each eatery's name is linked to their website so you can explore further. Note that advance reservations are required at most restaurants, so plan accordingly!
Price Guide (per person)
$ $20-35
$$ $35-60
$$$ $60-75
$$$$ $75-125+
Locals Favorite | Valley Bar + Bottle
$$$ | 487 First Street West, Sonoma
A neighborhood favorite from four Scribe veterans. Refreshingly unique farm-fresh dishes and food-friendly wines (lots of imports!), mostly organic and biodynamic. 
Intimate & Charming | Café La Haye
$$$ | 140 East Napa Street, Sonoma
Beloved Sonoma eatery since 1996 (early pioneers of farm-to-table dining), with daily menus, a small-but-mighty local wine list and gracious hospitality from proprietor Saul.
Mexican | El Molino Central
$ | 11 Central Avenue, Boyes Hot Springs
Arguably the best Mexican food in the Bay Area, served up in a quaint-yet-colorful roadside stand. Tacos, tamales and enchiladas lovingly made with masa that's stone-ground on site.
Oysters | Wit & Wisdom
$$$$ | 1325 Broadway, Sonoma (in the Lodge at Sonoma)
A wine country "tavern" from iconic restaurateur Michael Mina, with a solid assortment of fresh Pacific Coast oysters, shrimp, caviar, and fish plus wood-fired vegetables, pizzas and pasture-raised meats.  
From the Hearth | Glen Ellen Star
$$$ | 13648 Arnold Drive, Glen Ellen
An intimate setting centered around the open kitchen and wood-fire oven. Pizzas, pastas, and proteins are divine, but the wood-roasted veggies are show-stoppers. Say hi to chef and owner, the inimitable Ari Weiswasser.
From the Heart | Animo
$$$ | 18976 Sonoma Hwy, Sonoma
Korean American & Basque cuisines designed to make you feel at home, the name is inspired by the latin term ex animo meaning "of the heart, sincerely,".
Brunch | Boon Fly Café
$$ | 4048 Sonoma Highway, Napa (in Carneros Resort)
Vibrant "roadhouse" cafe at the entrance of Carneros Resort. Brunch menu flips every switch, from sweet to savory to boozy. Don't leave without trying their donuts – $10 for a baker's dozen.
Wine Garden | Bloom Carneros
$$ | 22900 Broadway, Sonoma
A popular gathering spot for Brunch, this re-branded restaurant from the Kivelstadt Cellars team now serves dinner as well from Thursday – Saturday evenings. Offering seasonally focused, upscale comfort food dishes (and kid & dog friendly!) it's the perfect stop for casual al-fresco dining.
Coffee | The Porch 
$ | 29 East MacArthur Street, Sonoma (in MacArthur Place Hotel)
One of Sonoma's best kept secrets. Whipping up classic and specialty coffee drinks with beans from local roastery, Wolf Coffee. Housemade pastries and, as the name implies, an open-air porch (patio) make this spot a daily ritual.
Pizza | The Red Grape
$ | 529 First Street West, Sonoma
Crushable brick-oven pies with a hyper-thin crust and a dizzying array of toppings. Not just the classics, you can opt for California flair (ie. pear, gorgonzola, hazelnut & smoked bacon). 
Fried Chicken | Lou's Luncheonette
$ | 2698 Fremont Drive, Sonoma
Down-home cooking elevated with local, seasonal ingredients. Fried chicken is king, served up in a buttery biscuit sando or part of a country (or nashville) dinner. Don't forget the hush puppies
Craft Cocktails | The Starling
$ | 19380 CA-12, Sonoma
Neighborhood cocktail joint offering masterful mixology without the pomp and circumstance. Set in a converted roadhouse at the edge of town, the bar's vibe is spirited and anything-but-boring. 
Small Plates | OSO
$$ | 9 East Napa Street, Sonoma
Great happy hour spot to sample from their eclectic offering — deviled eggs, ceviche, poutine and meatballs to name a few must-haves — in a cozy rustic setting.
Californian | El Dorado Kitchen
$$$ | 405 First Street West, Sonoma
Connected to the El Dorado Hotel, EDK offers a seasonal menu sourced from the best of region "from morning 'til night" served in the handsome dining room or tree-lined patio. Classics such as the truffle oil fries with parmesan, EDK burger, fish tacos, & the Chef's famous paella are not to be missed. If you're short on time, visit their new takeaway concept, El Dorado Cantina, spotlighting a variety of Mexican specialties.
Dive Bar | Ernie's Tin Bar
$ | 5100 Lakeville Highway, Petaluma
An unseemly spot for a drinking establishment (at the crossroads of two highways), this former garage serves up cold cans of beer, wines BTG and no frills. 
Bubbles | SIGH
$ | 120 West Napa Street, Sonoma
Everything sparkles. From the impressive champagne selection to the gold and cream modern decor to the scintillating owner, Jayme. Perfect reboot for the wine-fatigued palate. 
Classic Farm-to-Table | the girl and the fig
$$$ | 110 West Spain Street, Sonoma
One of the "OG" farm-to-table spots in wine country (founded in 1997) with a slight French twist. Consistent, classic, charming and always abuzz, especially at the height of tourist season.
Portuguese | La Salette
$$$ | 452 First Street East, Suite H, Sonoma
A modern take on classic Portuguese dishes are served up in this intimate spot tucked on a little lane behind Sonoma Plaza. Cozy up in their dining room or pull up a seat on their charming terrace. Either way, don't miss the wood oven roasted octopus, or the Caldeirada – Portuguese fisherman's stew.
Mediterranean | Layla 
$$$$ | 29 East MacArthur Street, Sonoma (in MacArthur Place Hotel)
Convivial "farm kitchen" serving fresh, seasonal, local and sustainably-farmed dishes with a coastal Mediterranean bent (France, Italy, Spain). Bright, airy and verdant setting, inside or out.
Sandwiches | Sonoma Market
$ | 500 West Napa Street, Sonoma
Fast, filling and not-at-all fancy. Sometimes a classic meat-on-bread scenario is just what the doctor ordered, especially if the ingredients are delicious and fresh. 
Italian Market | Salumeria Ovello 
$ | 248 West Napa Street, Sonoma
The real deal. Housemade porchetta, salumi, panini and pastries (plus imported goodies like truffles) from Chef Andrea's motherland – Piemonte, Italy.
Brewpub | HopMonk Tavern
$$ | 691 Broadway, Sonoma
Craft beers, well-made bar food and live music in a former 1888 farmhouse in downtown Sonoma. Great for families, large groups, as well as dogs and bikes (patio only).  
Bakery | Basque Boulangerie Café
$ | 460 First Street East, Sonoma
Second-gen bakery in the iconic Sebastiani Theater building (first one est. 1856). Hailing from southwestern France, the owners make dreamy "old world" style French breads and pastries.
Restaurant & Marketplace | Taub Family Outpost
(currently closed for renovations)
$$$ | 497 First Street West, Sonoma
Clever mixed-use space (market, dining, speakeasy) in a historic two-story building on the Plaza. Marketplace boasts well-curated wines, provisions, grab-and-go bites and, wait for it, a coffee and frosé window! Restaurant features seasonal items and innovative daily specials.