Discover
Family Fun in Sonoma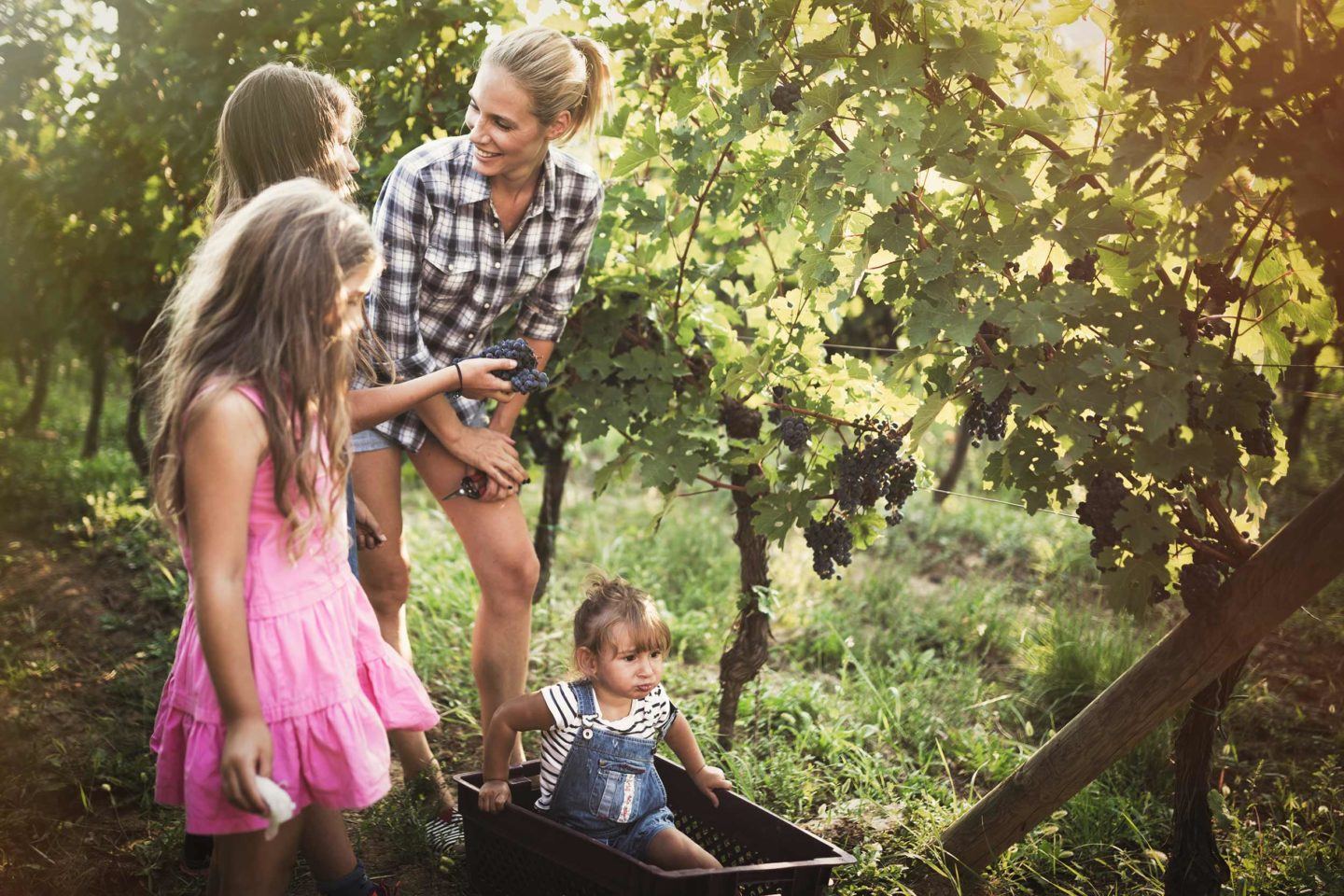 Families love Sonoma, and at MacArthur Place, we welcome guests of all ages! There is, however, always the question of how to spend your time as a family when not everyone can wine taste their way through Sonoma. Not to worry though, family activities in Sonoma and the surrounding areas are plentiful here in beautiful wine country! There are many things to do to have a delightful and unique family experience.
Playtime
TrainTown
TrainTown founder, Stanley L. Frank, best described this train lovers mecca: "TrainTown can best be thought of as a 10-acre elaborate tabletop railroad, which is outdoors and rideable; where sense of direction is lost, and best appreciated by the under sophisticated and over sophisticated."  TrainTown features a quarter scale railroad on four miles of track. Each train trip lasts 20 minutes and goes through tunnels, over bridges and makes a stop at Lakeview – our miniature town and petting zoo. There are also amusement rides, which keep with the train theme.
Sonoma Plaza Playgrounds
Visiting the ducks at the Plaza Duck Pond is one of the favorite things for kids to do. The playground on the west side of the Plaza is for younger children and also has low swings available. The playground "behind" City Hall is designed for the older set. There are plenty of spots for a picnic to enjoy before or after the kiddos have had a chance to get all their wiggles out. If you can steal a quick minute, there is an adorable kid clothing store, Half Pint, where you'll find comfortable and trendy clothes.
Kid-Friendly Wineries
Larson Family Winery
At Larson Family Winery, they blend their passion for winemaking with hard-working, fun-loving country lifestyle, complete with resident dogs! Located just a short drive from MacArthur Place, the winery sits on acres of land that has been in their family for almost 120 years. The sprawling green grass and lawn games area are perfect for the kids, and the picnic tables seat the whole family comfortably. Enjoy a picnic (Larson welcomes outside food, so hop over to Sonoma Market for some delicious grab and go options), play some bocce or bags, visit the goats, pet the dogs and sample their delicious wines. Every Sunday in July there will be a different food truck at the winery….and what kid doesn't enjoy eating food from a truck?
Benziger Family Winery
Benziger welcomes families and even has a tram tour that is pulled by a tractor….another kid favorite! The kids will learn about Biodynamic farming (which could be a great report for school one day), and the adults will love sampling their wines. The winery tours were voted best in Sonoma in 2017.
Biodynamic Vineyard Tram Tour: Enjoy a close-up look at their picturesque vineyards where you will learn about unique Biodynamic farming practices. On this tour, you will also visit their winemaking facility and explore the wine cave before completing your tour with a special tasting of their award-winning wines inside our Tasting Room. Approximately 45-minutes.
Kid-Friendly Sonoma Restaurants
The Red Grape
A family-friendly environment run by owners with kids and grandkids of their own. They offer the always popular, pizza and pasta options, with kid-friendly cheese pizza or spaghetti and meatballs. Plus there are some great items that parents will enjoy, as well as wine, of course.
Jacob's Restaurant
A laid-back spot that welcomes kiddos.  With an Italian menu, specializing in pizza, it is another kid-friendly spot. The portions are generous and the owner will most likely come out to greet you.
Sonoma Market
This community market offers extensive selections of high-quality meat, farm-to-market produce, gourmet deli offerings, local and imported wines, artisanal cheese, fresh baked goods, and more.  With kids in tow, it is a great spot to pick up pick up delicious sandwiches and healthy snacks and take them out for a picnic.
Summer Events
Sonoma County Fair
Santa Rosa | August | M-F from 8:30 am – 6 pm
The Sonoma County Fair features rides, live music, games, livestock, rodeo, monster trucks, destruction derby, and so much more!
Gravenstein Apple Fair
Sebastopol | August | 10am – 6pm
The Gravenstein Apple Fair continues the tradition of celebrating and exhibiting apples, combined with fantastic live music on two stages, great food, demonstrations from local chefs and artisans, arts and crafts booths, farm animals and so much more. There are fun activities, like the Hay Maze for the kids, kid-focused performances, beekeeper displays, and a fine selection of local cider, wine, and brews for the adults.  What would an apple fair be without a pie eating contest? They also have the no-hands Caramel Apple Eating Contest, Applesauce Drinking Contest, and Apple Juggling Contest. There is no doubt that the Gravenstein Apple Fair is one of the most kid-friendly festivals of the year, but it's fun for adults as well.
Kid-Friendly Daytrips From Sonoma
Charles M. Schulz Museum
This museum was founded by and honors Charles Schulz who wrote the fabled Peanuts cartoon.  Along with their regular and traveling exhibits, this year they are celebrating The Year of the Dog. The Museum is open every day from Memorial Day (the last Monday in May) through Labor Day (the first Monday in September).  Take a peek at the class schedule, the Museum offers classes and camps where participants will work with professional cartoonists to unleash their inner artist. Classes and camps include cartooning, animation, acting, ice skating, hands-on arts and crafts and LEGO Animation!
Jelly Belly Candy Company
The Jelly Belly factory offers free self-guided tours that allow you to explore the ¼ mile journey above the factory at your own pace, enjoying the all-new look at candy making. There are interactive exhibits and games along the tour lane that include free samples.  There are private tours and even a Jelly Belly University, for those that a ready to graduate with a degree in candy!
Armstrong Redwood Park
This is a lovely day trip from MacArthur Place as it is about a one-hour drive northwest along the Russian River. This is the park where you can see the "Big Trees".  There are several hiking trails, picnic grounds, and places to admire these magnificent trees. The ancient coast redwood is the tallest living thing on our planet!  These remarkable trees live to be 500-1,000 years old, grow to a diameter of 12-16 feet, and stand from 200-250 feet tall. Some trees survive to over 2,000 years and tower above 350 feet.  From here, we suggest that you carry on to the Coast and drop down to Bodega Bay for a seafood lunch, stopping at the pullouts along the coast for photo ops of the incredible coastline.
We hope you enjoyed our recommended list of family activities in Sonoma. Come experience all that Summer has to offer in our small town and surrounding areas, and also check out our list of the Top 10 Things To Do In Sonoma This Summer.  Your kids will be welcomed and able to see all sorts of incredible things that will give them a taste of history, nature, art, and creativity, all while having fun!