Discover
The Art of the Perfect Picnic:
Five Picturesque Locales for a Picnic in Sonoma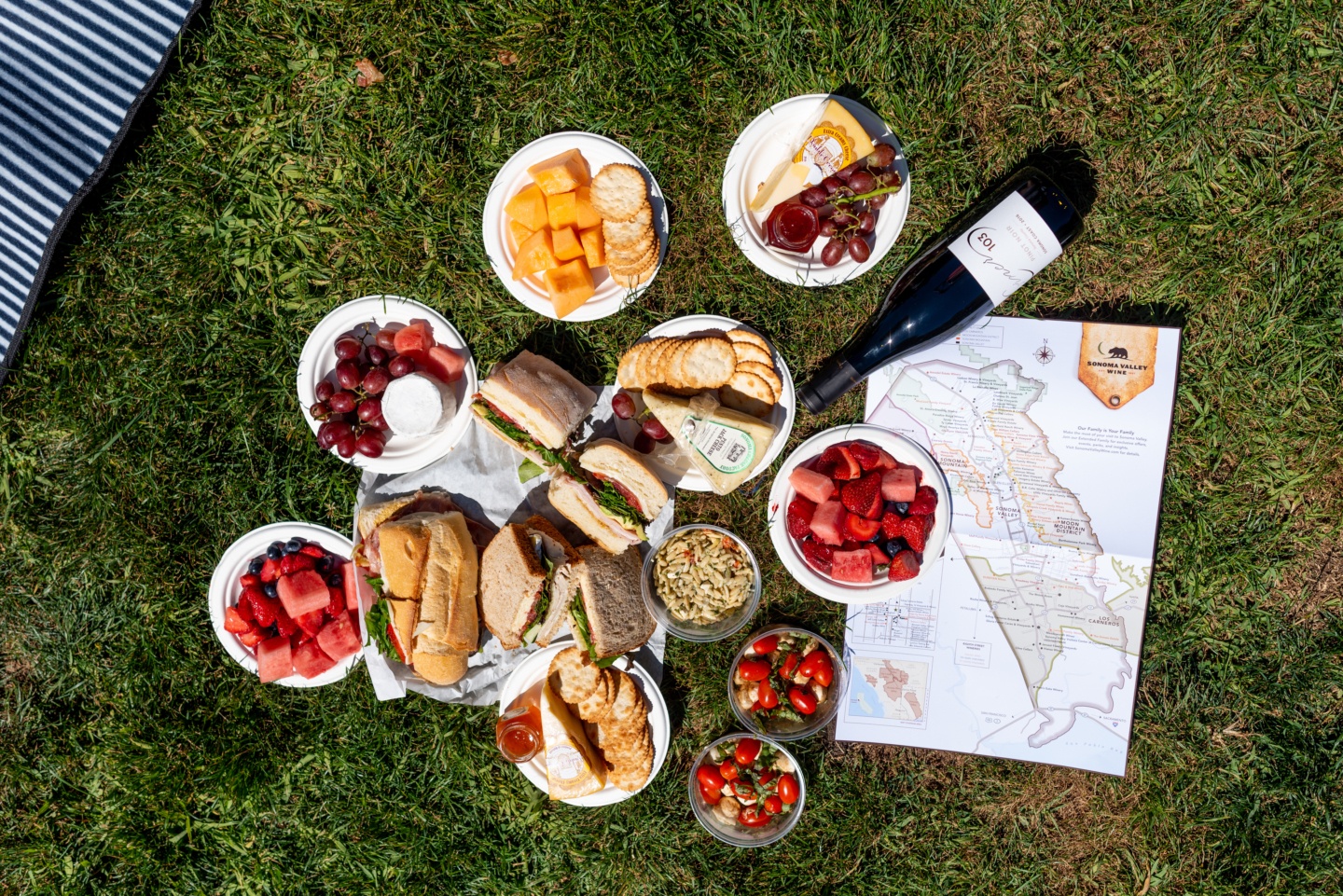 The start of spring in Sonoma signals the beginning of our favorite pastime: picnicking! With so many verdant parks and dramatic seaside locales, plus access to so many artisan provisions and libations, it's no surprise that picnicking is a lifestyle in wine country. Read on for our top five locations to enjoy a luxe and picturesque picnic in Sonoma.
Sonoma Plaza

This 1 block x 1 block garden oasis in the center of town is a great spot for a picnic, flanked by historic architecture (1908 stately stone City Hall building at the entrance as well as Mission Solano across the street) and shaded by statuesque trees. Bring a blanket and find a spot in the grass, sit on stone walls by the fountains or at one of the picnic tables. It's Sonoma, so "BYOB" is fully legal. Pro tip: check out the lively Tuesday night Farmers Market from May – October – great local produce and provisions, and a convivial locals scene where the art of picnicking is taken to the next level.
Bartholomew Estate
This historic 300-acre estate is celebrated as the birthplace of modern viticulture, dating back to 1857 when it was planted to vine by Agoston Haraszthy. Under new stewardship by the philanthropic Bartholomew Foundation, this hidden gem offers wine tasting, picnicking, hiking and horseback riding. Start with a 3-mile hike winding through mature oaks, madrones, redwoods and vineyards. Then grab a bottle of their Sauvignon Blanc or other small-lot, organically-farmed wines and enjoy a picnic in the park's pastoral setting.
Sonoma Overlook Trail
A local's favorite, the Sonoma Overlook Trail is a pristine 3-mile walking path that winds along wooded hillsides all the way up to a lookout point with sweeping views of Sonoma Valley and Mount Tam in the distance. Head back down the way you came, stopping at one of the stone benches to take a picnic break and soak up the scenery. For a slightly longer hike, connect to the Valley of the Moon Trail in the neighboring Montini Open Space Preserve. 
Sonoma Coast, Kortum Trail
This magnificent 8-mile (roundtrip) ramble along Sonoma Coast's Kortum Trail does not disappoint with crags, coves, cliffs, and amazing views of the Pacific. Start at the Kortum Trailhead above Wright's Beach and follow the trail to Shell Beach, where a set of wooden stairs descends to a tiny cove (go at low tide and enjoy some great tide-pooling). Continue on the Kortum Trail, which dips and rises from pocket beaches to sweeping coastal views. The trail veers inland and over a hill, concluding at Blind Beach – a spacious spot for an idyllic Sonoma picnic. Save some energy, and return the way you came.
Durell Vineyard
For a more elevated (i.e. non-DIY) Sonoma picnic experience, join acclaimed local producer, Three Sticks Wines, for a scenic excursion at their crown jewel: Durell Vineyard. Your adventure begins with a picturesque drive to the highest point of the property for sweeping vistas of the valley floor below. Next, hop on a Kubota for an off-road ride through the rolling vineyards and volcanic terrain of the 610-acre property. La pièce de résistance?! A private, locally curated picnic luncheon paired with Durell Vineyard wines awaits you beneath the shade of an ancient oak tree. To book this experience, please contact our Concierge at 707.939.2929 (Available August – October; 72 hours advance notice required).
---
As always, we recommend making MacArthur Place your home base while picnicking your way through the hills and dales of Sonoma. In addition to luxurious suites with thoughtful amenities, our property boasts six magnificent acres with more than one perfect picnic spot!