Discover
Somm Selects:
Five Unique & Notable Finds on Layla's Wine List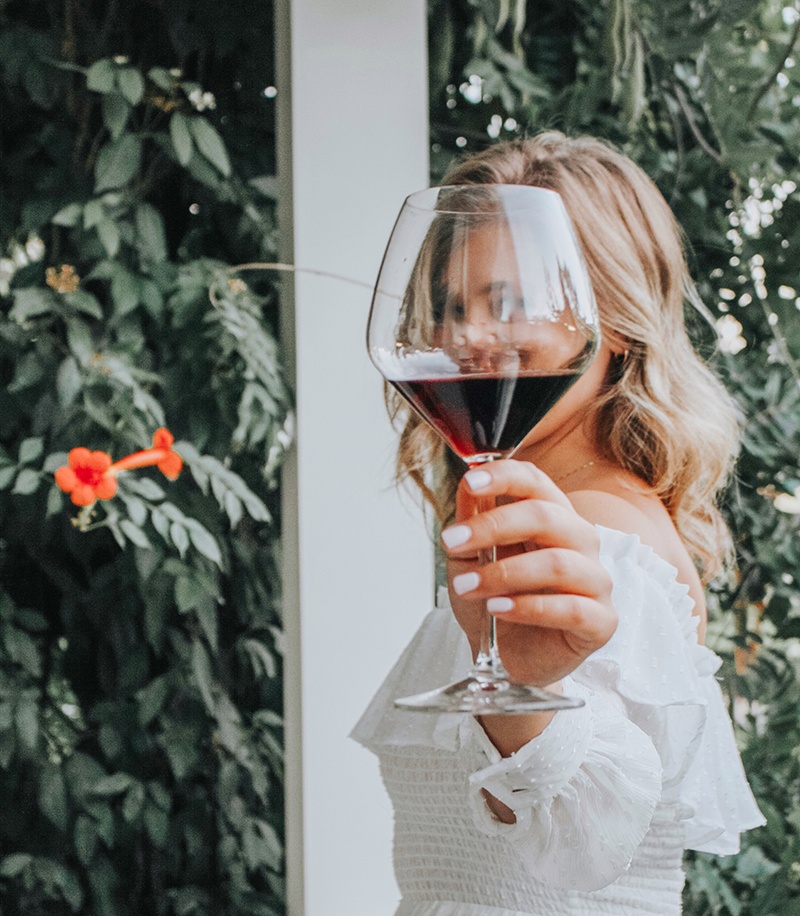 Ideally situated in the heart of Sonoma's wine country, MacArthur Place is a hop, skip and a jump from an innumerable amount of world-famous wineries and not-to-be-missed hidden gems. Even an extended sojourn in Sonoma would not afford even the most ambitious explorer enough time to visit a fraction of these locales. As luck would have it, our estate sommeliers have distilled the valley's embarrassment of riches into a highly curated wine list at our signature restaurant, Layla. In addition to an exciting array of notable imports and domestic cult classics, Layla's wine list features a wealth of unique finds from independent local producers (all family, woman, and/or Black-owned). Read on for our Somm's selection of one-of-a-kind wines, and the dishes they pair best with (view our new Layla menus & wine list here). Consider this your passport to wine country!
Ryme Cellars | "Hers" Vermentino, Las Brisas Vyd, Carneros, 2020
Founded in 2007, Ryme is a Sonoma-based collaboration between husband and wife duo, Ryan & Megan Glaab, with a focus on producing wines (mostly rare or unusual Italian varieties) with distinctive character. For Ryme, that means "valuing a great wine's idiosyncrasies over a polished supple sameness that is so common in the wine world." This refreshing approach to winemaking begins in the vineyard, where they source from conscientiously farmed organic or sustainable sites, and then continues with simple methods in the cellar — no cultured yeast, no temperature control, no enzymes or other adulterants, no fining or filtering. The result is vibrant, site-specific wines with ample tannins and acidity. A favorite on the Layla list is Ryme's "Hers" Vermentino from Las Brisas Vineyard in Carneros — a dreamy and quintessentially-Spring pairing with our Tuna Carpaccio Tonnata.
6450 1st St, Forestville | rymecellars.com
Fog Crest Vineyard | "548" Estate Chardonnay, Sonoma Coast, 2017
Hailing from the rolling hills, sandy loam soils and cool, foggy climes of the Russian River Valley in Sebastopol is Fog Crest — a quarter century-old brand arguably just now coming into its heyday. Founded in 1997 by husband and wife team, James and Rosalind Manoogian, Fog Crest is a Black owned and operated winery producing some of the most elegant Burgundian-style Chardonnay and Pinot Noir in Sonoma from their now-storied vineyard site (winemaker Jerome Chery grew up near the Loire Valley and studied enology at the University of Burgundy, Dijon — hence the stellar and truly "Burgundian" nature of their wines). Their Pinots are knock-out, but we suggest their "548" Estate Chardonnay paired with our Smoked Sonoma Carrots with garden pea hummus, black sesame and toasted garlic crumble. The light oak and acidity in the wine nicely complements the smokiness and richness of the dish, respectively.
7606 Occidental Rd, Sebastopol | fogcrestvineyard.com
POE | Pinot Noir, Van der Kamp Vyd, Sonoma Mountain, 2016
Napa local, Samantha Sheehan, founded POE in 2009 after being inspired by the wines she tasted in Burgundy and Champagne. However, her wines are anything but iterative – they are wholly unique, site-specific and age-worthy expressions of Burgundian varietals lovingly and sustainably farmed in California. There is minimal intervention, judicious use of sulfur, never any additives, and a "civilized" ABV (most of her reds clock in under 13%). A best-in-class example from her small-but-mighty portfolio is her Pinot Noir from Van der Kamp Vineyard. Planted in the early 1950s, this vineyard at the very top of Sonoma Mountain at a 1,400 foot elevation, is possibly the oldest planting of Pinot Noir still producing. With aromatic complexity in its blend of black cherries, pomegranate and lovely soil elements, this wine pairs magically with the earthy, umami notes in our Royal Trumpet Mushrooms or handmade Gnocchi with Fresh Wild Truffles. Bonus note: the POE labels were designed by Sam's husband, Michael McDermott who is a local designer and artist.
920 Franklin St, Napa | poewines.com
Hidden Track | Pinot Noir, Gardner Vyd, Sonoma Valley, 2018
Owners, Laura and Kyle Gabriel, met in film school in Boston. After a few years working in the film and music biz in LA, they crowdfunded to launch Paper Planes and embark on their dream of making expertly-crafted and highly-drinkable small-lot Sonoma wines with most-excellent branding. Still a "side-hustle" as both Kyle and Laura have full-time jobs, Paper Planes (Rose) and its sister brand Hidden Track (Pinot Noir) are well on track to achieve great things. A gem on Layla's wine list is the Hidden Track Pinot, made with organic fruit hand-picked from the tiny 5-acre Gardner Vineyard in Sonoma Valley, just about a mile outside the town of Sonoma. Pair this with our Free Range Half Chicken with apricot glaze, shaved fennel and arugula salad and you will be one happy camper.
No Tasting Room | paperplaneswine.com
Keplinger | "Sumo" Petite Sirah, Shake Ridge Vyd, Amador County, 2016
Helen Keplinger is a dynamic force. She is one of the most talented winemakers of our generation (having worked with luminaries such as Heidi Barrett, Kathy Joseph, Michel Rolland, and David Abreu and gracing the cover of Wine Spectator in 2014), yet her gravitas and greatness are carried by graciousness and humility. Helen is currently focused solely on her own label, Keplinger Wines, which she runs with her (awesome!) husband DJ. Although her portfolio is centered around Rhone wines, one of our favorites — and an anchor on the Layla wine list — is "Sumo" Petite Sirah co-fermented with Viognier from the organically farmed Shake Ridge Vineyard in Amador County. This wine has dark and brooding notes of brambly blackberry, black licorice, black cherry and asphalt, yet is lifted with accents of violets, white pepper, dried herbs. It's a divine pairing with our Sonoma Lamb Chops with garden pea greens, nantes carrots, pea aioli, chile oil.
926 Franklin St, Napa | keplingerwines.com