Food & Drink
Gin Tonica:
How to Make The Perfect Spring Sipper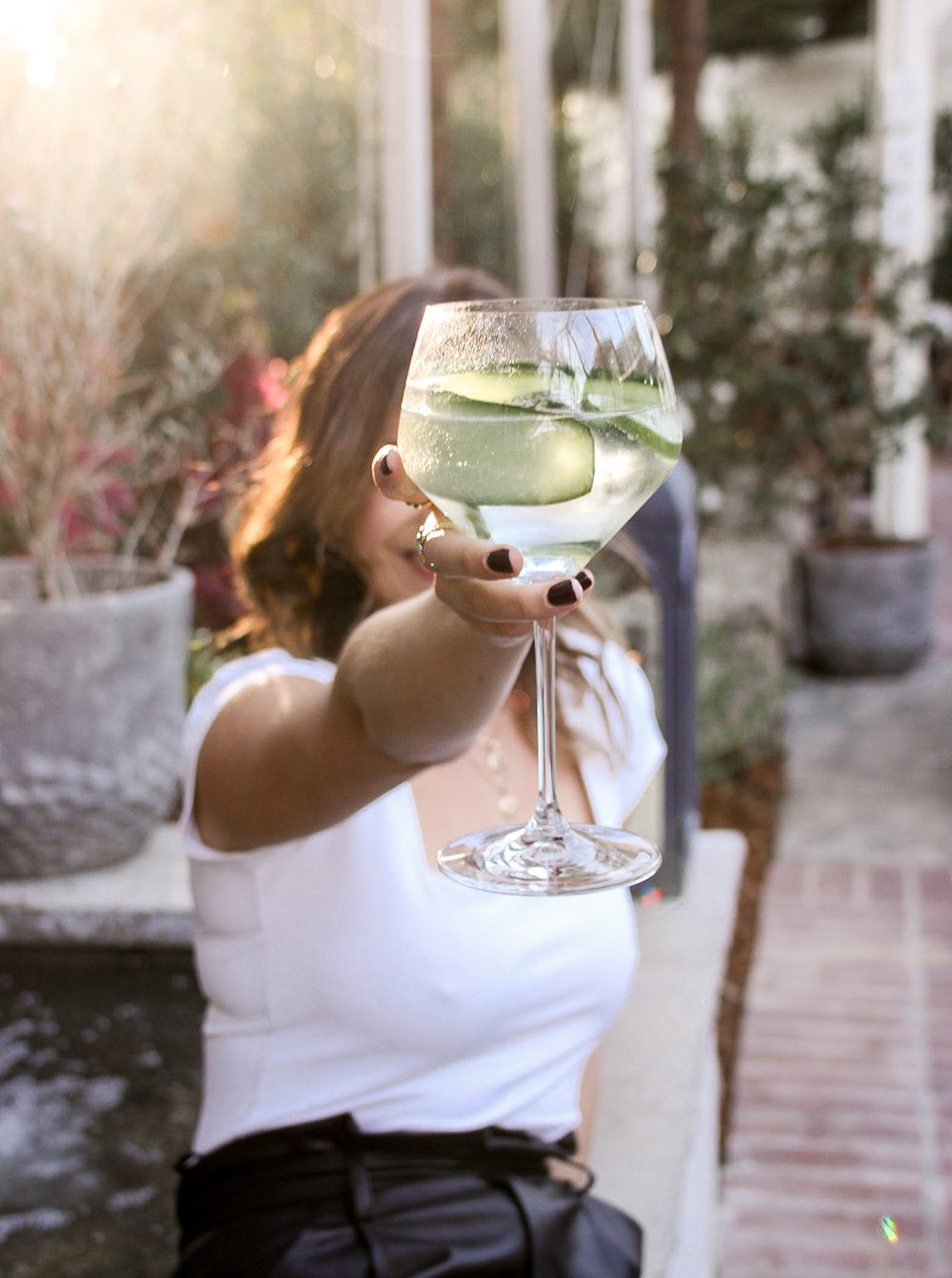 For the Love of Gin…and Tonic
The gin and tonic's somewhat inglorious origins belie the sheer perfection of this classic drink. Concocted by 19th C British soldiers in India as a way to mask the bitter taste of medical quinine (used to ward off rampant malaria in the tropical climes), this original cure-all elixir is one part gin, two parts tonic and a lime garnish. Perhaps more fascinating than the G&T origin story is how it has flourished across the globe, particularly in warm Mediterranean climates. Spain, for one, has taken this humble drink to new and unexpected heights. The "Gin Tonica" isn't just a drink, it's a lifestyle — and a platform for creativity. The essence of the drink is simply gin + tonic + garnish, but the imagination lies in the selection of each ingredient as the possibilities are endless. Below are six tips for perfecting this refreshing spring sipper, plus a recipe for Layla's Gin Tonica.
6 Tips for Getting Started
Glassware. Select a stemmed glass with a large bowl to let the garnishes infuse for a more aromatic experience. Grab a "copa de balon," a goblet or a Chardonnay glass. Whatever you do, don't use a rocks glass.
Gin. Whether you fancy something herbaceous (like Hendricks), bright and citrusy (like Beefeaters), crisp and clean (Bombay Sapphire), spicy (Plymouth) or malty (Genever), just take care to note the flavor profile so you can accent it with the perfect garnish.
Tonic. For a Spanish-style Gin Tonica, opt for Mediterranean tonic (like this one from Fever Tree) which is more delicate and floral than the standard tonic, as it's made from essential oils and herbs from the Mediterranean shores. 
Ice. Go big with an oversized square cube that delivers a slow, steady chill while you leisurely sip your drink on a balmy afternoon. For extra points, use an ice stamp to customize your cube.
Garnish. The sky's the limit. And don't limit yourself to just one. Most gins benefit from a bright pop of citrus, so start with a lemon or lime wheel. From there, you can veer Herbaceous with fresh thyme, cilantro, rosemary or kaffir lime leaf; Refreshing with a cucumber ribbon, mint or watermelon; Spicy with star anise, peppercorns, cinnamon sticks; Floral with lavender or rose petals. Find inspiration for some nine creative combinations here on Bartender.com. 
Theater. Whether it's an elaborate and colorful garnish bursting from the glass, a decorative ice cube, striped straw or a fanciful name, the Gin Tonic is anything-but-pedestrian with an element of theater.
Ingredients:
2oz Bombay gin
4oz Fever Tree Mediterranean Tonic
Cucumber ribbon (slice lengthwise with a mandolin)
Lime wheel
Large square ice cube
Directions:
Build in a Chardonnay glass
Pour gin and tonic over large ice cube
Add cucumber ribbon and lime wheel
Enjoy in your favorite spring or summery locale!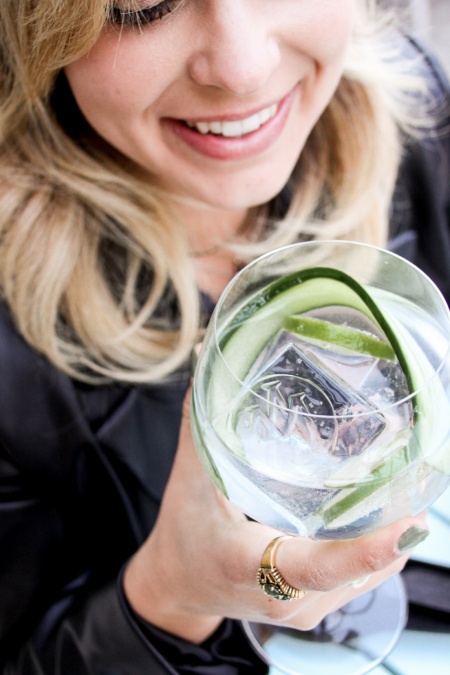 Photo Credits: Cecily Gamba @youhadmeatbordeaux