Discover
Wine + Design:
A Guide to Sonoma & Napa's Best Design-Forward Wineries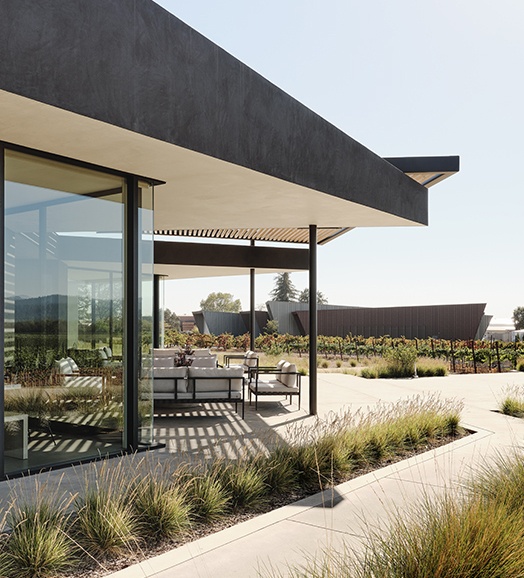 Aperture Cellars, Healdsburg (photo: Joe Fletcher)
Globally renowned for its stellar wines, panoramic views and exciting culinary scene, California's wine country is also gaining notoriety for its stand-out architecture and interior design. The Neoclassical, Postmodern and other architectural styles of yesteryear have given way to a refreshing "new guard" of winery architecture that is just as innovative, sustainable and artfully crafted as the wines it houses. Read on for MacArthur Place's selection of Sonoma and Napa's best design-forward and architecturally significant wineries. 
Nestled in a creekside, fog-cooled pocket just outside of Healdsburg, Aperture Cellars is a stunning new (yet decades-in-the-making) winery from father and son virtuosos, Andy and Jesse Katz. Andy is a globally-lauded photographer, one of only seven in the world to be named a Sony Artisan of Imagery. His son, Jesse, is a rising star of the wine world with a litany of buzz-worthy accolades such as Forbes' "30 Under 30" and Wine Enthusiast's "40 Under 40 Tastemakers." Their collaborative winemaking project, born from a lifetime of international travels together, focuses on small-lot Bordeaux-style wines from their 40-acre estate and other cool-climate sites in Sonoma. Speaking of the "estate," it is a veritable architectural feat. Designed by Juancarlos Fernandez of Signum Architecture, the series of buildings brings to life the literal form of an aperture lens, and echoes its function by inviting the interplay of light and shadow. Of course, Andy's photographs grace the winery's walls further enhancing this not-to-be-missed Sonoma wine experience.
Situated in the tony enclave of Yountville is Stewart Cellars, a family-owned operation honoring the intersection of old and new. Their quest is to produce stellar single-vineyard wines from the most respected, and often historic, vineyards in Sonoma and Napa (Beckstoffer To Kalon, planted in 1868 for example); yet their approach to winemaking is anything but traditional. This captivating old-new dialectic also manifests itself in the winery's physical space. Inspired by the family's Scottish roots, the stately stone buildings harken back to Stewarts' Old World heritage yet boast a modern California aesthetic through their use of Syre stone (found only in Napa Valley). Layer in rich, moody, and book-and-curiosity-filled interiors designed by the venerable Ken Fulk, and you have a masterpiece of art, design, and wine.
Established in the 1980s, Flowers is a revered and beloved producer of elegant and expressive Pinot Noir and Chardonnay wines from their rugged and remote Sonoma Coast vineyards. In search of a more accessible location to host visitors, in 2017 they acquired a 13.5-acre site just outside of Healdsburg, and tapped SF-based Walker Warner Architects (WWA) to reimagine the outdated series of industrial buildings. Perennially rooted in nature, Flowers sought to create a space that is sustainable and seamlessly connected to its natural surroundings. WWA Principal, Mike McCabe writes, "It begins with the entry sequence through a grove of redwoods, which leads you to the building with its dark stained exterior skin, nestled in the shadows. The glowing interiors of bald cypress siding [by local artist Evan Shively] serve as a beacon that calls the visitor inside." Together, landscape and architecture combine to provide a quiet refuge within which to revel in the sensory experience of expertly-crafted wine.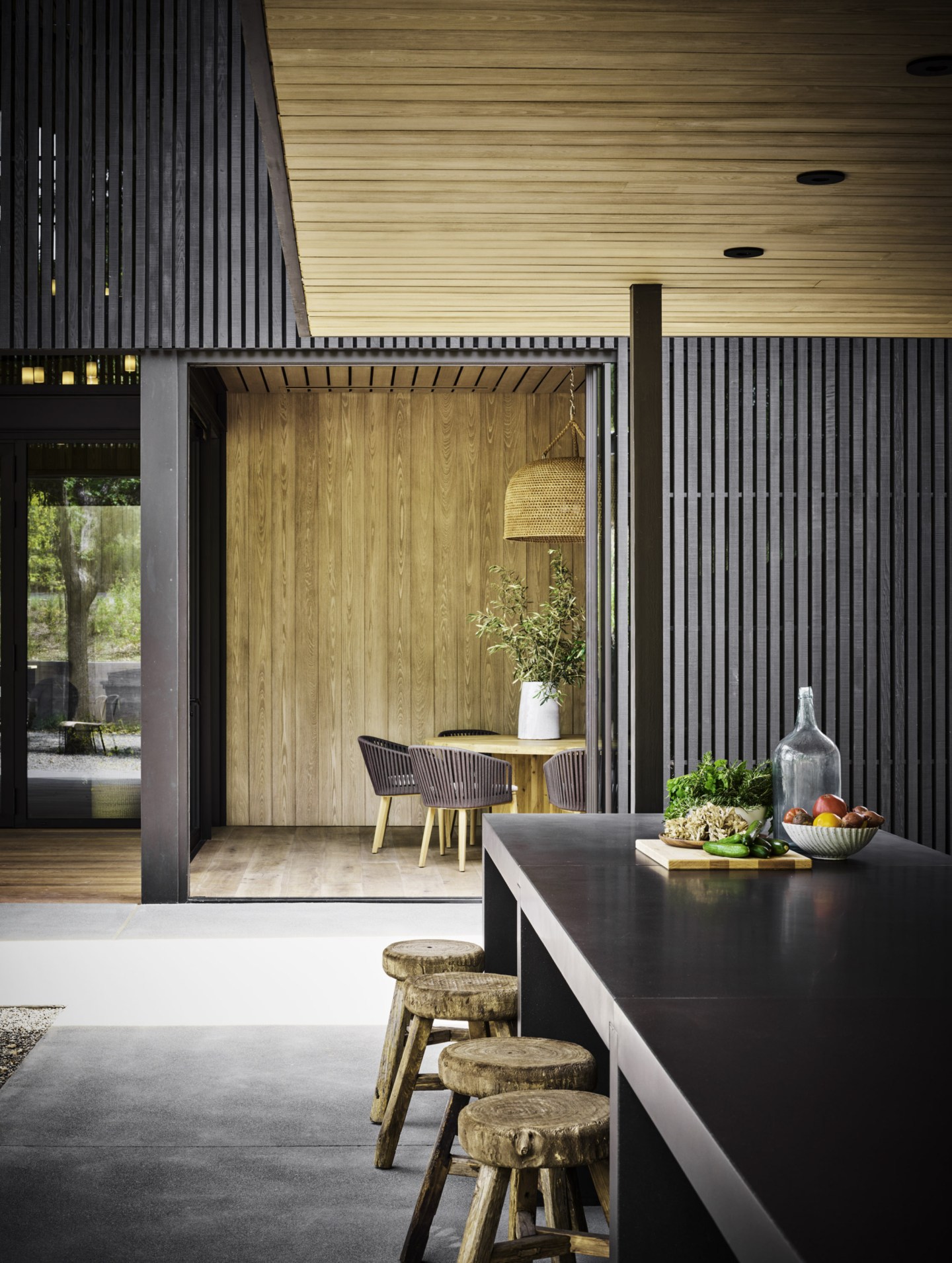 Flowers Vineyard & Winery (photo: Douglas Friedman)