Discover
Holiday Shopping in Sonoma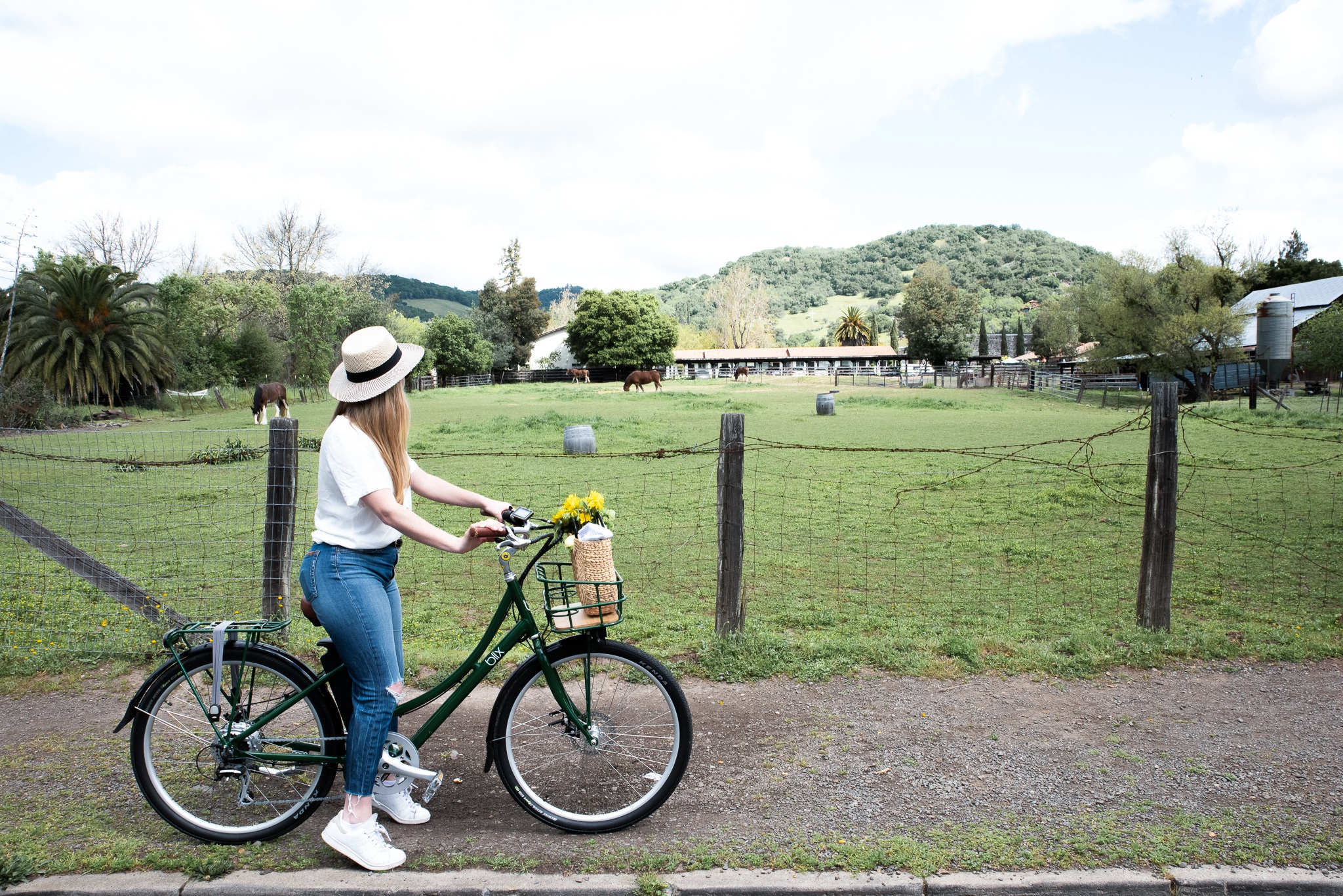 As you're making your lists and checking them twice, we invite you to experience holiday shopping in Sonoma. With an abundance of unique, independently owned shops along the historic Sonoma Plaza and neighboring streets, plus festive holiday lighting and décor accenting the quaint town, Sonoma is a winter wonderland in wine country. To fully relish in the season, intersperse your shopping with a few wine tastings and wonder-filled festivities at MacArthur Place. Guests of MacArthur Place can borrow a Blix electric bike that is fully equipped with fenders, lights, a front basket and a rear rack with smart mounting points – perfect to hold your holiday bounty.
Where To Find The Perfect Holiday Gift In Sonoma
Abbot's Passage Supply Co is close enough to walk or ride to from MacArthur Place and offers "goods and libations for the modern-day adventurer." This hybrid tasting room + boutique specializes in small-lot field blends from storied vineyards as well as a unique collection of outdoor gear, décor, travel accessories and jewelry from pioneering makers. Favorites include Filson outdoor gear (jackets, vests, shirts, bags), unique jewelry from K/LLER Collection, nature books such as Obi Kaufmann's California Field Atlas, darts and other unique décor for the home, office or campsite!
G's General Store is a nod to the general stores of store owner Virginia Hayes, aka Gigi's youth. The former mercantile building from the 1800s is rightfully situated on the Sonoma Plaza. It is a modern general store representing the "best of category" for home decor, bedding, children's and women's accessories, candy and more.  The shop is organized by rooms of the house, with all the themes starting with the letter "G," as in Glamour, Gourmet Galley, Goodies, Greet and Gather.
The Loop is a women's "Fine Clothing" boutique, located in the heart of Sonoma on the Historic Plaza. Owners Annie and Jojo take great pleasure in bringing customers of all ages a unique and enjoyable shopping experience in an elegant yet fun boutique setting.  The boutique features designers like AG jeans, Mother Jeans, James Perse, LA made, Michael Stars, Bella Dahl, Cosabella, Linea Pelle, Monica Frank Jewelry, Julie Tuton, Toms Shoes & Sunglasses, and many more.
James Sonoma is an emporium featuring quality women's apparel, men's shirts, jewelry, imported bath products, select gourmet foods, and distinctive gifts for the discerning shopper. It is a one-stop-shop on the Sonoma Plaza. From a recent shopper, "the shop features high end, quality materials and tasteful design. They always have a nice selection of C.P. Shades, which is one of my favorite brands. Accessories like scarves and jewelry also shine!"
For the child on your list or the kid at heart, Tiddle E. Winks Vintage 5 & Dime offers fun items such as vintage toys & games, metal lunch boxes, pins & pennants, and an array of sugary delights.  Their shopping selections continue with oodles of unique gifts for the one that has it all or the one that you just can't figure out.
Freshly opened, Purely Sonoma is a welcomed local haven for those searching for unique beauty products in the Sonoma Plaza. Showcasing a space designed with a clean beauty and general wellness retail area in the front with a salon and treatment room in the back.  Their featured products include Naturopathica, OWay, Patyka, Josh Rosebrook, Ere Perez, RMS, Saint Jane, and more.  We highly suggest experiencing a facial in between shops.
A longtime favorite spot for locals and visitors for their meditative gardens and culinary offerings, Cornerstone is also home to a collection of unique shops and galleries – each independently owned and each showcasing an elegance in style and a uniqueness of expression found nowhere else. The shops feature home goods, design pieces, distinct clothing selections, and more.
SVMA's Museum Store specializes in uniquely designed products made by local artists as well as international gifts of all kinds. Their one of a kind museum setting offers educational, inspirational and fun products. Visit the museum and their ever-changing selection of curated merchandise including local consignment artists, lifestyle, art books, jewelry and more.
Enjoy a kitschy-yet-classy journey back in time at one of the last independently owned department stores. Located in the Sonoma Marketplace Shopping Center, McCaulou's offers wardrobe staples such as Levi's denim, stylish accessories such as tropical-print Herschel backpacks as well as fun finds such as sequined dresses in their Juniors section. And last but not least, McCaulou's is best known for their impressive selection of ugly holiday sweaters! This store offers gift-wrapping services for items purchased on-site, so take advantage and make this your last stop.
Sonoma offers an abundance of shops, each thoughtfully curated by independent owners, that showcase unique items only found locally. Shopping in Sonoma offers an unmatched selection of goodies, as well as an opportunity to support small local businesses.
Shop & Stay. MacArthur Place is centrally located and offers a shopping sanctuary – we invite you to return to your room to relax and refresh, then allow us to entertain you with weekly live music and holiday events each weekend leading up to Hanukah and Christmas.