Discover
Kid-Friendly Sonoma:
Our Top Things To Do In Sonoma With Kids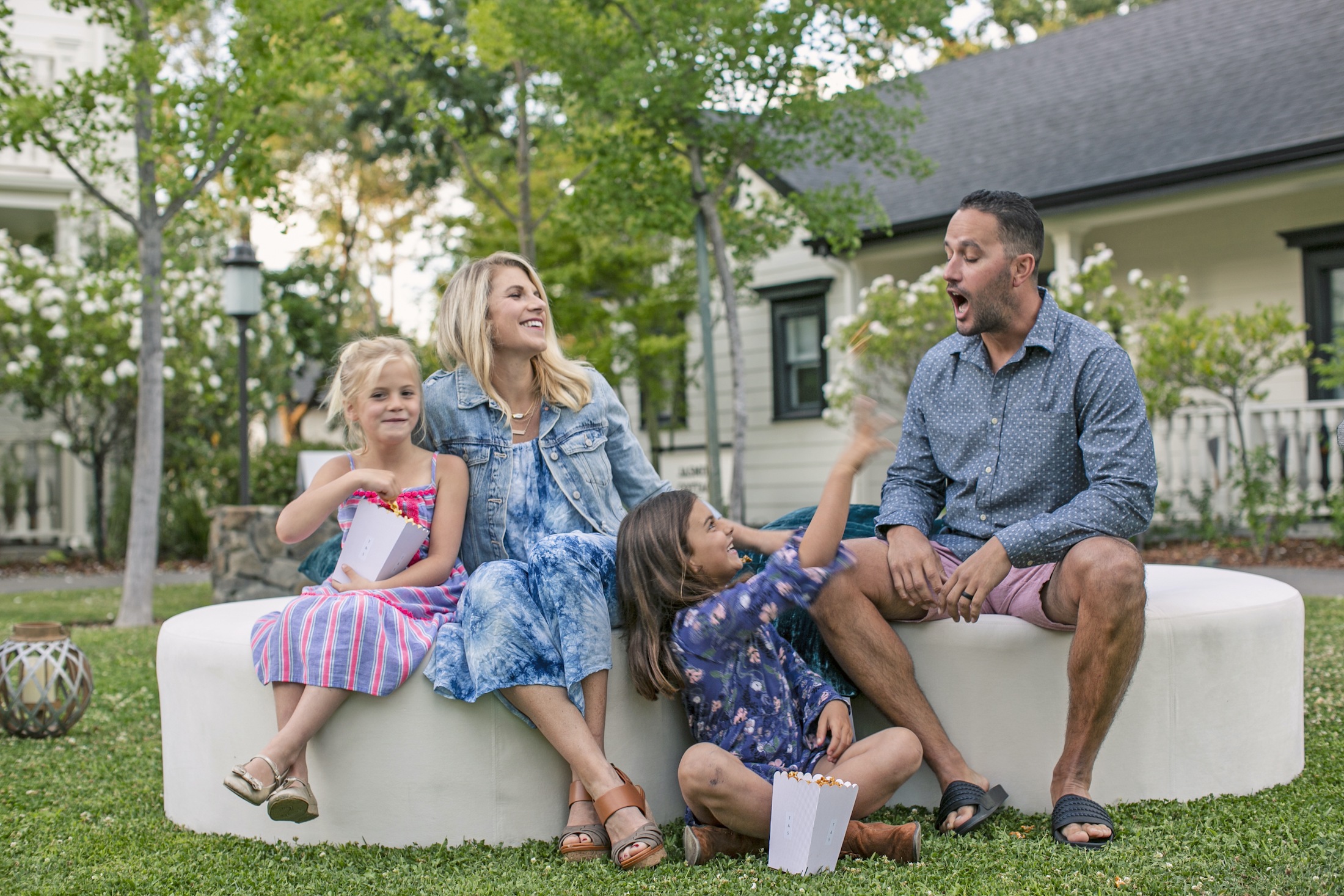 Wedding & Special Events Manager, Laura, and her family at MacArthur Place (photo by Gentleman and A Ginger).
Family Friendly Sonoma
We picked the brain of our resident mama of "almost" three (baby #3 due in June!), Laura Fraize, to curate a list of the best Sonoma spots for your little ones. Traveling with kids in tow can open your mind to new adventures and perspectives. But let's be honest — having gleefully-entertained kiddos is the best (and perhaps only) way to ensure happy and relaxed parents. Below are a few suggestions of the best things to do in Sonoma with kids of all ages.
En Route To Sonoma
You've flown into San Francisco and have a leisurely drive to Sonoma filled with views of rolling hills and vineyards, the last thing you want to hear is "are we there yet?" Get the post-flight wiggles out with the suggestions below and enjoy the ride.
Crissy Field is a recreational paradise where you'll find a rock climbing gym, House of Air jump arena, batting cages and a learning center with interactive exhibits — as well as lush grassy fields, bayside beaches and picnic areas. There is literally something for everyone here, so this is a great stop to ensure a quiet drive ahead – as long as there are extra snacks, of course.
A 40-minute drive from the airport with stunning views of the Golden Gate Bridge.
Grab some take-out and have a picnic along the beach. Let the kids throw rocks into the crashing waves or build sandcastles. Following your feast explore Coastal Trail on the cliffside before loading back up into the car.
A 35-minute drive from the airport. 
Bay Area Discovery Museum in Sausalito
The Bay Area Discovery Museum boasts a plethora of hands-on, indoor/outdoor experiences for kids aged 6 months to 10 years. Don't miss the Lookout Cove, a 2.5-acre outdoor area with tide pools, gravel pits, fishing boats, shipwrecks, caves, and spider web installations. Bonus: if your kiddos enjoy bridges, you get to cross Golden Gate Bridge.
A 40-minute drive from the airport.
Shop Til They Drop
Take a 5-minute stroll from MacArthur Place to find several unique shops – a couple with a kid focus.
Half Pint on the Sonoma Square
Whether you're looking to support the local shops, want to find a new twirly dress, or someone enjoyed a chocolate ice cream cone with their whole body – Half Pint offers adorable options (including toys and accessories) for your little one.
For the kids or the kids at heart, Tiddle E. Winks Vintage 5 & Dime offers fun items such as vintage toys & games, metal lunch boxes, pins & pennants, and an array of sugary delights. Their shopping selections continue with oodles of unique gifts for the one that has it all or the one that you just can't figure out.
Adventures In And Around Sonoma
Petaluma River Paddle Boarding
Cruise the waterways of Petaluma and enjoy some easy exercise with the kids while discovering the natural world on paddle board or kayak. Choose to take the adventure on your own or have a guided trip – there are boards big enough for a family of 4 or combine paddle boards and kayaks.
A 20-minute drive from MacArthur Place.
Stafford Lake Bike Park Novato
For the thrill-seekers in your crew, rent a bike and let them shred the tracks. From beginners to advanced riders, all will enjoy the fresh air and adrenaline rush. Bonus – within 10 minutes of the park there are a slew of restaurants so all are sure to be pleased with the lunch selection.
A 35-minute drive from MacArthur Place.
Go on safari as you discover wildest Africa in the heart of wine country! This outdoor wonderland boasts herds of wildebeest, romping rhinos, and towering giraffes. From ring-tailed lemurs to the dazzling zebra, nearly 900 animals from over 90 unique species roam through the 400-acre preserve.
A 50-minute drive from MacArthur Place – the ride back will be quiet after a day of exploring. 
MacArthur Place West Lawn
Look no further than out your front door. For a quick romp in the lush grass head over to the West Lawn for casual playtime on MacArthur grounds. Play a game of tag, Simon says or let their imaginations run wild. It's close enough where you won't have to be fully awake yet but the kids will get their fill.
Best Playgrounds
Sometimes all it takes is an hour at a playground and Sonoma Plaza is only a 5-minute walk from MacArthur Place – a 10-minute round-trip walk can do wonders for little legs! In the morning stop by The Porch for parent-fuel (aka coffee) then on your way back grab some organic soft serve ice cream.
Playground Fantastico is just as it sounds… fantastic! Two whimsical playgrounds for climbing, sliding, and tower look-out adventures. Kids ages 5 to 12 will find tons of activities inside, outside, underneath and at the top. Nearby is a playground for toddlers and preschools with tons of activities.
A 20-minute drive from MacArthur Place.
Family Friendly Wineries
Not to be missed on a wine-country getaway are the family-friendly wineries with delightful sips for adults and entertainment for the littles.
It's a great place to play! This family-owned winery gem has spacious grounds with redwood tables, a large lawn and bocce court, all tucked alongside Sonoma Creek in the Carneros wetlands. Larson Winery sells fixings for a picnic, or you can bring your own and enjoy the view and fresh breezes. They also have lawn games set and ready with sweeping vineyard views of the region.
Pro: Larson Family Winery is also pet friendly – check out the canine costume contest in October. Be sure to plan ahead as the outdoor picnic tables are by reservation on all weekends and holidays.
Known as a biodynamically farmed Sonoma Mountain estate and winery, Benziger Winery offers a Biodynamic Tram Tour for the whole family. On this 45-minute tour, you'll enjoy a close-up look at their picturesque vineyards and learn about their unique biodynamic farming practices. You will also visit the winemaking facility and explore wine caves before completing your tour with a special tasting of their award-winning wines.
Pro: First, the kiddos get to ride on a tram – what is better than that? But also, while they are watching the farm animals, without knowing it, they'll learn a little more about how the animals work to make the farms and vineyards sustainable.
When you're booking your stay at MacArthur Place and comparing rooms for the best fit for your brood, we recommend a ground-floor suite or a guestroom with a sofa sleeper. Also, the Carriage House is adjacent to the West Lawn which gives you a quick route for wiggle-release! We hope you enjoyed our top picks for things to do in Sonoma with kids. Our team is here and ready to help you plan the perfect family getaway to beautiful wine country.