Food & Drink
Layla at Home: Breakfast Shakshuka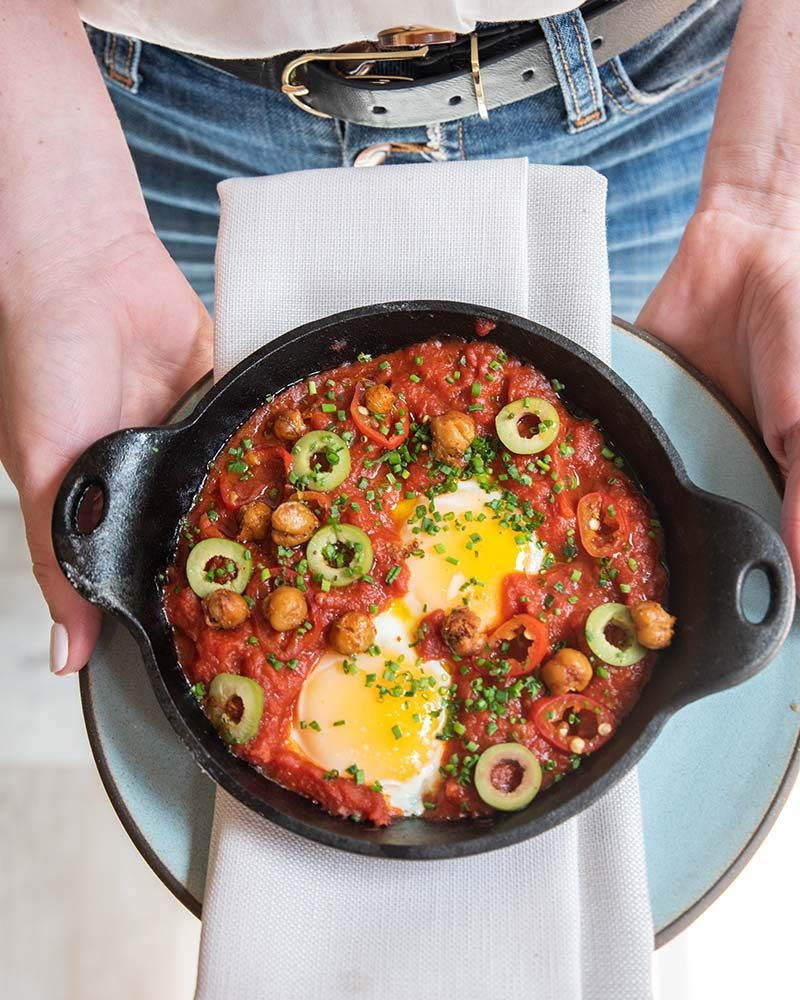 Breakfast has always been lauded as the most important meal of the day, as it provides fuel for the day's activities. But now more than ever, breakfast is also the most exciting meal of the day as many of us have more time to cook, and enjoy, something special to kick-start the day. Put aside your breakfast bar, your bowl of bran flakes or your grab-and-go yogurt and, per the famous recommendation of 1960's nutritionist Adelle Davis, "eat breakfast like a king." Chef Cole shares his favorite breakfast recipe from the Layla menu for you to recreate at home. Not only is "shakshuka" endlessly fun to say, but it is also hearty, nourishing and rich with culinary history spanning the Mediterranean and Middle East (food historians debate whether Shakshuka first originated in Yemen, the Ottoman Empire, Israel or Northeast Africa, but agree on its storied pedigree). 
Shakshuka Breakfast (serves 4)
Castelvetrano Olives
Olives sliced, stored in brine
Tomato Sauce
6 shallots, sliced

15 garlic cloves sliced

2 10-lb cans san marzano tomatoes

½ cup olive oil

2 tsp korean chili flakes
Saute shallots and garlic in the olive oil with chili flakes

Add the tomatoes with the juice and bring up to a simmer

Cover with a parchment lid and cook in the over for an hour at 350* F
Eggs
Pita Bread (can sub with store-bought pita)
1 Tbsp dry yeast

1 Cup filtered water (~95*F)

2 ¾ Cup all-purpose flour

2 Tbsp olive oil

2 tsp salt
Rehydrate the yeast in warm water, allow to set for 5 minutes, ensure it is thoroughly mixed

With a dough hook, mix the flour and salt

Slowly add the water until a dough is formed

Add olive oil

Kneed for 1 minute

Proof in greased mixing bowl with plastic cover, punch down and store in fridge

Once cooled, portion in 1/2-cup balls, roll out with flour and allow to proof before grilling

Once grilled, season with olive oil, salt and zataar spice
Pickled Peppers (can sub with store-bought pickled chili peppers)
2 Cups grams apple cider vinegar

3.5 Tbsp maple syrup

¼ Cup light brown sugar

2 tsp grams pink peppercorn

3 tsp yellow mustard seed

¼ Cup garlic, sliced

2 Tbsp fish sauce

1 lb 

red chilies, sliced thinly
Marinate the chilies for 1 hour in 4% salt

Drain the chilies 

Toast the spices and bring the rest of the ingredients with spices up to a simmer

Allow to cool and cryovac (or seal airtight) with the chilies that have been drained
Fried Chickpeas
1 pint chickpeas

TT za'atar

TT salt
Fry the chickpeas at 375*F until crispy

Drain on paper towels and season with za'atar and salt

Set aside 
Fermented Tomato Water (can sub with a few tsps of white vinegar)
4.5 lbs (8.5 cups) ripe tomato

2.5 Tbsp salt
Blend all until smooth

Cryovac in 2 large bags

"Burp" once bag expands

Leave at room temperature for 10-12 days
Sliced Chives
Bunch of chives, sliced for garnish
To finish, place 1 cup of the tomato sauce in a 6″ cast iron skillet, heat through, and drop two eggs into the hot sauce. Bake in the oven at 375*F for 5 minutes. Grill the pita bread on both sides and season with olive oil, salt and za'atar. Set the pita aside and wait until the eggs are done. One the eggs are cooked to your liking, remove from the oven and garnish with the fried chickpeas, pickled peppers and sliced chives.
---
We hope you enjoy this flavorful and nourishing breakfast recipe, and feel fortified and energized for the rest of your day. More than anything, we look forward to welcoming you to Layla soon for a fresh and hearty meal, breakfast or otherwise.