Food & Drink
Layla at Home: Loukoumades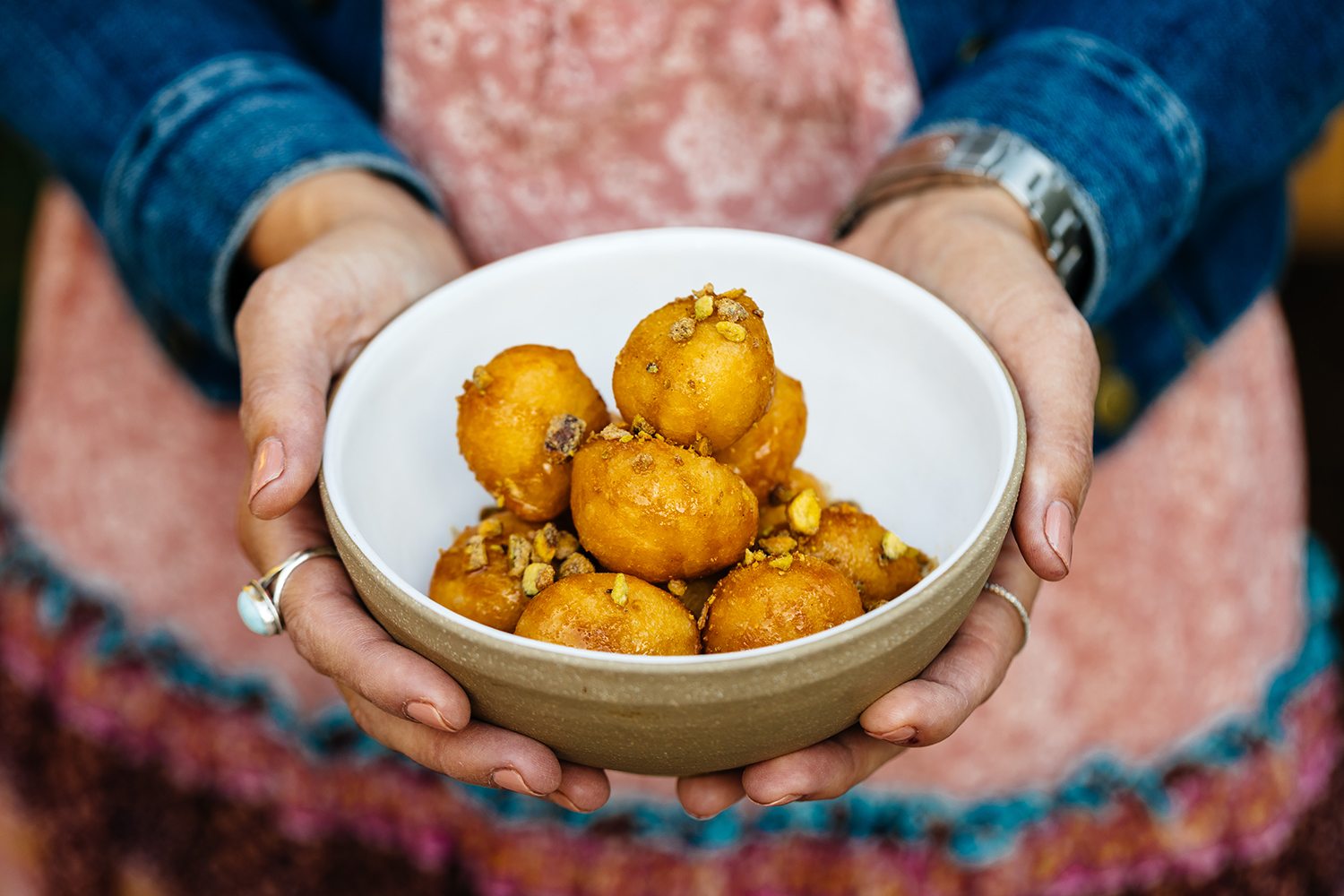 Loukoumades [loo-koo-MAH-thez], our signature dessert at Layla, is a traditional Greek "donut" with Mediterranean origins dating back to the 13th century. Chef Cole Dickinson's iteration features golden-fried dough balls, warm honey, candied pistachios and a side of whipped lemon curd dusted with bee pollen. This beguiling alchemy of flavors and textures – sweet and tart, doughy-soft and crunchy – is a satisfying and immune-boosting finish to any meal. Read on for Chef Cole's no-longer-secret recipe for this decadent dessert.
Loukoumades
1 cup water ~95*F
1 cup milk ~95*F
10 grams (.35 teaspoon) active dry yeast
3 5/8 cups flour
2 teaspoons sugar
1 teaspoon salt
4 tablespoon olive oil
Whisk yeast with warm liquids in a bowl and allow to rest for 10 minutes. Once rested, add all ingredients into the bowl of a mixer and attach the dough hook. Mix for approximately 5 minutes or until the dough is thoroughly mixed. Remove from the mixer, place into a container and allow to proof overnight in the refrigerator. Remove from the cooler and allow to come to room temperature.
Oil
Bring 1 quart blended oil to 325*F. Using two spoons, scoop out golf ball size portions of loukoumades dough and cook until golden brown. Drain on paper towels.
Honey
4 cups honey
¼ teaspoon salt
2 teaspoon vanilla paste
⅓ teaspoon cinnamon ground
¼ teaspoon cardamom ground
Heat the honey in a medium sized pot. Stir in remaining ingredients and simmer on low for 1 minute. Allow to infuse overnight before using.
Curd
 1 cup egg yolks
1 cup grams lemon juice
1 cup grams water filtered
¾ cup sugar
¼ pound butter
Pinch of salt
Combine all ingredients except butter. Cook over double boiler until ribbons. Blend in butter by hand. Whip by hand after it has cooled and serve as a dip for the donuts.
Candied Pistachio
1 pound pistachio shelled
1 cup water
1 ¼ cups sugar
1 cup glucose syrup
1 teaspoon cinnamon ground
1 teaspoon cardamom ground
Bring all ingredients except pistachio up to a simmer. Once simmering, add the pistachio and simmer for one minute. Remove and bake on a silpat non-stick backing mat for 10-15 minutes at 325*F. Remove and season with salt. Chop slightly in robot coupe or by hand on a cutting board.
Honey & Bee Pollen
To finish, drizzle the honey on the loukoumades and garnish with the pistachios. Garnish the lemon curd with bee pollen, and serve on the side as a dip or topping for the loukoumades (see lemon curd photo below). Enjoy!