Food & Drink
MacArthur at Home: 3 Signature Cocktail Recipes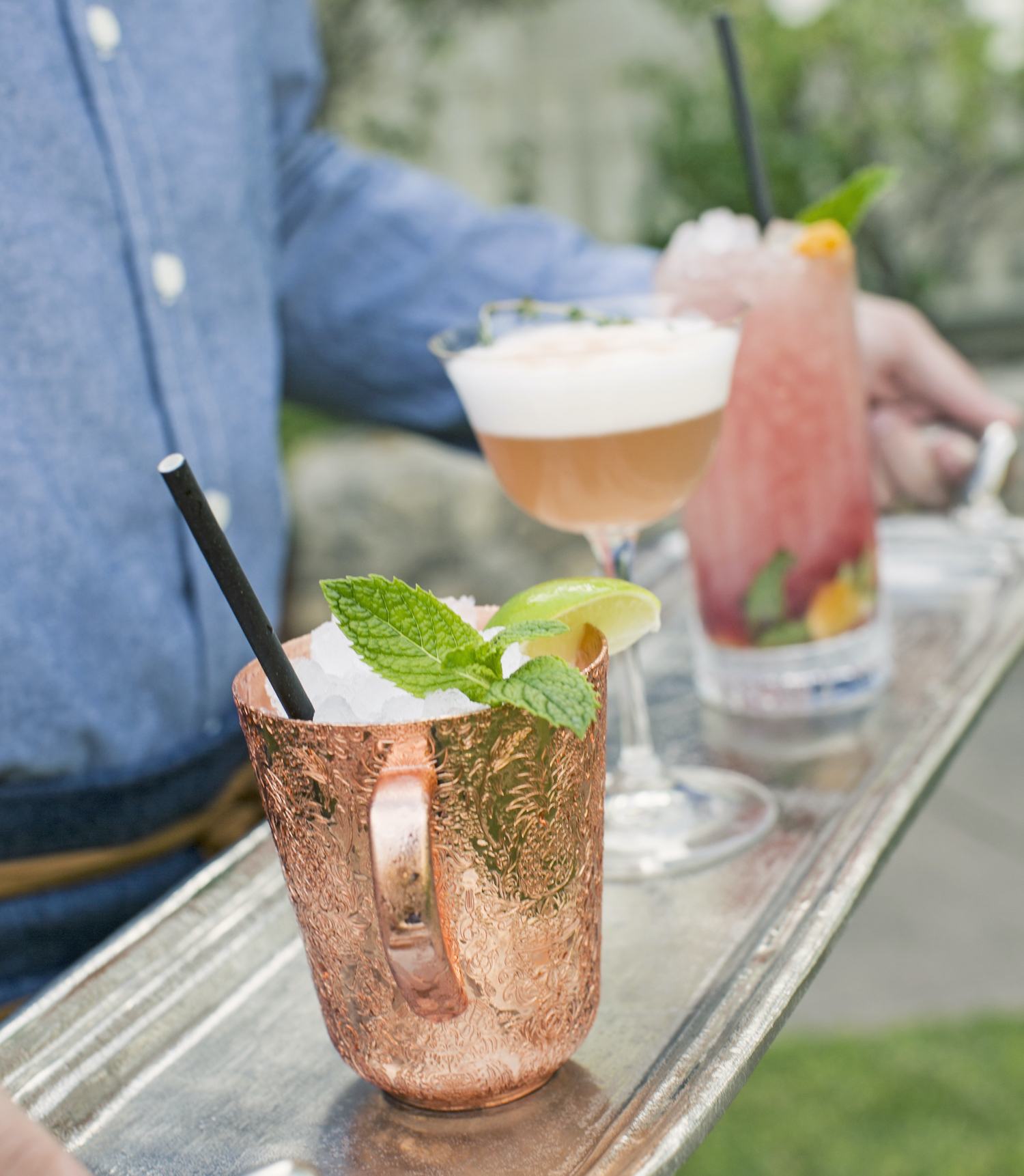 Full of winding paths, secret nooks, convivial gathering places and lively culinary hubs, MacArthur Place inspires serendipitous and memorable moments at every turn. With the doors to our hotel temporarily closed, we thought we'd bring a few of our favorite MacArthur Moments to the comfort of your home. During this time, The Bar at MacArthur is taking a healthy pause on service, and home-time happy hour starting a little earlier these days, for these reasons we invite you to share in a few of our secrets. Below are three of our signature cocktails, rooted in the classics, but with our own fresh flair and local botanicals.
MacArthur Mule
1.5 oz Elyx Vodka
.5 oz Green Chartreuse
.75 oz Lime juice
2 oz Ginger beer
Ice: Crushed Ice
Glassware: Copper Mule Mug
Mixing Instructions: Shake all ingredients but ginger beer, strain over fresh ice, top with ginger beer and garnish.
---
The Forager
1.5 oz Griffo Gin
.75 oz Italicus (can sub for St. Germain)
1 oz Lime Juice
.75 oz Cucumber juice
3 Basil Leaves
1 oz Float Butterfly Tea (can sub for any green or herbal tea)
Ice: Crushed Ice
Garnish: Cucumber Ribbon, Fresh herbs, Butterfly tea float
Glassware: Large Collins Glass
Mixing Instructions: Build in shaker, add ice and shake for 20-30 seconds. Strain over fresh ice and garnish. Pour butterfly pea tea float table-side for maximum effect.
---
Juniper & Thyme
2 oz Plymouth Gin
.75  oz Strawberry, Pomegranate and Thyme Shrub
1 oz Lemon Juice
.75  oz Aquafaba or Egg White
Garnish: Thyme spring clipped to rim of glass
Glassware: Nick and Nora Coupe
Mixing Instructions: Shake and fine strain into a cocktail glass.  Garnish with thyme and angostura bitters.
As we continue to hunker down, we will stay active on social media as a way to stay connected with our vibrant community. We look forward to seeing you in Sonoma soon, and sharing MacArthur Moments on our property!