Food & Drink
Meet Layla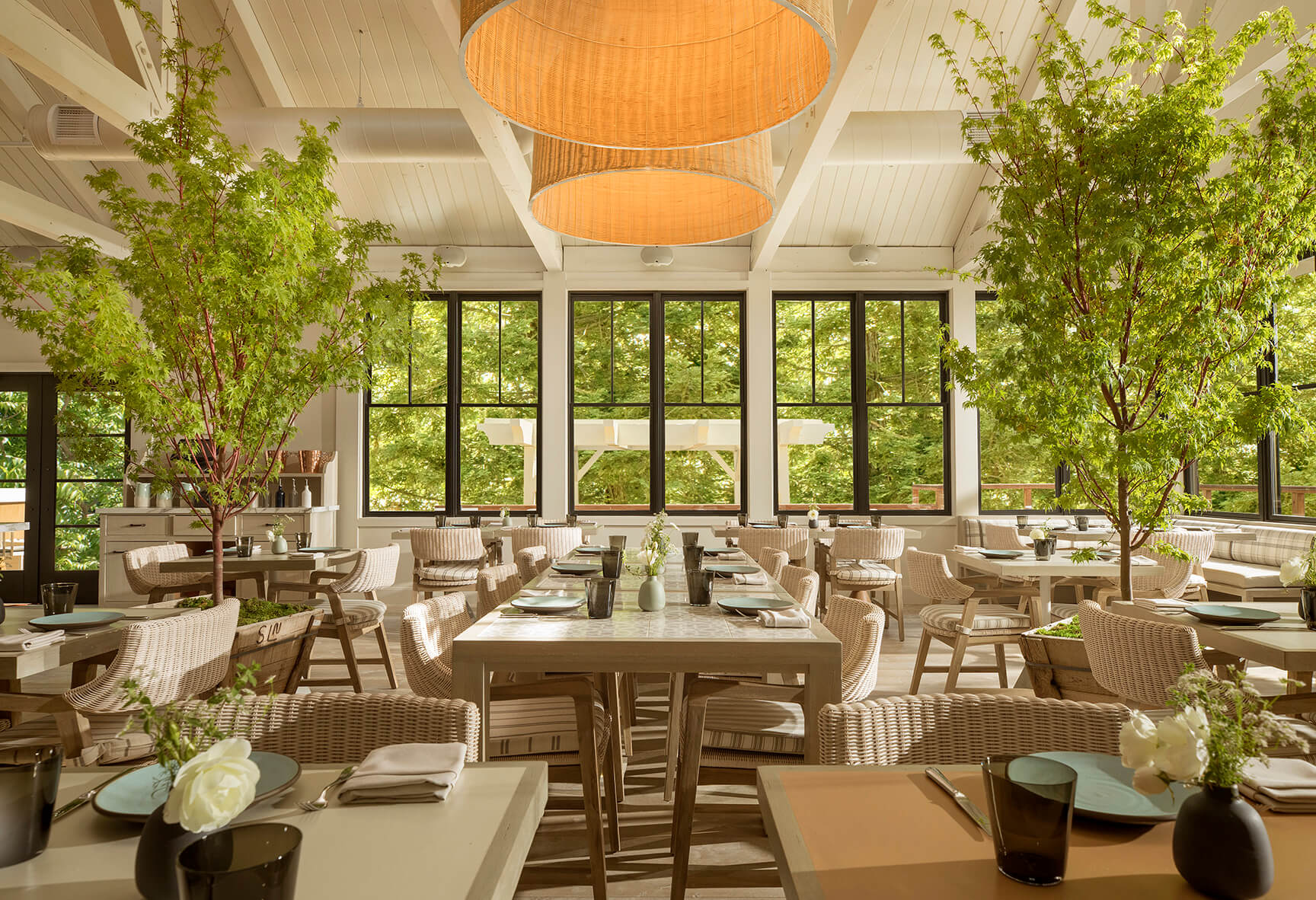 MacArthur Place recently underwent an all-encompassing renovation spanning the greater part of the past year.  In addition to full reimagination of the historic property's 64 guestrooms, as well as the public and private event spaces on property, our extensive project resulted in three wholly-new culinary offerings led by Executive Chef Cole Dickinson. Our flagship restaurant Layla, is a comfortable yet upscale Mediterranean "farm kitchen" dining experience featuring healthy, organic options, fresh produce, and an open, communal vibe. The name Layla derives and is inspired by Leilani Burris Welch, who was the property owner in 1951. Leilani was most famously known for throwing elaborate Hawaiian inspired luau pool parties. (The spelling has been altered from Leila to Layla for easy pronunciation.). In the spirit of summer, we are excited to introduce our summer menus featuring fresh, seasonal salads, chilled soups, as well as a tasty new Carbonara.
Layla Sources from Local Farms
MacArthur Place has always been proud to be part of the Sonoma community. Being walking distance from the Sonoma Plaza during the summer farmer's market season is just one of the perks. Another perk is sourcing from one of the thriving farms like Flatbed Farm, just 15 minutes up the road.  Flatbed Farm grows produce, eggs, herbs, and flowers sustainably, and works to educate the local community about sustainably grown food. This summer their list of offerings from the field starts with tomatoes (10+ varieties), summer squash, cucumbers, melons, eggplant, peppers, beets, onions, strawberries, and about 20+ more delectable things.  Locals Tip: Stop by their farm stand every Saturday for straight-from-the-farm produce.
Taste of Sonoma Meets Layla
On Saturday, August 31st from noon to 4 pm, wines from across Sonoma Valley will be poured and food from local chefs will be devoured at Taste of Sonoma.  More than just sipping and noshing, there are wine talks with subjects like from wind to wine and a white wine emoji lounge where white wine lovers unite to create a white wine emoji.  MacArthur Place and Chef Cole are excited to be one of the culinary participants in an effort to introduce more locals and visitors to Layla – you will find us in the Chef's Pavilion.  Sneak Peek: Chef is preparing to make Patatas Bravas | smoked tomato & whipped aioli.
MacArthur Place Gets Caffeinated
ACRE coffee is a valued partner at MacArthur Place, not only because we love good coffee but also because they are a local, independently-owned and sustainably-minded business. This summer we have been peddling a cold brew bicycle around the hotel. There is a nitro tank and a cooler, so we can pour iced-cold nitro cold brew from the bike, which was custom-build by one of ACRE's owners. You'll find it stationed in front of The Porch, and on busy days at the Pool. Coming Soon: Guests will be able to book "cuppings" (coffee tastings) at ACRE's roastery in Petaluma.
We look forward to introducing many more events and exciting activations at Layla. For now, we anticipate serving our guests with genuine hospitality.
A great addition to Sonoma! So excited about the addition of Layla to the Sonoma food scene. We enjoyed the Parker House Rolls with chicken jus (yum!) and the octopus (cooked to perfection)to start. The Panzanella salad was tasty, but the lamb and salmon were really special. Each came out a the ideal temperature with wonderful accompaniments (especially the pickled elements with the lamb–more please!! The creative cocktails and wine choices complimented our meal and the loukoumades ended it on a lovely note. Thank you Layla for providing this dining experience in Sonoma. P.S. Service was pleasant and attentive and valet parking is a plus 🙂 – TripAdvisor, July 2019