Discover
Sonoma by the Hour:
Autumn Wellness Edition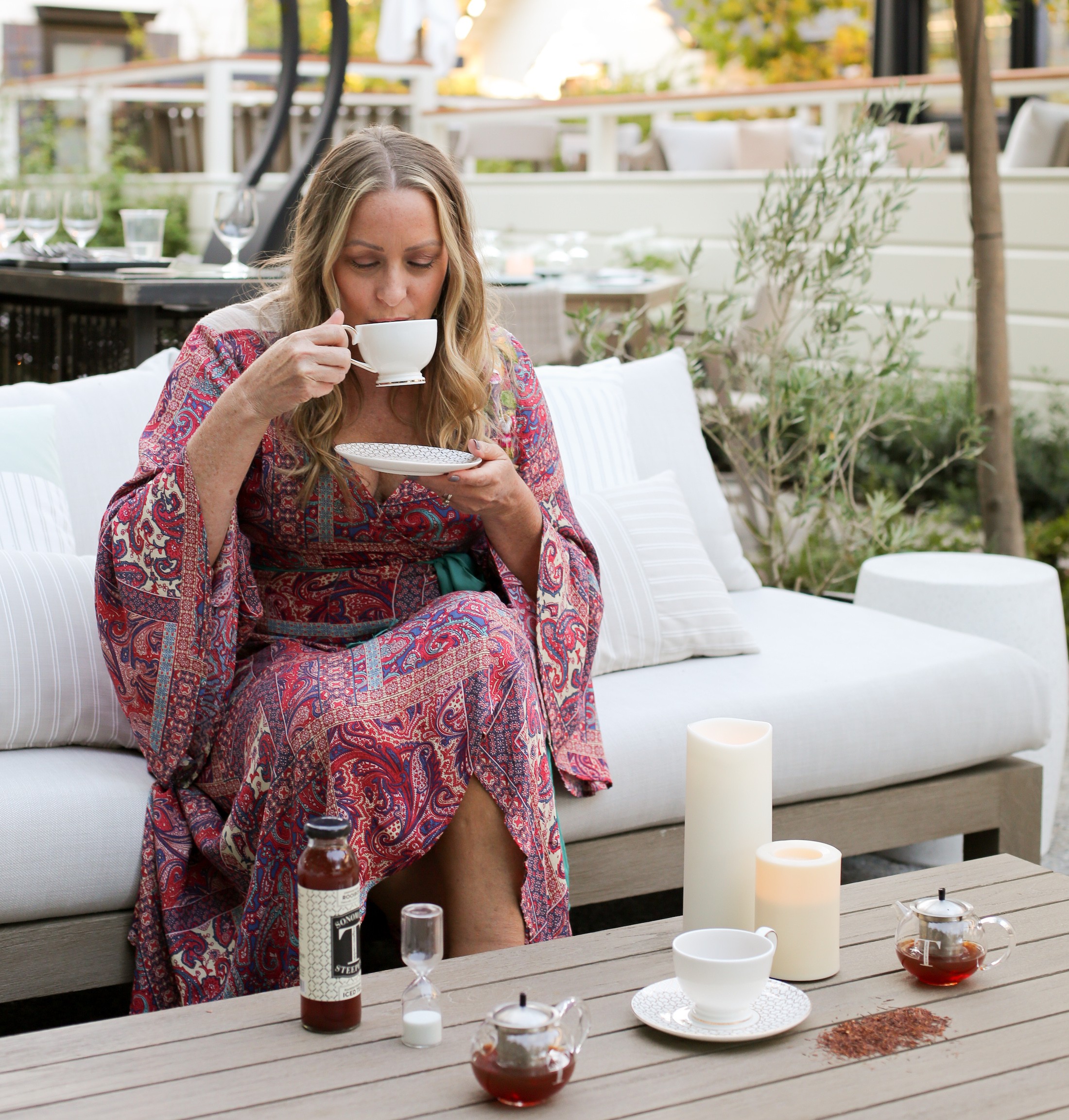 Alison Kilmer, founder of local steepery UppercaseTea, is on a mission. A mission to elevate the experience of tea (and the women who drink it) through purpose, philanthropy and kick-ass product.
Inspired by the Suffrage movement and the brave women who gathered and mobilized over tea, UppercaseTea is reimagining this mindful beverage for modern women and social good. Every sip supports The Sisterhood of Tea – UppercaseTea's social venture created to champion nonprofits supporting women and girls.
More than just a brand with purpose, UppercaseTea is a stellar product that rights the culinary wrongs inflicted by decades of mass-market tea bags. Galvanized by Sonoma's world-class wine industry, Alison (the "tea sommelier") applies the same passion and meticulous craft to sourcing and making tea. The result? A portfolio of terroir-driven and food-friendly teas that proudly stand next to their viniferous brethren. 
We asked Alison to create her ideal "Sonoma by the Hour" and she produced a day that showcases the beauty and depth of Autumn in Sonoma while also sharing her favorite vegan hot-spots.
The Perfect Autumn Day In Sonoma
7:30am CIVILITY & ZEN
As expected, my mornings always start with my UppercaseTea ceremony at home – 10 civilized minutes of mindfulness, preparing the perfect steep and sipping from a fine teacup & saucer to calibrate and caffeinate for the day ahead.
8:00am WOOFS & WALKS
Next a walk with my husband and our dogs Alfie and Emmylou at Jack London State Historic Park in the 'The Valley of the Moon' to take in incredible vistas of vineyards, forested mountains, and historic stone barns. I always make a quick stop at the 'House of Happy Walls Museum' where I love perusing relics of the famous writer and his wife Charmaine's glamorous, romantic and sometimes tragic life. This hike still makes me swoon for Sonoma and reminds me why Jack London fell in love with this unique part of the world. 
10:30am VEGAN BUBBLES & BRUNCH
Finding vegan brunch in the valley can be challenging but Sunflower Caffé comes through every time with a plethora of plant-forward offerings. The coconut chia seed pudding and roasted cauliflower wrap does the trick for me. Here we sip bubbles in their lush Mediterranean garden under the palm trees and soak up the sun before our next adventure. 
12:00pm PET & CUDDLE
Now satiated on eats and bubbles, it's time for some cuddles. I head to  Charlie's Acres farm animal sanctuary a few short miles from the square, and home to over 140 rescue animals. A few pets and kisses and it's back to downtown.  
2:00pm PAMPER & PRIMP
Once back in town, I meet my girlfriends for a rejuvenating aromatherapy massage and a quick dip at The Spa at MacArthur. Some primping and a brief fireside chat and it's off for some wine tasting. 
4:30pm SIPS & SISTERHOOD
Together we head to the square to visit my friends at Three Sticks Winery and savor the unique environment and gorgeous interiors of their historic Adobe. We order the vegan charcuterie board as an appetizer before dinner featuring a selection of Miyoko's Creamery artisan plant milk cheeses and Renegade plant-based cured salamis – the perfect pairing with Ryan's vegan Pinot's and Chardonnay's.  
6:00pm WINE & DINE
Continuing the adventure, I pop next door to meet friends at the bar for dinner at El Dorado Kitchen.  We start with Chef Armando's famous Truffle fries and my favorite signature spicy tequila cocktail then finish with his Vegan Tofu Bowl – chuck-full of healthful goodness and umami flavor.
8:00pm STROLL & SWEET DREAMS
After dinner we take a stroll across the square for people watching and head to Sweet Scoops to check out what local ingredients are featured in their ice creams that day. I love their support of local businesses and farms in the area – especially when they make vegan ice cream with my tea! I order UppercaseTea & Biscuits and head home to cuddle the dogs. 
---
How to Experience UppercaseTea
Find UppercaseTea at Layla, The Porch and in guestrooms at MacArthur Place. Or, experience the wellness benefits of tea with our line of organic, tea-infused products made exclusively for MacArthur Place. Our current favorite is the REVIVE (Black Tea) intensive hand cream.