Food & Drink
Summer Food & Wine Pairing Spotlight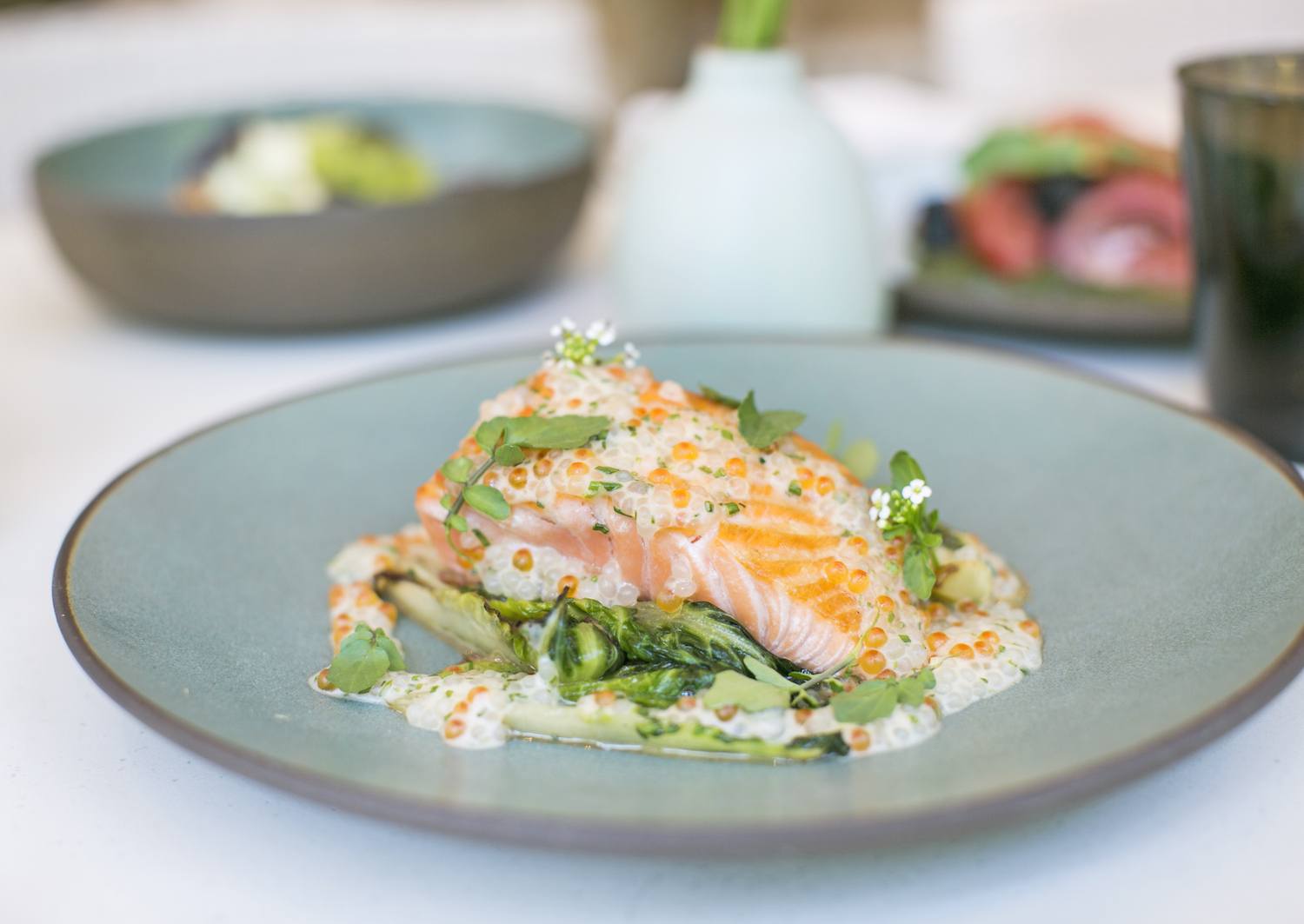 We recently introduced our new summer menu at Layla, highlighting fresh, seasonal and local ingredients that lend themselves beautifully to Mediterranean-inspired dishes. These Sonoma twists on pan-Mediterranean classics are sumptuous and satisfying on their own but shine even brighter when matched with the perfect wine pairing. We tapped Wine Director for MacArthur Place (and Certified Sommelier), Glenda Seagraves, to curate perfect pairings for her five favorite summer dishes at Layla. Read below for Glenda's inspiring and somewhat unexpected pairings, and visit Layla to experience them for yourself.
Panzanella Salad with Kale Pesto
Paired with Petrichor Rose, Fountaingrove District 2018
Fresh tomatoes and rosé are a classic combination. Tomatoes can be tricky due to their elevated acid level, but this Grenache/Syrah coasts on an edge of racy acidity while lending red fruit notes to complement the ripe, sweet side of the heirlooms. Petrichor (named after the scent of rain on dry earth) is sourced from the recently designated Fountaingrove AVA perched atop the westernmost ridge of the Mayacamas Range. The vineyard is farmed by Lee Martinelli Jr. and the consulting viticulturist is Steve Matthiasson.
Blistered Shishito Peppers with Herbed Breadcrumbs and Lemon Aioli
Paired with Spottswoode Sauvignon Blanc, Napa Valley 2017
Pyrazine, a compound that imparts bell pepper and/or vegetal aromas, is a typical component of Bordeaux varietals, particularly Sauvignon Blanc. For me, this coupling is a no-brainer given the mild, yet aromatic nature of the chilies and the high-tone herbal expression of the Sauvignon Blanc. The 2017 Spottswoode is textural and laced with lemon-driven vibrancy, which also allows the lemon aioli to shine.
Sacramento Delta Salmon with Braised Gem Lettuce, Tobiko, and Citrus Beurre Blanc
Paired with Cuvaison Pinot Noir, Carneros 2017
It is often the common default to pair white wine with fish, but once you experience a slightly chilled Pinot Noir alongside a well-prepared salmon fillet, you will realize that the two are meant to be. This Cuvaison is a delicately crafted and pretty illustration of Carneros Pinot, with enough citrus lift at the end to hold up to the tang of the lettuces and finishing sauce.
Brined Rocky Junior Chicken Breast with Fresh Corn Polenta, Stewed Tomato and Parmesan Foam
Paired with Abbot's Passage Chenin Blanc-Verdejo, Clarksburg 2017
A unique blend of the French-originated Chenin Blanc and Spanish-originated Verdejo, Abbot's Passage is a project launched by Katie Bundschu of Gundlach Bundschu Winery. The focus is on small-lot field blends from storied sites throughout Sonoma. There is a particular briny quality about this wine that sets it apart from your typical Sauvignon Blanc or Chardonnay, which aligns with the sharpness of the Parmesan. And the creaminess on the wine's finish highlights the texture of the sweet corn polenta.
Lamb Loin with Merguez Cassoulet
Paired with Chateau Musar Red, Lebanon 2011
Both the wine – a blend of Cabernet Sauvignon, Carignan and Cinsault – and lamb cassoulet share richness, warming spices, and a compelling rustic intensity. Chateau Musar is a world-class producer from Lebanon with a rich history and a keen attention to the ancient traditions of winemaking, ex: their flagship red is not released until seven years after harvest!
MacArthur Place Profiles: Glenda Seagraves, Wine Director
Originally from Illinois, Glenda has worked in restaurants since she was eighteen, and caught the wine bug in 2008 when she started working at a French bistro in Berkeley. As the wine buyer for the bistro, Glenda quickly became interested in French and other European wines, as well as those from Sonoma. In 2011, she moved to Sonoma to immerse herself in the viticultural epicenter, and bucolic lifestyle, of wine country. In Sonoma, Glenda assumed the role of Wine Director of Enoteca della Santina, and later Harvest Moon Cafe. She became a certified Sommelier in 2013 through the Court of Master Sommeliers.
When asked "what's your favorite wine?", Glenda responded with "I am particularly fond of Italian reds from Piedmont and Tuscany and have loved discovering lesser-known appellations such as Gattinara (Nebbiolo) and Carmignano (Sangiovese). I am constantly reminded that there is always so much more to learn and experience in the world of wine, and many more food/wine pairing epiphanies to come." 
—
The culinary and beverage team at MacArthur Place have a passion for food and wine and you will enjoy far more than a meal, but a dining experience.  Learn more about the menus available for breakfast, lunch, and dinner along with the vast offerings from locally brewed coffee at The Porch, to a unique spin on classic cocktails at The Bar at MacArthur, to a wine paired dinner at Layla.