Art & Culture
Upskill in Sonoma:
Learn Winemaking, Floral Design & More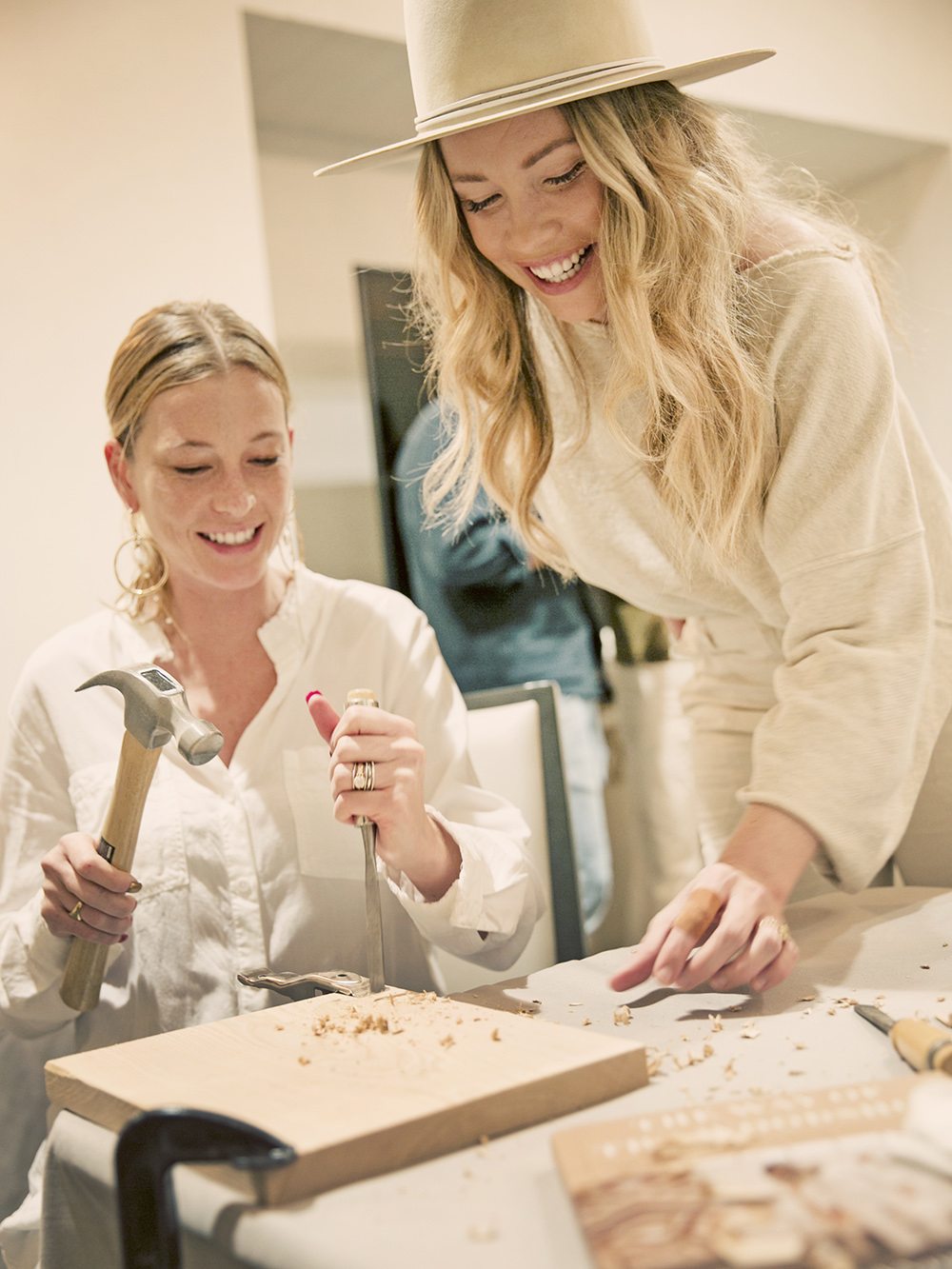 Woodworking Workshop with Aleksandra Zee
Upskilling at MacArthur
As the dark cloud of the pandemic begins to fade into the rearview mirror, many of us are excitedly planning travel. And with so much pent up travelust, we are looking for more meaningful travel experiences to make up for lost time. Instead of hitting the highlights on a whirlwind tour, slow it down with an extended stay that allows time for deeper immersion into the community — discover local small businesses, meet the locals, explore the lesser-celebrated neighborhoods. If you don't have the luxury of time (or a remote work scenario), you can still plus-up a short getaway by learning a new skill specific to the destination. If you're looking for an "upskilling" holiday, look no further than Sonoma. Read on for four skillful experiences available to guests of MacArthur Place. 
Winemaking | Behind the Cellar Door Tour – Ongoing
Skip the standard tasting room experience, and play vintner for the day. Venture behind the cellar door of premier wineries that don't normally open to the general public with our Behind the Cellar Door tour. Our partners at Bohemian Highway Travel Co. — experts in bespoke itinerary curation — will whisk you away in a luxury SUV to three off-the-beaten-path boutique wineries for an in-depth look at the vineyards and winemaking process. Learn about soil, topography, climate, clones, trellising, vinification and vintage variation while you taste through small-lot wines. Enjoy a chef prepared farm-to-table lunch with the Mayacamas mountain range as your backdrop. By day's end, you'll have inside knowledge of Sonoma's world-class winemaking expertise. Learn More >>
Collage Making | Artist in Residence Workshop – Thursday April 1, 5pm
As part of our monthly artist-in-residence program in partnership with Tappan Collective, the resident artist hosts a hands-on creative workshop for hotel guests. Past workshops have included woodworking with Aleksandra Zee, still life drawing with Cheryl Humphries, painting with Jeff Kraus. In April, Brooklyn-based mixed media artist Fanny Allié will lead a collage workshop using image transfers and paper, fabric or wood. Participants will learn how to transfer photographs (taken by Fanny in Sonoma) using a natural citrus solve, and will experiment with various materials to create their own collages. Learn More >>
Floral Design | Earth Day Floral Workshop – Thursday April 22, 5pm
Join Susan Stremlau, owner of Marion Moss Floral and floral designer for MacArthur Place, for an al fresco workshop in celebration of Earth Day and the natural bounty of the season. Susan will lead you in creating your own table arrangement in a fun, informative and interactive workshop, hosted in MacArthur's verdant gardens. The workshop kit includes Sonoma garden-grown flowers, clippers, chicken wire, a decorative bowl, and a signature seasonal cocktail, The Garden Spritz, to enjoy during the workshop. Learn More> 
Mindful Meetings | Yoga, Tea Tasting & More – Ongoing
We have designed a suite of mindful offerings — including yoga, kombucha-making, tea tasting and team-building — to support sensory awakening, personal connection and, of course, productivity for your next off-site meeting. Any or all of these Mindful Meeting offerings, in addition to a mindful food and beverage menu, can be added to your event. Learn More >>
Kombucha Workshop: Learn the art and science of making kombucha, the fermented tea elixir much touted since its inception in ancient China for its ability to detoxify, improve digestion, and increase energy and mental acuity. Owners from a local, independently-owned craft kombucha brewery will lead an informative and interactive session. Each participant will take home their own SCOBY, and a kombucha recipe to inspire their home brewing.
Mindful Yoga: Led by dancer, actress and decade long yoga instructor, Andrea Bogart, this vinyasa yoga session threads together mindfulness, philosophy and humor, well rounded with some sweat and grace. The perfect foundation for a day of collaborative meetings or team building exercises. Weather permitting, this yoga experience will be held on the West Lawn. 
Tea Tasting & Ceremony: Steep yourself in the soothing aromas, flavors and rituals of single estate, organic, whole leaf tea. With this hands-on tea tutorial led by founder of Sonoma steepery, UppercaseTea, you'll learn to identify the aroma, taste, properties and benefits of six tea types. Then enjoy a refreshingly civilized tea ceremony which blends modern day convenience, English refinement and Eastern Zen. The perfect way to refresh and energize your group before resuming a productive afternoon session. 
Team Building & Meeting Facilitation: Boost your meeting brain power with groundbreaking tools and strategies led by mindful meeting coach Anne Marie Sebastiani. With team building activities such as vision board workshops to awaken your imagination and intuition, as well as goal setting and time management skills, groups can create an action plan for success. Anne Marie also offers "earthing" meditation for power lunches and breakouts, offering clients a purposeful pause for regrouping outdoors in our garden setting. Her five principles for time abundance training teaches CEO's and administrative staff alike how to be powerful, effective leaders and tap into the right brain/left brain connection. Break away from the traditional flip charts and PowerPoint presentations to find the perfect work/life balance with this passionate meeting leader.
There are endless opportunities to hone your skills in Sonoma, so if you have something particular in mind — fly fishing, track racing, cooking — our Concierge team would be happy to help you book a class or instructional session.