Discover
WILDSAM x MacArthur:
An Insider's Guide to Sonoma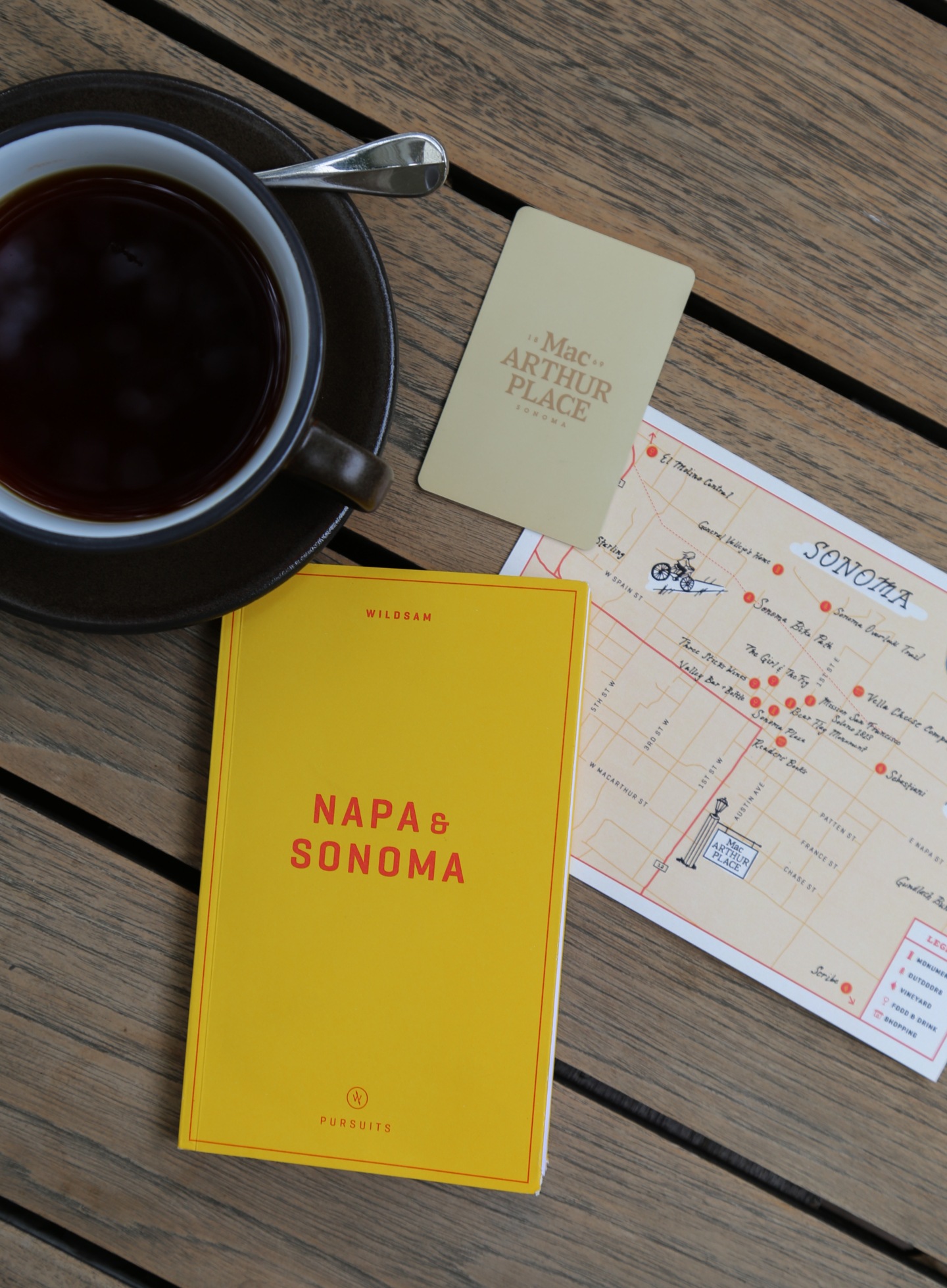 Our friends at Wildsam — a travel brand revered for its expert local field guides — share their favorite points of interest in Sonoma. Read on for their insider's guide to Sonoma below, or grab one of their handy, pocket-sized maps — created exclusively for MacArthur Place — from our lobby and head out on foot or bike for a day of adventuring in town and nearby environs. You'll quickly discover there's even more to Sonoma than meets the eye. 
Food & Drink
El Molino Central 
Bighearted joint for enchiladas, tacos and on every shortlist for true masa. We suggest overordering, everything from pork tamales to octopus tostadas. Learn more.
the girl & the fig
Frenchified Sonoma: avocado toast to wild flounder meunière. Learn more.
Valley Bar & Bottle
Buzzy wine bar, restaurant and bottle shop–sip on an eclectic selection of natural wines while feasting on the XO deviled eggs. Learn more.
Landmarks
General Vallejo's Home
Swing by the General's Victorian–in 1834, the oft-rebellious governor of Mexican-ruled California transformed the religious mission into a secular town and spread its vines around the region. Learn more.
Mission San Francisco Solano 1813
In 1824, Franciscans built Mission San Francisco Solano–California's last–and a vineyard, for sacramental wine, along with it. Learn more.
Bear Flag Monument
Site of the roughshod rebellion that birthed California. For a glimpse of the darker side of colonial times here, see the list of people buried in the mission compound. Learn more.
Shopping
Readers' Books
Andy Weinberger, the Readers' owner pens moody, charming mystery novels. Cultural anchor of Sonoma. Learn more.
Vineyards
Bartholomew Estate
Set in the Valley of the Moon, north of San Francisco, the winery is drenched in sun, history, atmosphere, and romance. Learn more.
Buena Vista
1857 California's debut vintage, likely combining many grape varieties imported by Count Haraszthy. Includes Agoston Haraszthy's place, founded in 1857. A pilgrimage. Learn more.
Gundlach Bundschu
Meticulous sustainable farming going back to 1858. Learn more.
Scribe
An oasis with a hilltop hacienda, once crumbling, now exquisitely redone. Currently only open to members. Learn more.
—
For more expert intel on wine country, check out Wildsam's Field Guide to Napa & Sonoma. The diminutive size of this little field guide belies the sheer breadth, depth and spot-on local knowledge held within its 128 pages. This insider's guide to Sonoma leads travelers into the heart of California's wine country with expert intel from trusted locals (and friends of MacArthur) like Andrew Mariani (Scribe) and Kashy Khaledi (Ashes & Diamonds). From wine country travel and how-to wine tasting guides to pioneer, Indigenous and Black history, art and architecture, this handsome volume with the yellow cover packs a lot of punch. Available for purchase in the lobby at MacArthur Place, or in our online Market.