Discover
Playtime in Wine Country:
Our Top Family-Friendly Sonoma Adventures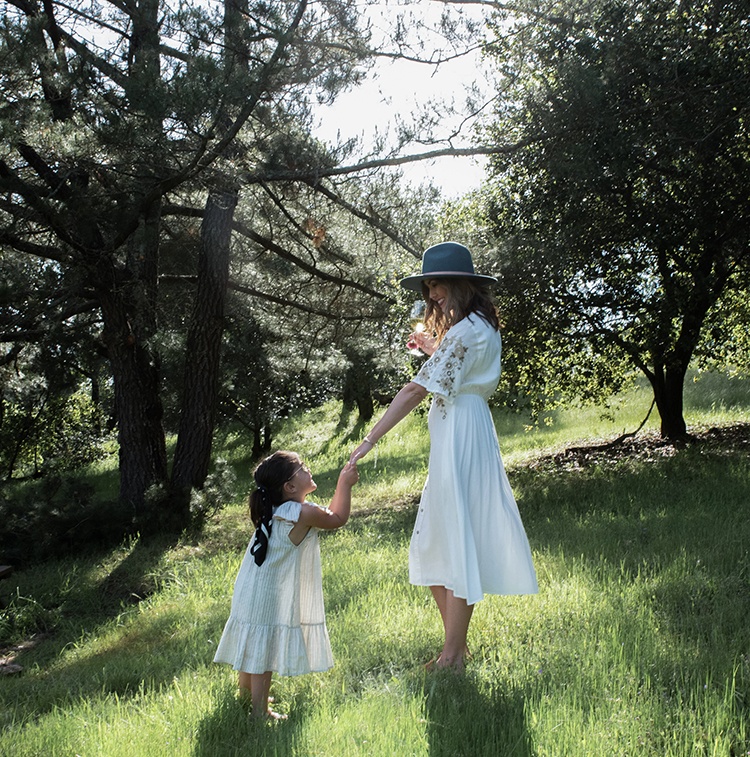 Journeying to new (or familiar) destinations with your kiddos can be a rewarding experience – soaking up all-important family time without distractions from the demands of everyday life. With a little help from our local parents, you'll soon see why Sonoma isn't just a playground for adults. Beyond a few dips in the pool, there is an ever-growing list of fun experiences that satiate the mind, inspire creativity and get the wiggles out. Once you've made MacArthur Place your home away from home, read on for our recommendations for kid and parent approved family-friendly Sonoma adventures nearby.
Interactive Fun
TrainTown – Sonoma
If you've seen our kid-friendly posts before, TrainTown has always made the list! It's a hop, skip and a jump (5 minutes) from MacArthur Place, a favorite of all the kids and worth multiple visits as the rides are priced per ticket rather than a full day pass. Founder Stanley L. Frank once stated: "TrainTown can best be thought of as a 10-acre elaborate table top railroad, which is outdoors and rideable." Enjoy train rides and amusement park rides as a great way to get fresh air and encourage train building once you get home (or back to the hotel. Toy Town has train building supplies).
Ice Skating (Year Round) – Santa Rosa
A Santa Rosa icon for over 50 years, Snoopy's Home Ice skating rink offers a unique atmosphere for families to enjoy recreational ice skating along with the Warm Puppy Café and Snoopy's Gallery & Gift Shop. Public skating is generally offered mid-afternoons so it's a great time to get wiggles out before an afternoon rest at MacArthur where parents can recuperate.
Indoor Rock Climbing Gym – Napa
Drop in and climb up! The gym is setup for all levels and offers day passes along with rental climbing equipment (shoes, harness, belay device). For those with older kids, it's a great time to start a new hobby for the entire family.
Hot Air Balloon Ride – Sonoma
Sonoma Ballooning offers an incredible vantage of wine country and something most kids won't be including in their "where I spent my summer vacation" report! Spend about an hour in the air reaching up to 3,000 feet with panoramic views of Sonoma Valley, historic downtown Sonoma, the gateway to Napa Valley along with the rolling hills of Petaluma, and on clear days, outlying views of the San Francisco Bay. (Children must be 6 years old and at least 48 inches tall to fly. More kid details here>>)
Bike Tour – Sonoma
Sonoma Adventures curates a bike tour for the whole family and you just have to show up! Learn about the history of the area, explore quiet country roads, visit wineries and enjoy an al fresco lunch. The guide will include a pedal assist bike (because you're on vacation still!), helmet, water and a picnic style lunch.
Learning Fun
Charles Schultz Museum – Santa Rosa
Who doesn't love Snoopy? View the largest collection of original Peanuts artwork in the world. This museum is a sure way to bridge the generational gaps, they've even created a Family Guide to make the exhibits more interesting to young minds. Check out the class schedule for a creativity break, with some offered on Zoom to get the kids excited for the museum before your trip. (Just across the street from the Museum is Snoopy's Home Ice noted above.)
Children's Museum of Sonoma County – Santa Rosa
The Children's Museum engages children in rewarding discovery experiences that develop foundational skills, create lasting memories, and spark a lifelong love of learning. Designed for children ages ten and younger, the Museum's experiential exhibits emphasize hands-on engagement and learning through play with a focus on art, nature, and science.
Charlie's Acres Farm Animal Sanctuary – Sonoma
Charlie's Acres rescues farm animals who were abused or destined for the dinner table. They strive to teach people about the beauty and intelligence of these animals and how to leave them off your plate. For the older kids who need a unique reason to put down the screens, check out the farm's upcoming special events and find goat yoga and sheep meditation (ages 14+), sure to add smiles and giggles to your family-time.
For your younger kids, 8-12, Charlie's Acres Farm hosts two summer camps. This is the perfect opportunity for anyone looking for their child to connect with animals and give them a chance to foster their empathy and compassion for all beings. (All while having fun and making friends, both human and nonhuman!) Camp is from 9am – 1:30pm so parents can enjoy a little adult sightseeing while the kids have a blast on the farm. June dates here>>. August dates here>>.
Eats & Sweets
Sonoma Farmer's Market – Sonoma Plaza
From May to October the Sonoma Farmer's Market is the place to be on Tuesday evenings. Grab your tote and walking shoes and take a stroll to the Sonoma Plaza for a locals' and visitors' favorite event with fresh produce, food trucks, live music and a vibrant social scene. Kids will love playing at the park and tasting some of the local fare (it's not all vegetables!).
Sweet Scoops – Sonoma Plaza
All we have to say is homemade ice cream and the kids will line up, or at least get really excited and hopefully follow any additional directions that come next. The flavors change daily and are listed on their Instagram page – multiple trips during your Sonoma stay is important to try as many flavors as possible.
Wineries for Kids (you read that right!)
Larson Winery – Sonoma
It's a great place to play! This family-owned winery gem has spacious grounds with redwood tables, a large lawn and bocce court, all tucked alongside Sonoma Creek in the Carneros wetlands. Larson Winery sells fixings for a picnic, or you can bring your own and enjoy the view and fresh breezes. They also have lawn games set and ready with sweeping vineyard views of the region. Note: As of March 2022, the winery is temporarily closed due to a fire in the barn, so please check the winery's website before visiting.
Anaba Winery – Sonoma
Discover a boutique, family-owned and operated vineyard with a new flight each month. Make an afternoon of Chardonnay on the patio, wood-fired pizzas and the kids playing outside games like paddle tennis, pickle ball or bocce ball. (Available to wine club members only, but being a member has many perks.)
Gundlach Bundschu – Sonoma
Climb aboard a Pinzgauer, a Swiss Army transport vehicle, for a tour of the historic property of Gundlach Bundschu and learn about the land that gives their wine such unique character while sampling five estate wines. You'll stop at several beautiful spots in the vineyard including a respite to enjoy your wine with a delicious cheese & charcuterie board.
Bartholomew Estate – Sonoma
Sonoma Valley Trail Rides guides guests on horseback through the Bartholomew Estate historic vineyards (planted in 1857!). Enjoy a 45-minute ride where you will take in picturesque views of the 300-acre estate. Included in your package is a bottle of Bartholomew Estate wine (your choice of Sauvignon Blanc or Zinfandel) to take with you.
MacArthur Home Base
Setting up a home away from home makes everyone feel at ease. Following your family-friendly Sonoma adventures, a bath for the kids and early bedtime is a parent's reward. Choose a Julia Suite or Garden Spa Suite for a soaking tub – when the kids are in dreamland, enjoy a relaxing Sēfari Bath Immersion. In the morning grab a cup of coffee and let the kids make their own fun on the West Lawn with lawn games like life-sized Jenga and corn hole.