Discover
How to Summer in Sonoma – Part 2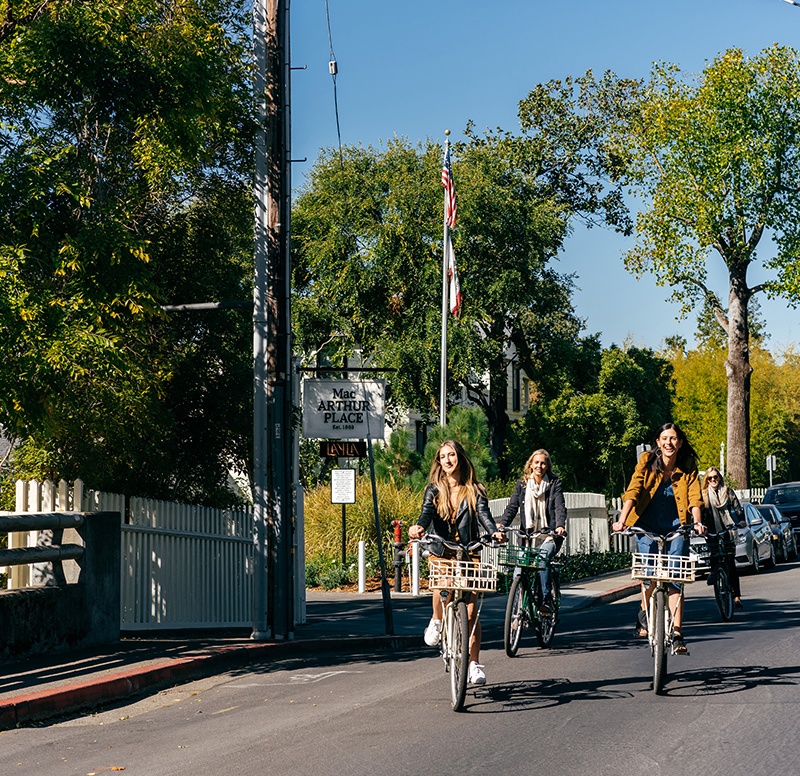 As summer continues in Sonoma, so do our itinerary suggestions. We began with part 1 outlining festivals and culinary events in the area and now we sashay our way to outdoor adventures and activities taking place on the MacArthur Place grounds. An ideal stay in Sonoma, for any season, begins with luxury accommodations at MacArthur Place then lightly layers in a touch of outdoor exploration (which certainly can be a light walking vineyard tour) with local culinary discovery and, the essence for any getaway, relaxation. Read on to explore our continued list of our favorite summer activities in Sonoma.
Expand Your MacArthur Experience
Enhance your stay at MacArthur Place with a bespoke wine tasting excursion in Sonoma curated by Bohemian Highway Travel Co.— experts in creating off-the-beaten-path wine country tours to Sonoma Valley's premier wineries who don't normally open their doors to the general public. You'll be whisked away in a luxury SUV to two off-the-beaten path boutique wineries and have an in-depth look at the vineyards and winemaking process. Then, enjoy a chef prepared farm-to-table lunch with the Mayacamas mountain range as your backdrop.
Join one of our certified yoga instructors – Jes Williams, Andrea Bogart and others – for an energizing vinyasa practice to kick-start your morning and inspire you to move through the rest of your day with intention and ease. This class unites body and breath with clear instruction and modifications for all levels. Students will leave feeling refreshed and ready for a day in wine country! This yoga class is complimentary for hotel guests, and $10 for Sonoma locals, and will be held outdoors on the property's West Lawn. Yoga mats and waters will be provided for hotel guests.
Cooking Class: Executive Chef Francisco Lopez, Jr. x Williams-Sonoma

July 12, 2023 @ 5:30 pm – 7:30 pm
Join MacArthur Place & Layla's Executive Chef Francisco Lopez, Jr. at the Original Store of Williams-Sonoma this summer for a Margherita pizza cooking class. Beginning in the store's professional kitchen, participants will learn how to make fresh homemade mozzarella cheese, a crucial ingredient of this simplistic, yet legendary pie. They will also be instructed on the additional key ingredients of fresh tomato & basil, while preparing and building their own pizzas. Guests will be led to the private outdoor patio and wood-burning pizza oven to sip on local Sonoma wines while baking their pies. Conclude the evening dining together alfresco for a perfect Sonoma summer evening.
Cooking Class: Seafood Risotto with General Manager Milan Drager

July 26, 2023, 5:00 pm – 7:30 pm
Join our General Manager (and a Chef!), Milan Drager, of MacArthur Place for an intimate risotto cooking demonstration. Guests will learn the essential steps in making a traditional seafood risotto like a pro, then dine on the finished dish with paired wines on the front patio.
Garden to Glass: Cocktail Class
Let's shake up the cocktail scene this summer every Monday in July & August from 4pm – 5pm! Guests will begin by meeting in the Chef's Garden, to learn about the various herbs & vegetables grown in the garden that contribute to the culinary & beverage program at MacArthur Place. They will also have the opportunity to forage their very own garnishes for their upcoming cocktail creations. Moving inside to the Bar at MacArthur, it's time to mix and sip two (2) of this season's inspired summer cocktails. Reservations required by email to: dsturges@macarthurplace.com.
Active Things to Do in Sonoma County
Drop in and climb up! The gym is setup for all levels and offers day passes along with rental climbing equipment (shoes, harness, belay device). For those with older kids, it's a great time to start a new hobby for the entire family.
Sonoma Adventures curates a bike tour for the whole family and you just have to show up! Learn about the history of the area, explore quiet country roads, visit wineries and enjoy an al fresco lunch. The guide will include a pedal assist bike (because you're on vacation still!), helmet, water and a picnic style lunch.
Petaluma River Paddle Boarding
Cruise the waterways of Petaluma and enjoy some easy exercise with the kids while discovering the natural world on paddle board or kayak. Choose to take the adventure on your own or have a guided trip – there are boards big enough for a family of 4 or combine paddle boards and kayaks. A 20-minute drive from MacArthur Place.
Stafford Lake Bike Park Novato
For the thrill-seekers in your crew, rent a bike and let them shred the tracks. From beginners to advanced riders, all will enjoy the fresh air and adrenaline rush. Bonus – within 10 minutes of the park there are a slew of restaurants so all are sure to be pleased with the lunch selection. A 35-minute drive from MacArthur Place.
However you plan to spend your time in Sonoma this summer or next, we look forward to being your home base.