Discover
Sonoma Valley Wine Tasting:
The Shortlist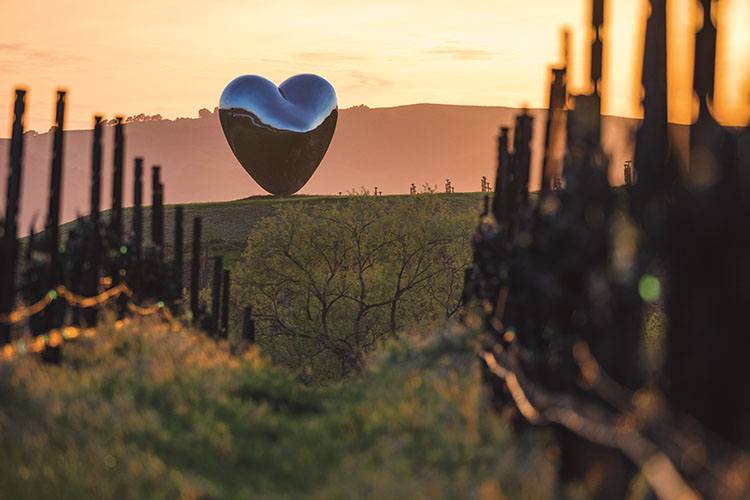 Sonoma Valley boasts over 100 wineries and at least 30 downtown tasting rooms — a daunting and dizzying prospect when planning your wine tasting excursion. Our Chief Concierge at MacArthur Place shares her "shortlist" of local wineries that do not disappoint – seven establishments catering to a range of palettes (and pocketbooks – see below for our handy pricing legend) from the "wine curious" to the oenophile collector. Reservations are required at 95% of wineries, so we highly recommend booking your Sonoma Valley wine tasting experience well in advance of your visit.
Tasting Fee Price Guide
$ $20-35
$$ $35-60
$$$ $60-75
$$$$ $75-125+
The Donum Estate | The Art Mecca
$$$$
Donum Estate is recognized for its highly-lauded single-vineyard Pinot Noirs and Chardonnay from the idyllic, rolling hills of its 190-acre Carneros estate as well as two other vineyards in Sonoma. Equally as attention-worthy as its elegant Burgundian-style wines is Donum's impressive outdoor sculpture collection featuring dozens of major works and site-specific commissions by contemporary art stars like Ai Weiwei, Keith Haring and Louise Bourgeois. A visit to this gem within wine country includes a tasting of their terroir-driven wines as well as a walking tour of their farm, lavender fields and open-air sculpture collection. In this case, the experience is a delightful hike and wine combination.  Learn more and book reservations..
Repris Wines | The Panoramic Peak
$$$$
High above Sonoma with panoramic views of the valley below, Repris crafts wines of place and purpose from its home at the historic Moon Mountain Vineyard. Repris wines uphold a tradition dating back to the 1880s, when Cabernet Sauvignon and Zinfandel were first planted on this mountain. Most of the Repris portfolio is not available outside the winery; only a small number of guests who visit Moon Mountain Vineyard get to enjoy its bottled rewards. Schedule an intimate outdoor experience which includes a unique tasting of select Member Only wines, paired with a selection of artisan cheeses and charcuterie. Your tasting will take place just steps from the winery, offering a glimpse of harvest as it happens. Learn more.
Chateau St. Jean Winery | The Idyllic Oasis
$$
Tucked in the northern end of Sonoma Valley, just outside the quaint hamlet of Kenwood, the Chateau St. Jean estate is an idyllic oasis at the foothills of Bald Mountain within the Mayacamas range. With incredible vineyard views, a dramatic mountain backdrop, lush gardens, and an elegant 1920s chateau, guests are invited to experience award-winning wines at a leisurely pace. Learn more and book reservations.
Gundlach Bundschu | The 6th Generation Family Estate
$$
Situated on over 300 acres of stunning, sustainably-farmed vineyards is Gundlach Bundschu Winery, just minutes from MacArthur Place. Founded in 1858, this historic winery has been taken to even greater heights under the family's 6th generation with their focus on wine quality, sense of place and brand charisma. The Bundschu family produces cool-climate Cabernet, Merlot, Pinot Noir and a thoughtful smattering of unique varietals such as Gewurztraminer, from their historic estate. Enjoy a tasting in one of the many storied buildings, or al fresco by the pond overlooking the valley below. For something a bit different, book their Pinzgauer tour which takes you through the vineyards in an open-air Swiss Army vehicle for an in-depth look at their farming practices. Learn more and book reservations.
Buena Vista Winery | The First Premium Winery
$
Founded in 1857, Buena Vista is California's first premium winery, and has a long and colorful history (case in point: its founder, Hungarian Count Agoston Haraszthy, went to Nicaragua in 1869 to try his hand at producing rum, and was killed by a crocodile). Today, the legend of Buena Vista is being re-born under vintner Jean-Charles Boisset. Just outside the town of Sonoma, the original winery is now a California Historic Landmark, and home to a stunning stone winery, tasting room and visitor's center. Learn more and book reservations.
Bonus: Drop in next door at Bartholomew Estate, which was once part of the original Buena Vista vineyard. Also planted in 1857, Bartholomew produces site-specific wines from their organically farmed 300-acre vineyard. A beautiful hiking trail passes through the property, for a dreamy hike-then-wine experience.
Three Sticks Buena Vista Winery | The Historic Adobe
$$$
Situated in the historic Vallejo-Casteñada Adobe tucked quietly behind Sonoma Plaza, the Three Sticks tasting lounge is a tour de force of architecture, design and craftsmanship — an aptly magical setting for their stunning wines. Designer Ken Fulk honored the heritage of the adobe, one of the town's few remaining buildings from California's Mexican Period, with foraged Manzanita branches, handmade Mexican tiles, cowhide and an altar showcasing archaeological finds from the renovation. Enjoy an intimate tasting of their acclaimed Chardonnays and Pinot Noirs, by appointment, in the adobe's luxe dining room or in the lush garden. Don't miss the 22-foot mural designed by artist, Rafael Arana. Learn more and book reservations.
La Prenda Marketplace | Grower-Produced Wines
$
Owned and operated by respected local winegrowers and vineyard managers, La Prenda produces quality farm to table, small-batch wines from some of the best vineyards in Sonoma. Their brand-new tasting room is located just off the Historic Sonoma Square right next to Red Grape (not-to-be-missed pizza!). Stop in (prior appointment strongly recommended) for a five-wine tasting flight while learning about their wines and decades-long grape growing experience in Sonoma Valley. Learn more and book reservations.
---
Getting There by Bike!
The last four wineries on our shortlist can be reached by bicycle, and loop nicely into a great Sonoma Valley wine tasting itinerary. Grab a Blix electric bike at MacArthur Place, complimentary for hotel guests, and pedal off into the vineyards. Our favorite bike-wine-bike loop, curated by our friends at Weekend Sherpa can be found in here: 5 Epic Outdoor Adventures in Sonoma. For extra points, make time for a picnic – our tips for the best provisions, picnic spots and insta-worthy picnic gear can be found here.